Recent speculations indicating an impending general election have left many Malaysians on edge. As citizens, we are given the responsibility to vote for our future leaders, ensuring the authority of our hard-fought democracy. Therefore, every one of us is encouraged to participate in determining our country's future by voting in the General Election. Haven't already registered? Here's how you can get started!
How to register as a voter for GE15?
Before we head onto how to become a voter, here is a list of requirements determining whether you are eligible to vote this coming general election:
Be a Malaysian citizen;
Be 18 years old and above;
Currently staying in the area you're registered to vote for
 Never been barred /disqualified by any laws in force.
If you adhere to ALL four requirements, you can proceed to the next step of registration.
Steps on how to register via MySPR
Head on over to https://myspr.spr.gov.my/ and register for a new account by clicking "Permohonan Akaun Baharu"
Fill in your name, IC number, birthday, phone number, email, and password. You will also be asked to set a security question.
New users are required to upload a picture of their IC and a selfie with the IC
Check your address to confirm whether it is the same as your current residence. If it is wrong, you will need to update it to your current address.
After that, you will receive an activation email (which may require a few days to process) that comes with a TAC verification.  Upon activating your account, you are officially eligible for voting, and will furthermore have access to the postal ballot application.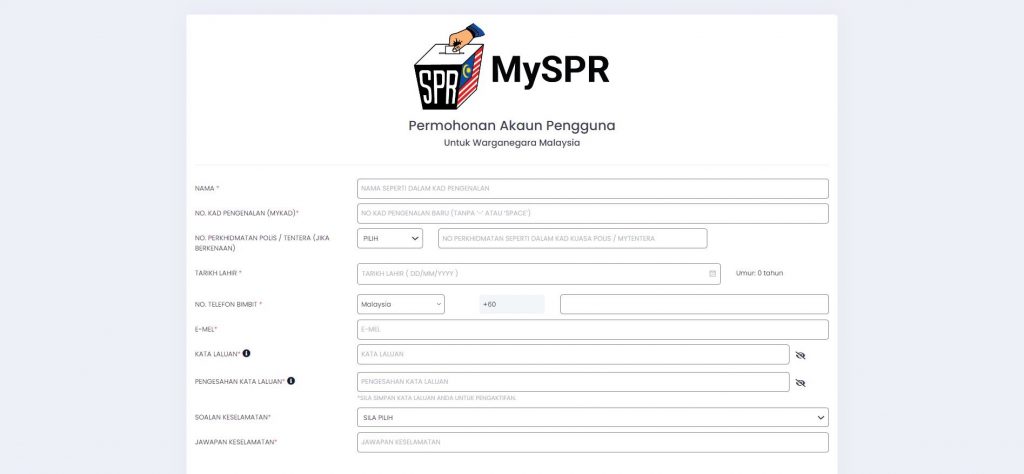 Where else can you register?
Post offices
SPR headquarters
State election offices
Malaysian embassies, Malaysian High Commission and General consulates (for Malaysians who are staying overseas)
Penolong Pendaftar Pemilih (voter registration helpers)
Please remember to bring your IC for registration. At the counter, you will need to present your card to the person in charge for them to fill up a form known as 'Borang A'. Ensure every detail on the form is correct and is per your IC before signing. Also, be sure you keep a copy of your registration form as proof.
18-year-olds can vote too!
Starting from 15 December 2021, Malaysians have lowered their voting age to 18, therefore anyone who is 18 and above will be automatically registered as a voter. The UNDI18 initiative has made it possible for Malaysian youths to cast their ballots in this upcoming GE15.
Although voting is not mandatory for everyone, Malaysians are encouraged to take part in these elections as these elections are what determine the fate of our country. With elections, citizens have the power to make their concerns known and steer the direction of the nation. Don't forget that every vote counts!
Tap here to give us a 'Like' on Facebook and stay up-to-date on the latest news!
Also read: Here are the key highlights of Budget 2023