Where manual labour is concerned, industries such as agriculture ad construction have been largely dominated by a foreign workforce in Malaysia that consist of those hailing from foreign countries such as Bangladesh or Indonesia. Despite the stigma that they face, those working in these sectors continue to put in a great deal of care and effort into the jobs that they have, and earn an honest wage for their work.
Bangladeshi man earns nearly RM5,000 working as a tractor driver in M'sia
And this includes a Bangladeshi man working in a Terengganu farm, who has recently caught the attention of netizens for earning a tidy sum of RM5,400 from working on a farm in Malaysia. In a video clip shared over TikTok by netizen @zackl150, viewers are introduced to a Bangladeshi man who could be seen seated atop of a tractor.
In conversation, the Bangladeshi man explains in fluent Bahasa Malaysia that he had been working in Malaysia for over five years. But what left many netizens surprised was that when he was asked how much salary he was drawing from the previous month from his job, he revealed he had earned an incredible RM5,400 for his work! Retrieving his payslip from the previous month, he proceeds to show the breakdown of his salary.
The Bangladeshi worker who goes by the name Md. Shamim Ali according to his payslip, is currently employed as a tractor driver at Ladang Mawar in Kemaman, Terengganu. Based upon the documentent dated December 2021, Mr Shamim earns a total pro-rated amount of RM3,497 based upon how many hours he works, as opposed to receiving a basic salary.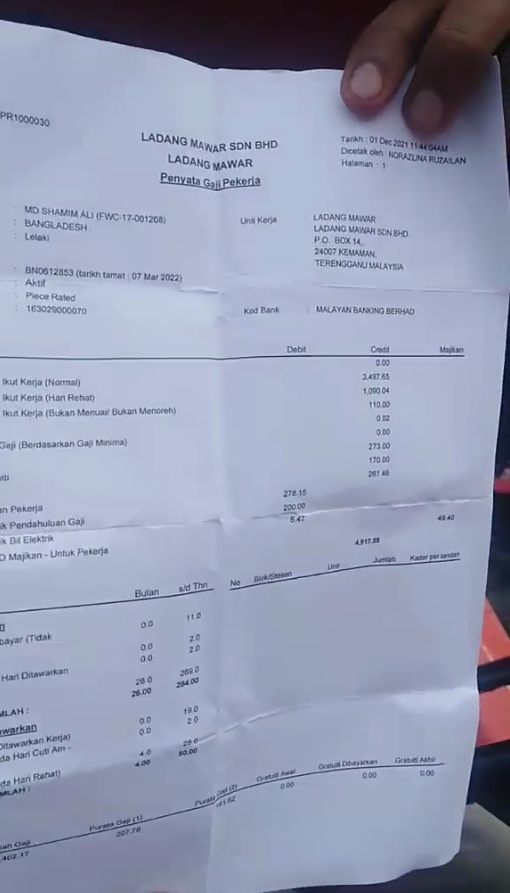 We can then see he earned another RM1,090 for working on his days off, plus an additional RM814 for miscellaneous wages. When you tally that amount together and deduct RM484 for advanced salary, income tax and a small amount for the electric bill, Mr Shamim's net salary rests at RM4,917.55. Which by all counts, is a healthy sum.
Sends over 90% of his salary home to his family
But of course, there is no telling how many rigorous hours of labour Mr Shamim has to clock in order to bring in a monthly wage of over RM5,400. In any case, he makes a point of sending as much as 90% of his monthly pay-cheque back home and would only use whatever is left from that amount to take care of his monthly expenses.
"I'm single. If I earn RM5,000, I'll send RM4,500 back to my family." he said.
Netizens have since lauded Mr Shamim with praise for his hard work and accomplishment, with many pointing out that making that much money requires putting in long hours with back-breaking work.
"Fantastic! His sweat truly has meaning. We shouldn't be surprised he earns so much, he really works for his money!"

"Don't just think about how much he earns. Do you know what it's like to load up fruits? If you want to give it a go, try loading 10 bunches of fruits from trees."

"He only spends RM500 on himself, and sends RM4,500 home to his family. Amazing. What's surprising is why we locals aren't willing to do jobs like this."

Others have expressed an interest in joining the industry as well.
"Sorry boss, but I want to know if I would be eligible? I drive loading trailers for a living."

"If there are vacancies available boss, please inform me."

For more stories like this, follow us on Facebook! 
Also read: M'sian students pool money together to buy their beloved teacher a RM70,000 car for his retirement!