Five years ago on 29th February 2017, 22-year-old Sam Ke Ting who had been driving along Jalan Lingkaran Dalam in Johor Bahru at around 3am in the morning had crashed into a group of 30 teenagers riding illegally modified bicycles, killing 8. Despite being acquitted of reckless driving in 2019 by the Magistrates' Court, the Johor Bahru High Court has since overturned her acquittal and sentenced her to 6 years in prison with a RM6,000 fine.
Basikal lajak government PSA from 2020 resurfaces and goes viral
In the wake of the verdict, many Malaysians have cried foul over her conviction while raising concerns over parental negligence in cases of youngsters involved with illegal bicycle races. In fact, the topic has sparked so much heated discussion that a Public Service Announcement (PSA) issued by the Road Safety Division, Road Transport Department under the Ministry of Transportation from 2020 has once again resurfaced and gone viral, according to Malaysiakini.
The PSA, which was also shared to the Royal Malaysian Police's official Facebook page on 18th February 2018, sought to raise awareness among the public concerning the dangers of illegal bicycle modifications and bicycle racing. The PSA also takes note of the health hazards associated with these illegal bicycle modifications, including:
The raised bike seat, which can cause back pains.
A lack of functioning brakes, which can lead to higher instances of accidents.
A lack of a bicycle bell, which can impede the rider's ability to draw attention in the event of an emergency.
A lack of protective headgear, which could lead to severe head injuries in the event of an accident.
Cautioning parents to keep a closer eye on their children, the PSA adds that they could be held accountable for neglecting the safety of their underaged children, and may face a jail term of up to 5 years and be fined RM20,000 for the offense.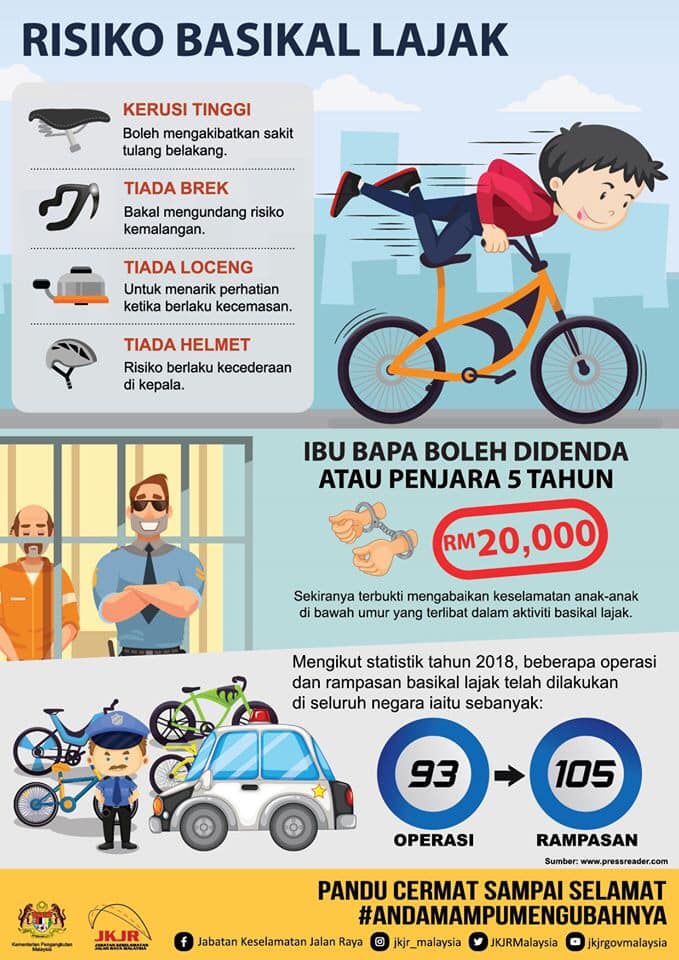 Netizens claim double-standards
The PSA, which has since gone viral with over 10,000 shares on the Royal Malaysian Police Facebook page, saw many commentors pointing out the alleged double-standards involved in Sam Ke Ting's case, with the parents of the teenagers involved in basikal lajak activities having not been punished for their negligence.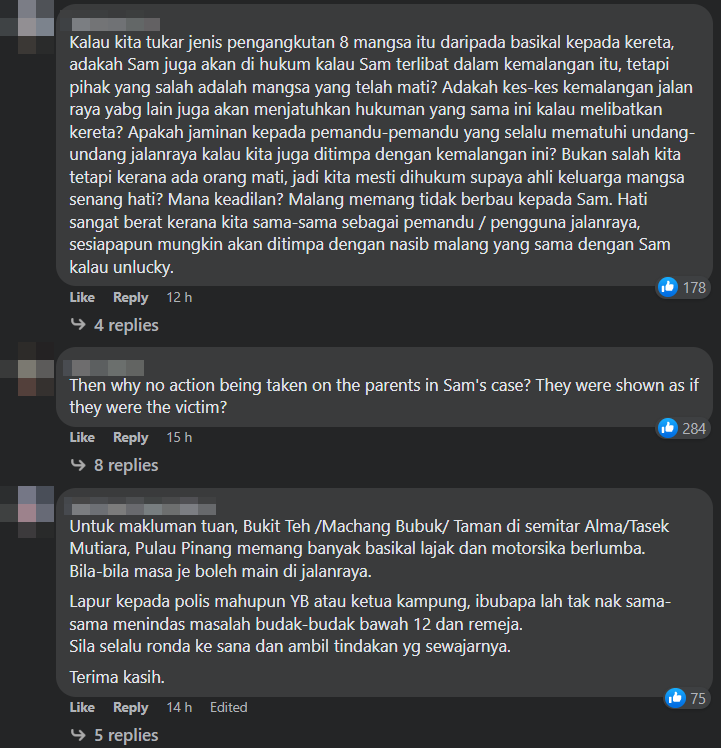 As of yesterday (15th April 2022), Sam's lawyer has spoken to Free Malaysia Today and said that she has filed for leave to appeal and to stay her execution through the court's e-filing application.
Tap here to give us a 'Like' on Facebook and stay up-to-date on the latest news!
Also read: Sam Ke Ting files for leave to appeal High Court decision as 800,000 people sign petitions in support