Many of us Malaysians take pride in the multicultural nature of our country, given the melting pot of rich heritage and culture that we all share together. In spite of that fact, incidents of discriminatory behaviour still continue to persist among the local community here, including an instance where the host of an Airbnb allegedly refused to rent their property out to an Indian man and his family.
Sabahan netizen receives discriminatory hate messages from anonymous café customer 
And just recently, yet another incident had reportedly befallen a Sabahan netizen, who recently took to Twitter to speak about the ordeal. In a recent post that was uploaded by netizen @leeseanlnjuat, he explains how he had recently received a number of discriminatory hate messages from what was allegedly a customer who had patronised the café that he works in. 
Screenshots from an Instagram correspondence show how the alleged customer berating Lee, and telling him to stop working at the café. They even went so far as to chide him for his tattoos, claiming that it unsettled the local community of Ipoh. Worse still, the customer went on to tell Lee to 'go back to his own country', despite the fact that Sabah is located in East Malaysia.
"Hey, can u stop working at the cafe? f*ck u! i no understand what u say what u say! stop working lah boi. especially ur tats. its disturbing the community in ipoh people.

go back to your country.

you're not suited to work here, you just look like an idiot.

nevermind the fact that you are sabahan. you dont even have brains and cant speak well."
A subsequent screenshot shows the customer telling off Lee for not being able to converse fluently in Malay and warned him not to stir up trouble with 'their people'.
'next time, dont go out looking for trouble with our people

are people from sabah sometimes stupid? cant even speak good malay. nevermind how you guys pretend to be white expats. youre also stupid.

claim to be handsome, and yet youre gay. allhamdulilah i'm not LGBT. not like you. youre already so bad. no looks. so many little drawings on your arms. idiot!'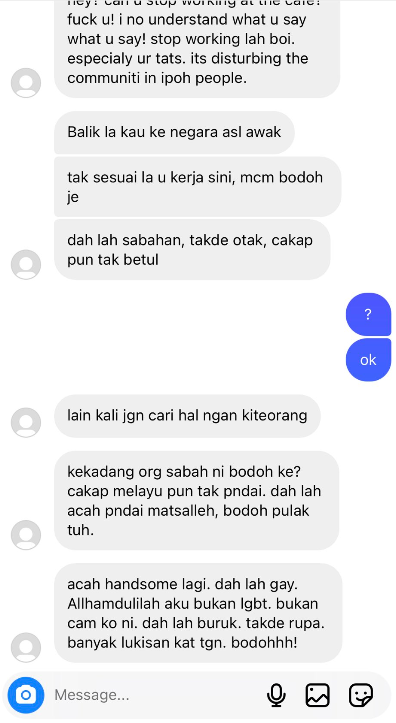 Ordeal left him shaken
In a subsequent Tweet, Lee has gone on to express how shaken and dismayed the entire ordeal has left him feeling, and said that this isn't the first time he has experienced being disparaged during his time in West Malaysia.
"I can't hold back my tears after seeing this! All those critiques and judgement thru my tattoos and make fun of my Sabahan accent.

I know this is benda 'biasa' saja (just trivial stuff), but I've been through a lot though."
Netizens have since rallied behind Lee, many of whom expressed their concern for him after the incident.
Other East Malaysians have also shared similarly discriminatory experiences after moving to West Malaysia.

For more stories like this, follow us on Facebook by tapping here!