Do we have to reiterate just how beautiful the hearts of Malaysians are? Since the 'once in 100 years' flood  that had hit the nation last weekend, anecdotes of animal and human rescue teams have shown just how firmly we stand by the #rakyatjagarakyat spirit! Today, we're bringing you the story of how this kind Malaysian, who has been coined 'Abang Viva' became a flood rescue hero with the power of his humble Perodua and a boat.
Abang Viva drives car with boat on top from Melaka to Shah Alam to help flood victims
The story of Abang Viva began with a thoughtful Malaysian's humble wish to step up in helping victims of the massive flood that had ravaged parts of Klang including Shah Alam and the badly hit Taman Sri Muda. A tweet shared by @KulupKudin on the 19th of December shows a man clothed in red standing beside his Perodua Viva. On top of the small Malaysian manufactured car is a boat. It was the man himself; Abang Azwan and his handy dandy rescue tools!
Source: @KulupKudin (Twitter)
According to @KulupKudin, Abang Azwan drove all the way to Shah Alam, Puchong and Taman Sri Muda from Melaka to extend help towards flood relief victims. He even brought his boat along on top of his cute Viva. A day later, the Twitter account owner updated netizens on the unsung hero's legendary-style of lighting a cigarette after rescuing tens of stranded victims from Taman Sri Muda, before continuing his post-banjir mission. A true legend indeed!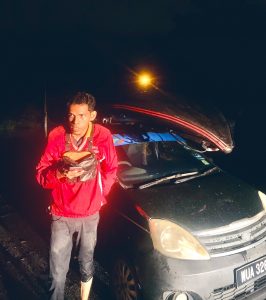 Source: @KulupKudin (Twitter)
Malaysian car manufacturer Perodua hunting for Abang Viva for his selfless act
If you haven't already guessed, the reason Azwan has been given the title Abang Viva is because of the car model he used on his rescue operation. Speaking in an interview with The Malaysian Insight, Azwan, 29 says that, since he wasn't able to provide help in terms of financial resources, he contributed his time and energy instead.
Source: @KulupKudin (Twitter)
On 24th December 2021, Twitter user @UsharDeniele replied, asking fellow internet users for '"Brother Viva's mobile number, as Perodua is looking for him. Responding to Ushar's request, netizens wonder if Perodua is about to gift the unsung hero with a well-deserved new car! In fact, the company may not be the only one seeking to reward him for his unreserved kindness throughout this disaster either, as according to Utusan Malaysia, a local entrepreneur is also hoping to buy him a brand-new car!
But staying true to his principles of volunteering out of the sincerity of his own heart, Mr Azwan continues to remain a low-profile and has yet to respond to any of the calls for a reward.
Follow us on Facebook for more news like this! 
Also read: MCMC requests to delete Tweets that criticise the M'sian government's flood response, but Twitter says 'cannot'