As the old saying goes, a dog is a man's best friend. Highly intelligent and expressive, these furry, four-legged creatures have been known to be among some of the most well-remembered and well-loved allies throughout mankind's history. And that comes as to no surprise, given the faithful loyalty and unconditional love that dogs are capable of expressing.
Group of college students organise hike up Bukit Putus
Such is the case witnessed by a group of hikers recently, after it was reported by China Press that they had encountered a stray dog while trekking up along Ulu Bendul in Negeri Sembilan. According to one of the hikers, surnamed Liu, the group comprised of college students, with only one student having prior hiking experience up Gunung Angsi.
Unknowingly picking one of the longer routes and underestimating how demanding the excursion would prove to become later on, the group began their trek at 9.00am from the Ulu Bendul Recreational Park, which would take them up towards Bukit Putus before returning back down again. According to Mr Liu, there was a substantial gap in terms pf physical stamina and endurance between the 16 hikers, as only some of them exercised regularly.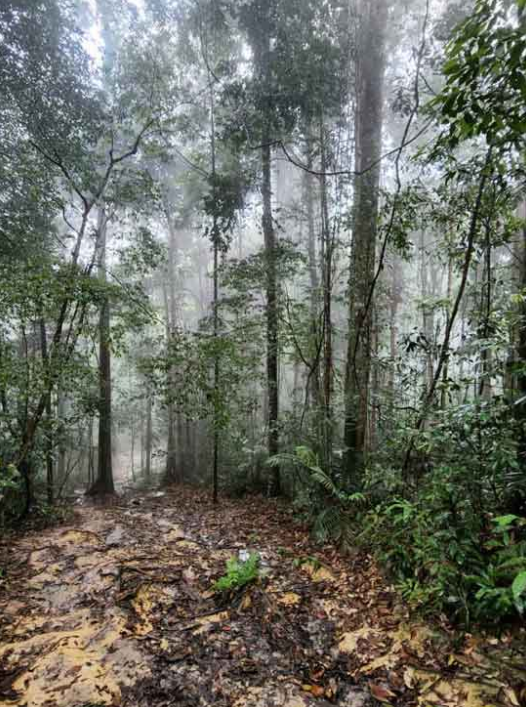 Despite that fact, the group packed only a small amount of food and water, thinking that the amount would be adequate. 4 hours into their journey, two hikers from the group complained of physical exhaustion, causing them to move more slowly. By then, the group had already completely depleted their water supply, and only managed to reach the highest point of their trek at 4pm.
"At the time, one of our members volunteered to explore the trail ahead, but returned when he said he heard the roar of something akin to a panther or a tiger, fearing that they could have been ambushed by animals not far down along the path." Liu said.
Miraculously encountered an adorable white dog who 'guided' them
Things only worsened when it started to rain as the group made their descent back down. Along the way, they noticed fresh animal tracks as well as feces, which led them to believe that a larger animal could be prowling close-by. They even encountered a patch of ground with foamy liquid that had a foul, fishy stench, further putting the team on edge.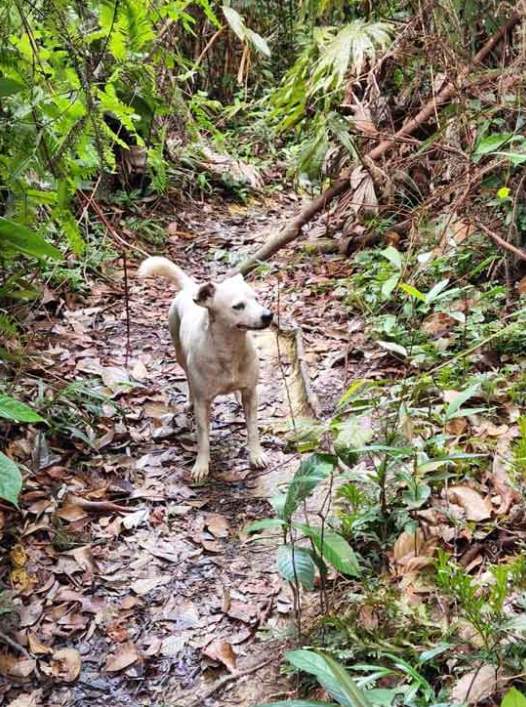 And yet out of nowhere, they came across a small, white stray dog who started barking and tailing after their group. The dog would occasionally dart ahead, before scurrying behind them. While it never approached any of the hikers up close, it would accompany them as they navigated through dense jungle terrain before heading back down to the foot of the hill.
As they finally reached a flight of stairs that would take them back down to the recreational park, the little dog sat waiting on the landing, seemingly bidding them farewell.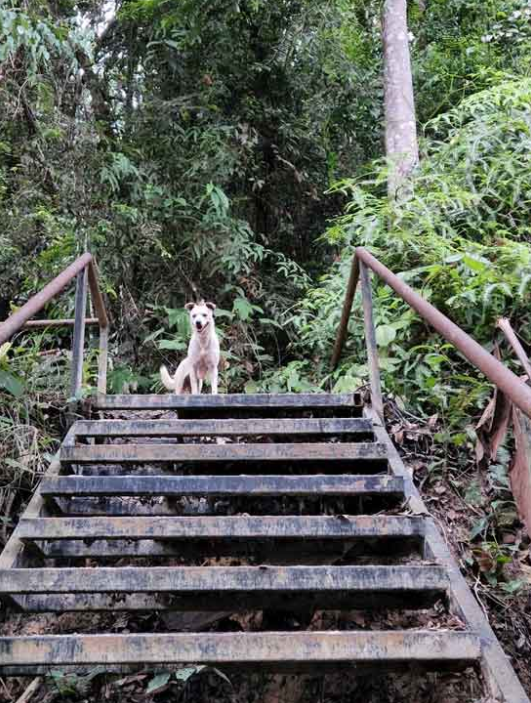 According to Liu, he estimated that the entire trek had to have measured around 15 kilometres long. He adds that members of their group have suggested that the observant little dog must have been sent as a guardian from God to keep them safe throughout their trek home, describing how it made them all feel at ease despite the circumstances they faced in the mountain pass.
Tap here to give us a 'Like' on Facebook and stay up-to-date on the latest news!
Also read: Adorable Perak police dog receives medal and kibble for finding missing person in Kampung Baharu Nalla