It goes without saying that cases of sexual harassment or assault can often leave their victims not just with physical scars, but lifelong mental ones that remain with them long after the incident had taken place. And yet in spite of that, many suffer in silence out of a fear of retaliation from the perpetrator or the potential stigma that they may have to endure under the public's glare.
Ex-Miss Universe M'sia contestant calls out YouTuber for kissing her & touching her chest without consent
Drawing upon a well of strength and courage, former Miss Universe Malaysia 2020 third-runner up Serene Claire recently took to Instagram to share how she herself had become a victim of one such harrowing experience at the hands of a local content creator. According to Serene's account of the events, she recounted how she bumped into an acquaintance while at a party, whom she previously met through a friend.
At the time, the acquaintance appeared to be drunk and wanting to make sure that he was doing alright, she offered to grab him a water. However, he decided to ask for her number instead, before kissing her on the cheek and requesting to take a selfie together. While she did not consent to being kissed, she figured that he may have been a more open-minded in his conduct.
"It was not an acceptance to any type of invitation please." she stressed.
To Serene's shock, the Youtuber then proceeded to invite her over to a 'private house' before touching her chest. As he was drunk, she thought the gesture may have not been intentional, but he proceeded to tell her that she didn't have to worry as it was only a brief touch, and nobody would have seen them.
Feeling shocked and violated, Serene said she cried and wanted to leave the party immediately after. Thanking her friends for making sure that she remained safe after the ordeal, she adds that the perpetrator did not apologise to her after what he did, and all his friends merely told her to avoid him if their paths should cross.
"Are they condoning his actions? How could they." she said.
He has since issued apology in the wake of backlash
While she did not expose the name of the content creator to avoid any litigation, she did allude to the fact that he was a prominent local Chinese personality on YouTube. This was later revealed to be Lim Shang Jin, who went on to address the matter in a public apology that he issued through his Instagram Stories.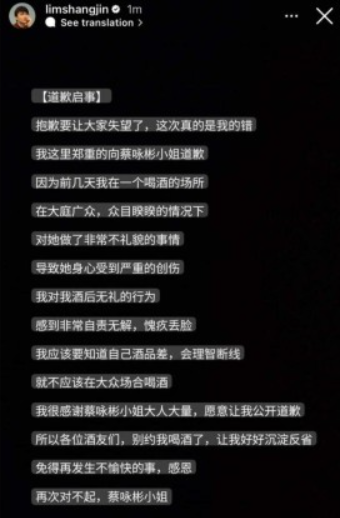 Admitting that he had too much to drink that evening, Lim apologised unreservedly to Serene for his actions and says he feels guilty for what had transpired. He also acknowledges that he should control his drinking, before thanking her for allowing him to issue a public apology.
Serene has since accepted his apology, but notes that she wanted to bring the incident to light to warn others to be wary, so that they themselves would not fall victim to such incidents. Pointing out that the odds would inevitably be stacked against her even if she took the matter to the authorities due to how seemingly insignificant it was, Serene clarifies that using her platform to call attention to the matter was her way of asserting her power and regaining her dignity.
Tap here to give us a 'Like' on Facebook and stay up-to-date on the latest news!
Also read: "Call me daddy," 52yo teacher ordered to enter RM1,000 peace bond for sexually harassing 12yo student in Sarawak