Nothing brings the country together quite like the annual Merdeka parade, which takes place every August 31st in commemoration of Malaysia's independence from our colonial British masters. From the sheer scale and splendor of the event, to the strong sense of patriotism that pervades among all of those attending, it's hard not to feel just a little choked-up and moved by emotion when you're standing amid a sea of fluttering Jalur Gemilangs as we become caught up in the furor of the event itself.
DBKL calls out spectators for trampling on landscaped greenery during Merdeka parade
Unfortunately as National Day celebrations came to a wrap yesterday, members of the Kuala Lumpur City Hall were left dismayed after finding a considerable number of landscaped greenery plots had been left completely trampled under the weight of overzealous spectators.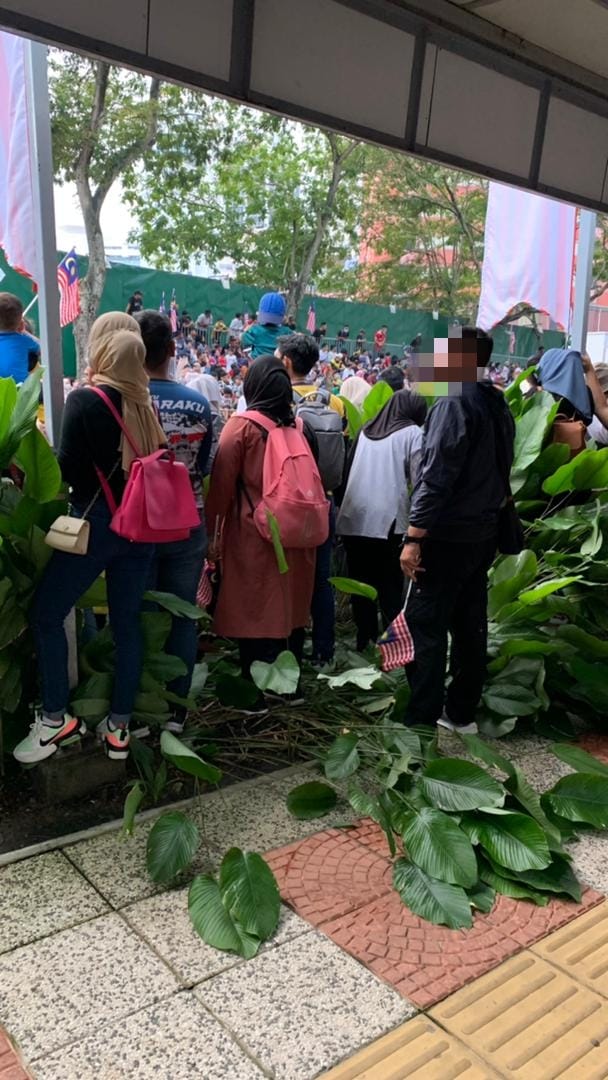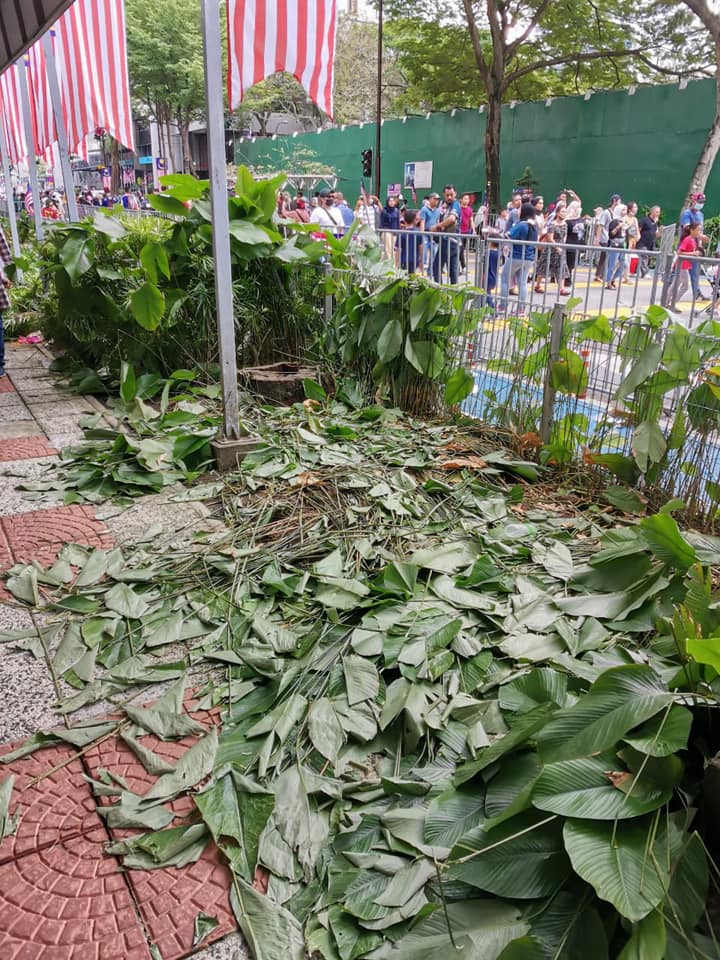 The discovery was shared through their official social media channels, showing how leafy plants that were sown around parts of the city for decorative purposes had been left flattened in the wake of pedestrians jostling to get a good view of the festivities.
"Admin truly enjoyed seeing how many people came down to fill the streets around Dataran Merdeka this morning together to celebrate National Day. This is the kind of patriotism that we want to see!

However, there are some among us who have no concern whatsoever for their surroundings and feel no guilt for crushing the beautiful landscaping. The effort is commendable, but done in the wrong manner." they wrote.
Netizens rebut that the event was not well managed
Netizen reactions however, have been mixed. Many pointed out that the turnout for this year's Independence Day celebrations were considerably larger than that of previous years, which has led to considerable congestion on sidewalks close to the Dataran Merdeka area.
"1. Too many crowds 
2. Many walkways were sealed off by fences. 
3. Main roads became parking areas for VVIP. 
4. Visitors couldn't see or realise what they were stepping on, as it was too crowded. 
Either way, those aren't excuses. The habits of visitors should also be changed. 
Just wanted to share my own experiences from this morning."
"Only those who were there knew how unusually large the celebrations were this year. There were too many people in attendance, and the situation became out of control. Everybody wanted to see the parade, and there were no designated locations prepared. So they just stood wherever they could."

"You tell Malaysians to come in droves, but the roads around Dataran Merdeka were turned into parking spots for VVIPs. Just let VVIPs park on Padang Merbok next time."

In fact, some have suggested that the Merdeka parade be moved to a different venue next year, such as in Putrajaya, where it would be easier to accommodate such large crowds.
"I feel that the Merdeka event could be held in other larger venues. When they announced it being held at Dataran Merdeka, I already had doubts; will it be large enough to accommodate those attending? If we're just talking about the parade, sure. Because it's been two years since we've had celebrations like these, many are bound to show up. The roads are always packed here on normal days as it is."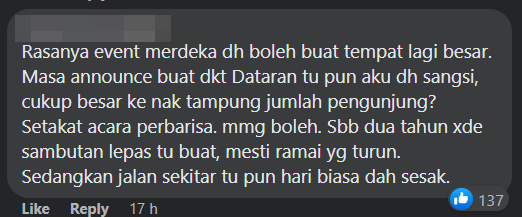 "This is why we have Putrajaya. Boulevard 8km from the Prime Minister's Office to Putrajaya International Convention Centre, and it's plenty wide. Putrajaya was meant to be built because KL was simply too crowded and can no longer accommodate parade events of such large scale."

What are your thoughts on this?
Tap here to give us a 'Like' on Facebook and stay up-to-date on the latest news!
Also read: From sado firefighters, to Milo trucks, and doggos in tiny paw boots, here are 4 highlights from 2022's Merdeka parade!