Amid ongoing public furor that was brought on by a 26-year-old woman's highly controversial stand-up comedy act, the Crackhouse Comedy Club nestled in the residential alcove of TTDI has now become the target of much hostility. According to local news outlet Free Malaysia Today, club premises were found to have been vandalised with paint just yesterday (July 19th 2022), shortly after the highly contentious female performer was released on bail, before being detained again by the Federal Territories Islamic Religious Department (JAWI).
Crackhouse Comedy Club vandalised with paint 
Located on the second floor of a row of shop-lots, the club's stairwell entrance and signboard were notably defaced with splatters of red paint. Posters that lined the walls leading up into club premises were also vandalised with red spray paint, with notable signs of paint dribbles left on the tarmac of the road directly outside the comedy club.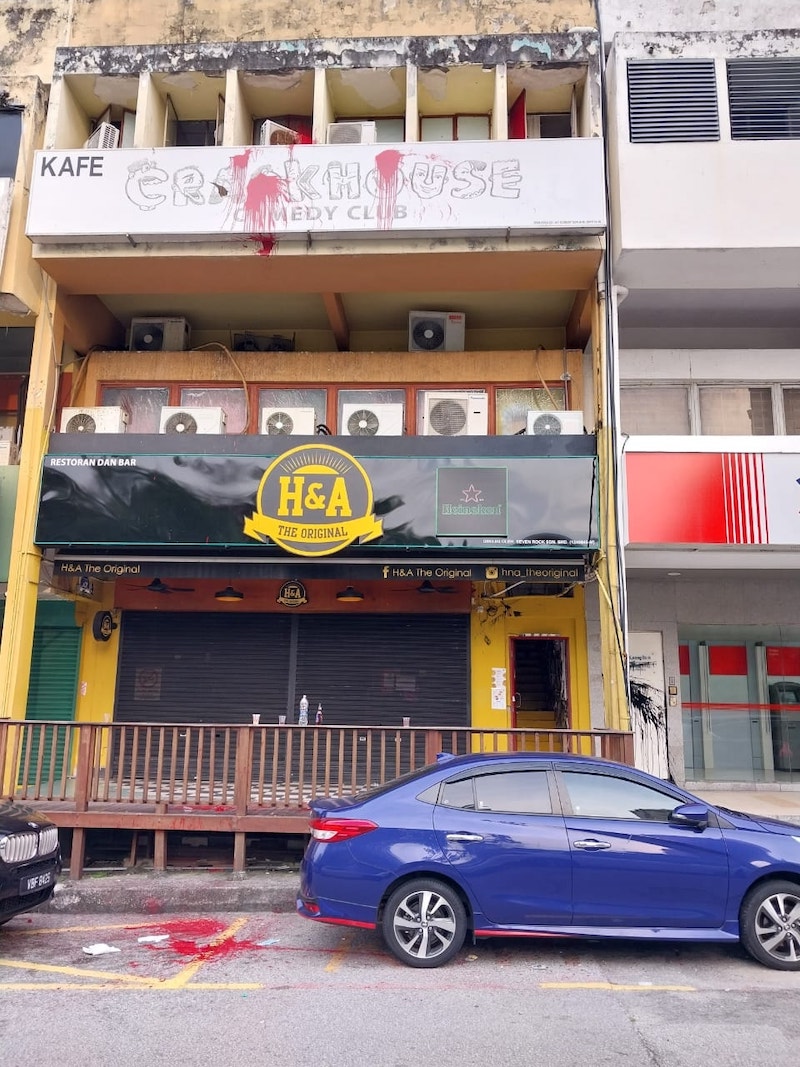 A Hong Leong Bank branch located next to the comedy club was not spared from the chaos either, and also saw the door leading up to the second floor of their outlet defaced with black paint splatters.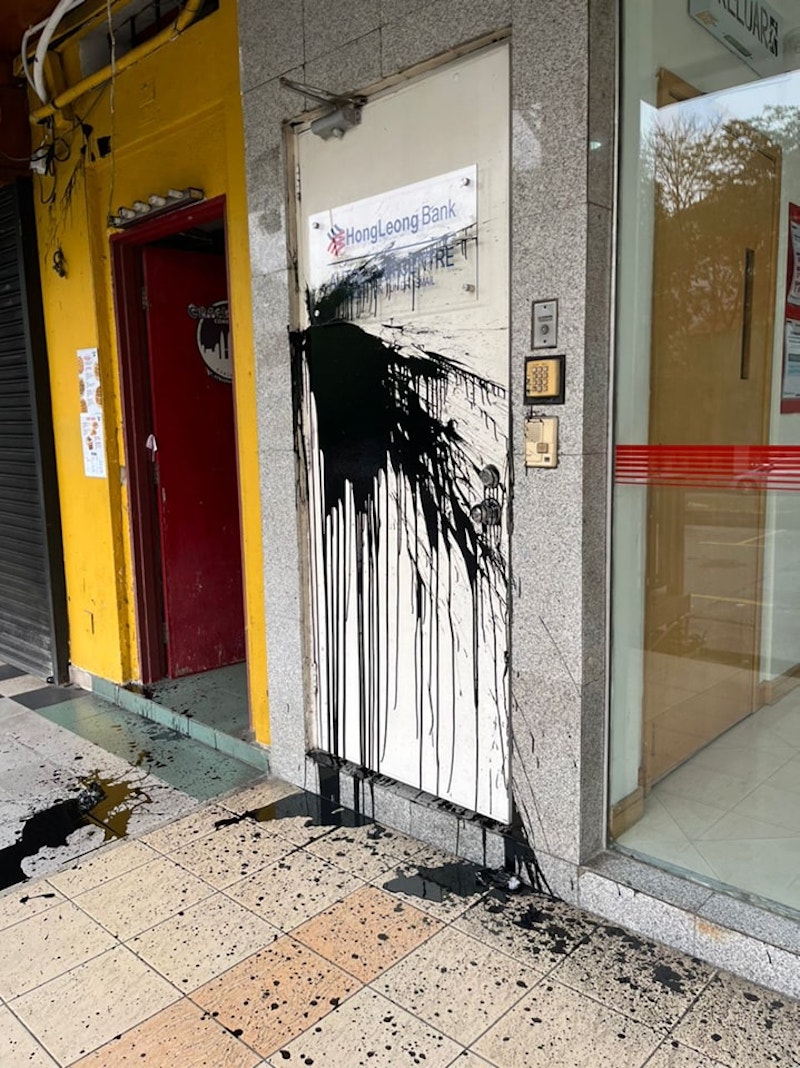 Quoting Brickfields district police chief ACP Amihizam Abdul Shukor, Malay Mail reports that two individuals seen in a Proton Waja are believed to be the culprits behind the act, and had been targeting the comedy club specifically. However, the bank wound up suffering from collateral damage, which is estimated to cost around RM3,000 in repairs.
CCTV footage obtained from the scene indicate that the incident had occurred between 4.15am and 5.09am yesterday (July 19th 2022). The case will now be investigated under Section 427 of the Penal Code for committing mischief and thereby causes loss or damage. Upon conviction, it can carry a jail term of up to 2 years, a fine, or both.
Co-founder's family receive death threats
The act of vandalism also coincides with the comedy club's co-founder, Rizal van Geyzel, and his family receiving death threats in the wake of the many controversies dogging the comedy club. In speaking to The Vibes, Rizal said that the situation now requires police intervention after his wife had received death threats on her personal phone number.
"I've received lots of threats before this – name calling, swear words, verbal abuse etc – to the point I had to change my mobile number, but this is the first time this is directed at my family.

"One death threat was made previously but we didn't make a police report as the issue was still ongoing." he said.
He adds that this is likely just 'the start', with fears that circumstances may further escalate. Rizal was previously detained by the authorities and is currently being investigated for alleged sedition.
For more stories like this, follow us on Facebook by tapping here!