Probably one of the most frequent questions we Malaysians often ask ourselves is 'What's for breakfast/lunch/dinner?'. And that comes as no surprise given the medley of choices that we get to enjoy living in a bona fide food paradise, with options ranging from hawker stalls to classy wine and dine restaurants! 
But some days, you just want to kick back, enjoy a good meal and also great savings without having to even step out of your own house. In which case, you'll definitely want to mark your calendars for ShopeeFood Day, happening on the 12th to 14th of every month! 
Special voucher drops will also be happening on ShopeeFood Day from the 12th to 14th of May! So if you don't want to miss out, simply tap on 'Remind Me', and check back on those dates to enjoy them!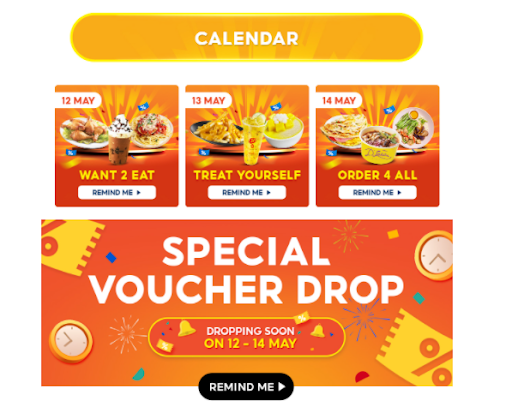 ShopeeFood offers some of the largest selection of the most popular eateries from across the Klang Valley, as well as up-and-coming F&B brands right to your doorstep. From local staples to international delicacies, you can start charting your foodie adventure from your couch! Don't know where to start a journey for your tastebuds? Then let us help you plan with some of our favourite recommendations, available right from the app!  
Little KL Food Hall 
If variety is what you're after, then look no further than the Little KL Food Hall. Bringing together all of your staple Asian and Western flavours under one roof, you'll be hard pressed not to find something for everyone in the family to enjoy here! The Bolognese Spaghetti with Grilled Chicken comes highly recommended, served with a zest tomato puree topped with cheese. 
D'Laksa 
Craving for something that will light-up your tastebuds? Then D'Laksa is the place to be. Best known for their rich and creamy laksa bowls filled with fresh ingredients for maximum flavour, you simply can't miss out on trying their signature Asam Laksa!
Agrain 
Healthy and delicious don't have to be mutually exclusive, and Agrain's menu is proof of that! Serving up health-conscious meal options that don't compromise on taste, you can't go wrong with their Thai Chili Chicken Rice consisting of stir-fried eggplant, long beans, and chicken on a bed of fragrant rice. 
ChiChiCky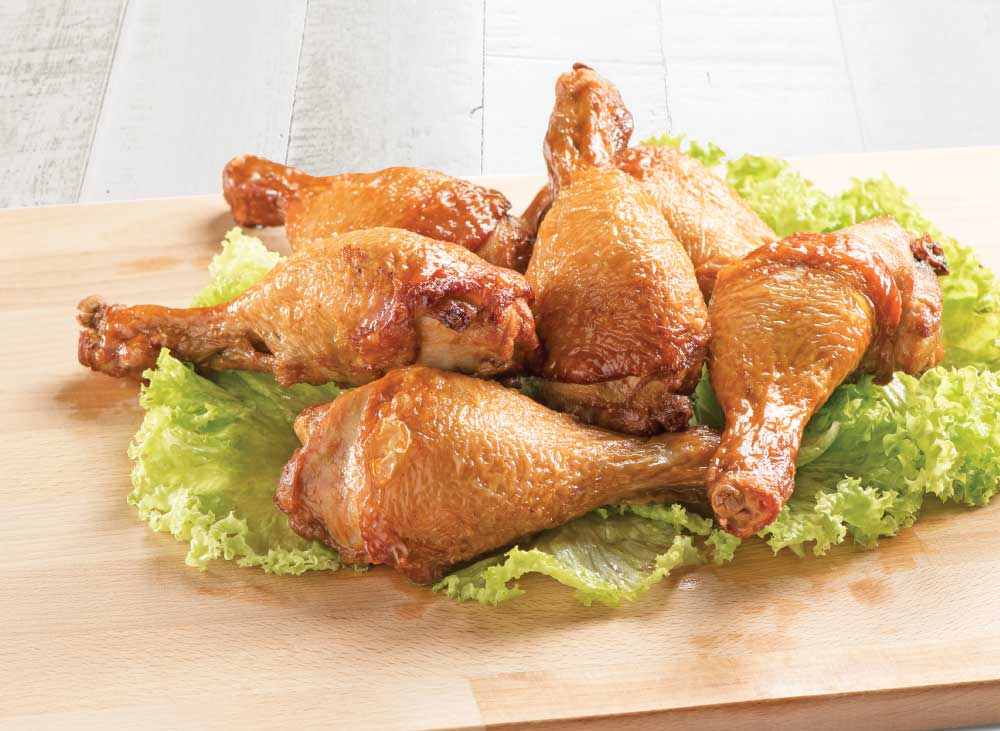 And speaking of healthy alternatives, enjoy Malaysia's very first flourless deep fried chicken from ChiChiCky, guaranteed to keep you coming back for more! Using only farm-fresh chickens and cooked without any flour or batter, every bite is nothing short of a succulent one. 
TaiOne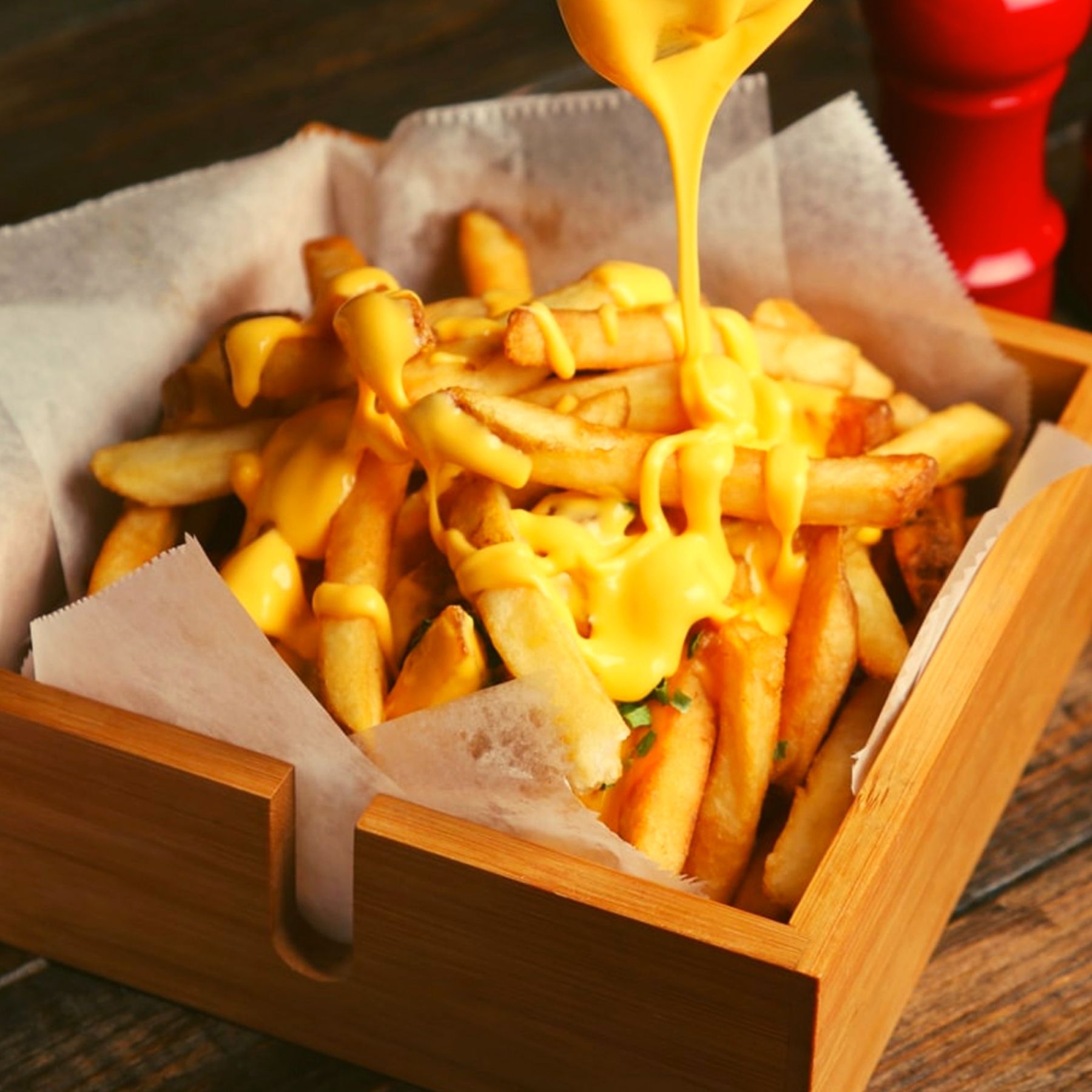 Feeling peckish but not looking for something too hearty? Then TaiOne's Cheesy French Fries will hit the spot. But don't be surprised with how addictive they can get, especially with that decadent, oozing cheese sauce! 
Peng Hu Taiwanese Breakfast
Finding your breakfast options running a little dry? Have no fear, Peng Hu Taiwanese Breakfast is set to bring the flavours of Taiwan right to your early-morning plate. You can't go wrong with their classic fragrant scallion pancake, sandwiched with eggs and ham slices for a truly hearty start to your morning. 
Top off your sweet-tooth during ShopeeFood Day!
The Brew Crew
Whether as a pick-me-up at the office or an after-work treat, The Brew Crew's Chocolate Chip Frappe will satisfy all of your sweet–tooth cravings with a truly rich concoction of chocolate and whipped cream, topped with a chocolate drizzle. Order one for yourself, and another to share! 
LiHo Tea
We all know how swelteringly hot Malaysian afternoons can be. So beat the heat with LiHo Tea's refreshing Summer Passion Fruit Green Tea. Fruity and ever-so invigorating in every sip, it's sure to quench your thirst while keeping the heat well at bay. Sip at your leisure and stay cucumber cool! 
Lol Soon Kee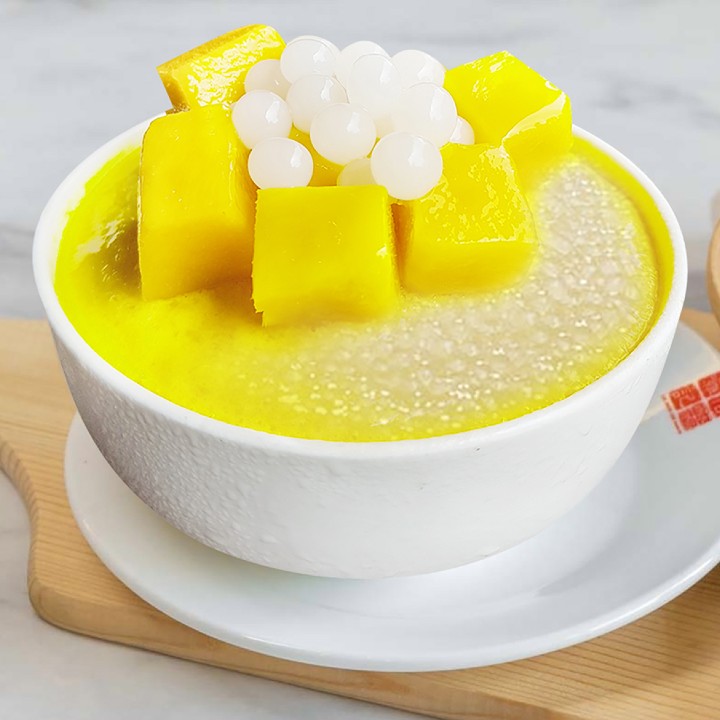 No meal is complete without a dessert, and you wouldn't want to miss out on Lol Soon Kee's Yoghurt Mango Popping Sago bowl. As the name suggests, every spoonful introduces you to creamy yoghurt infused with the fragrant sweetness of mangoes, which is only made all the more delightful with sago beads that pop in your mouth! 
Thong Kee
Need a new place for coffee runs with your office colleagues for a mid-day slump pickup? Traditional Hainanese coffeehouse Thong Kee is the perfect place to order from, especially if you're a fan of a deliciously frothy, creamy brew of coffee. Non-coffee folks could also opt for their milk tea, which is also part of their signature menu! 
The Manhattan Fish Market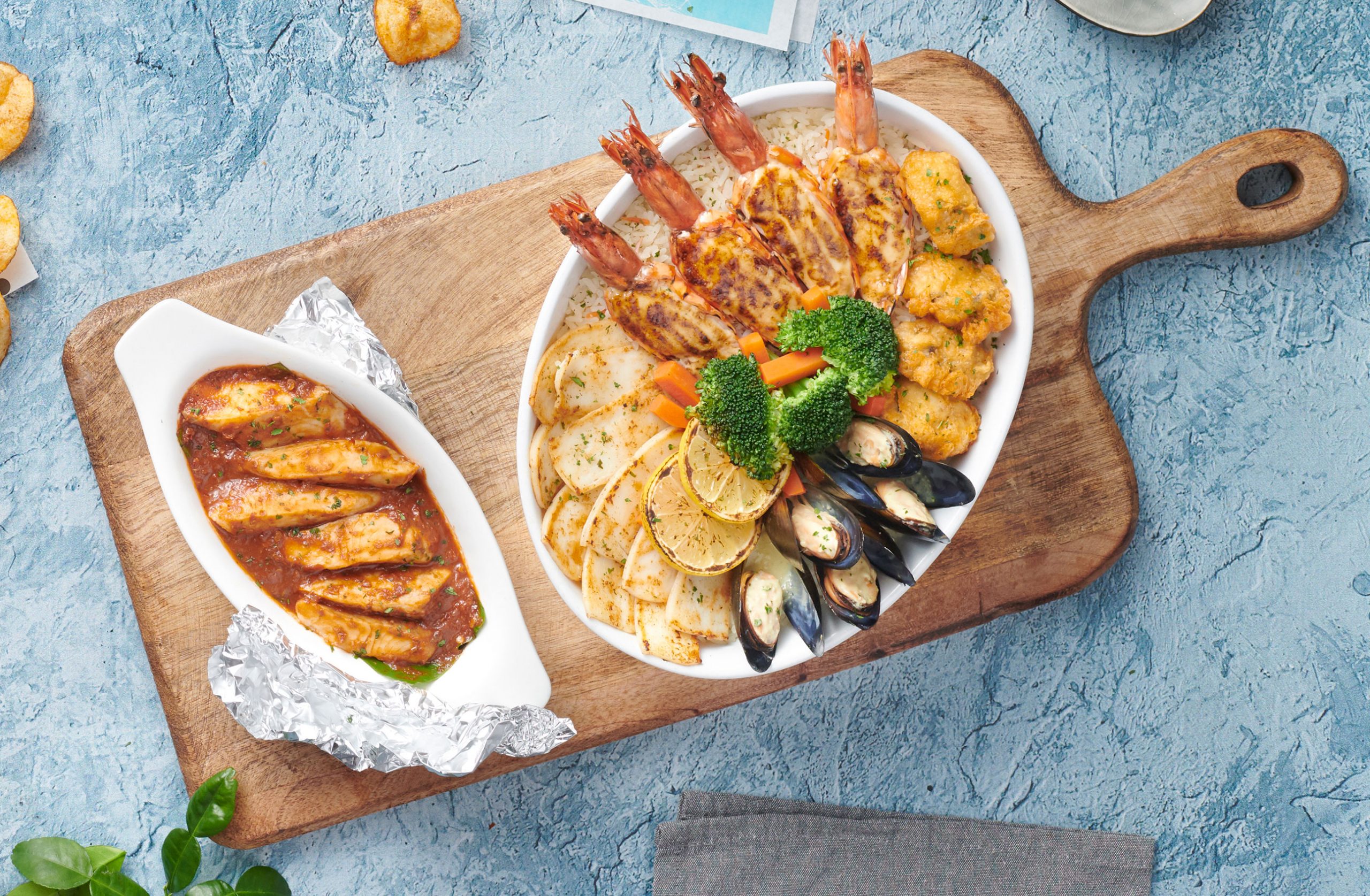 Arguably one of the most popular and well-known seafood chains in Malaysia, The Manhattan Fish Market is the perfect place to order from if you're planning to serve a fresh catch from home! Whether it be fish, shrimp, or even lobster, they have it all in a wide variety of different cooking styles to boot. Yum!
Black Canyon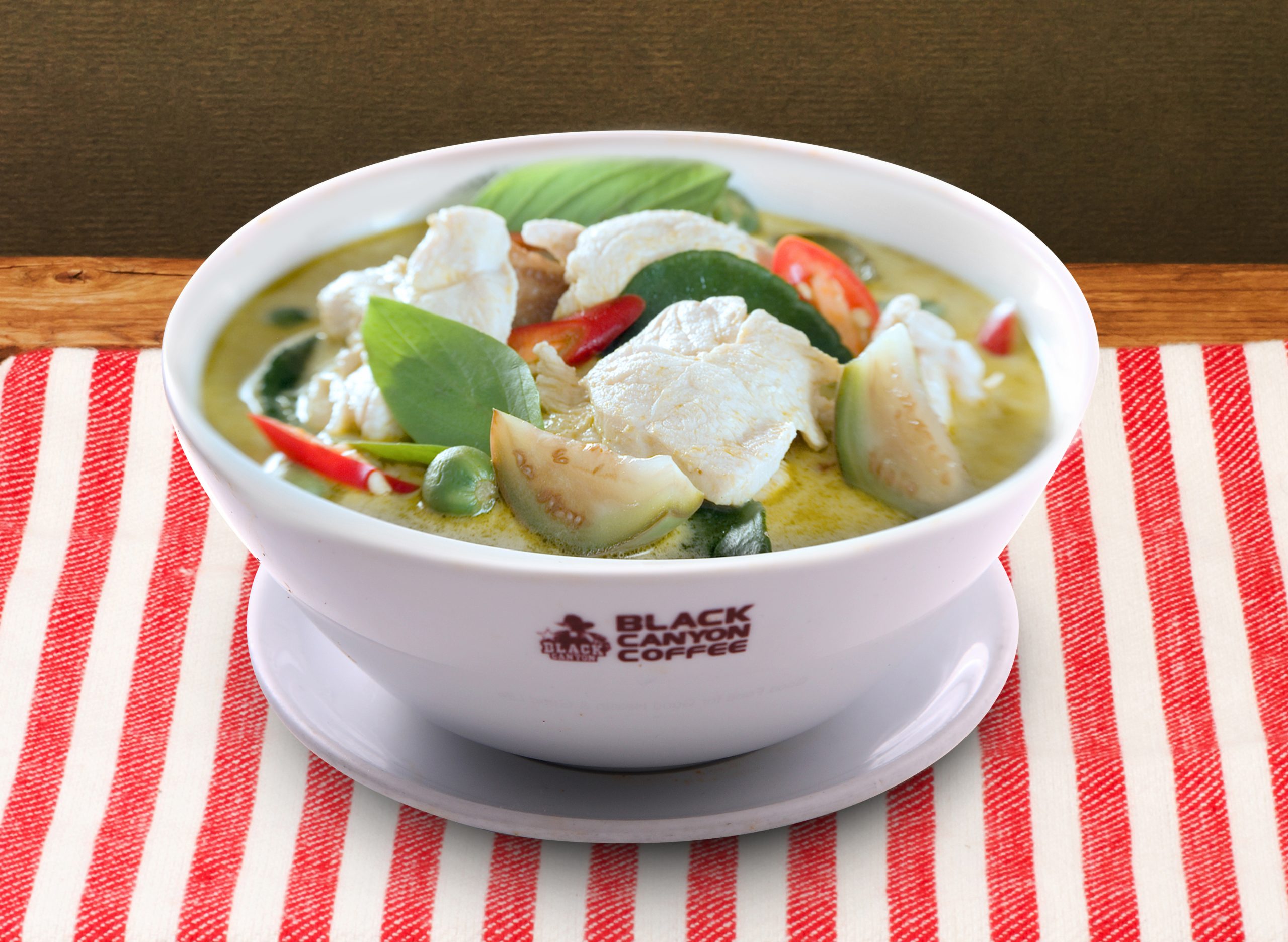 Sometimes, you just crave for nothing more than Southeast Asian comfort food favourites with family and friends. And when you do, you won't have to look further beyond Black Canyon's menu, which features Southeast Asian hits including Thai green curry chicken, char kway teow, and others! 
Mee Goreng Bos! 
Mee goreng party, anybody? Let Mee Goreng Bos! transform turn this humdrum pantry staple into mouth-watering dishes with generous portions, perfect for casual nights in with friends and a good show. With noodles cooked to al dente perfection, every mouthful strikes the perfect balance between texture and flavour. 
The biggest savings happen on ShopeeFood Day
But ShopeeFood Day isn't just all about good food! On top of mouth-watering meals, you'll also get to enjoy UPSIZED vouchers up to 65% off when you order between 3pm to 5pm! Check out the deals below: 
12th of each month: RM12 off with minimum spend of RM20 

13th of each month: RM13 off with minimum spend of RM20 

14th of each month: RM14 off with minimum spend of RM25
This on top of Super Deal promotions that offer up to 50% off menu items on ShopeeFood Day, stackable vouchers for even bigger savings, and of course, FREE delivery right to your doorstep! 
Win RM15,000 worth of prizes from Tefal with ShopeeFood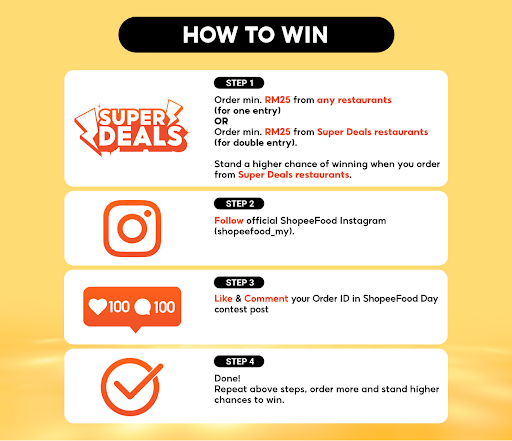 Did we also mention that you could stand a chance to win over RM15,000 worth of prizes from Tefal on ShopeeFood Day? Yes, it's true! Sponsored by Tefal, you can grab your share of premium cookware and appliances from the brand by participating in ShopeeFood Day's giveaway in a few simple steps: 
Order a minimum of RM25 from any restaurants or eateries to be entitled to 1 entry OR order a minimum of RM25 from any Super Deals restaurant for 2 entries. 

Follow the ShopeeFood official Instagram account at @shopeefood_my 

Comment your order ID on the ShopeeFood Instagram contest post, and give the post a like. 
Once you've completed all three steps, you're set to be in the running for some brand-new, high-quality additions to your home! What's more, you can repeat the process as many times as you'd like on every order above RM25 to improve your winning chances. So the more you order, the better your chances of winning! 
Speaking of prizes, here's what each winner stands to take home with them from the giveaway: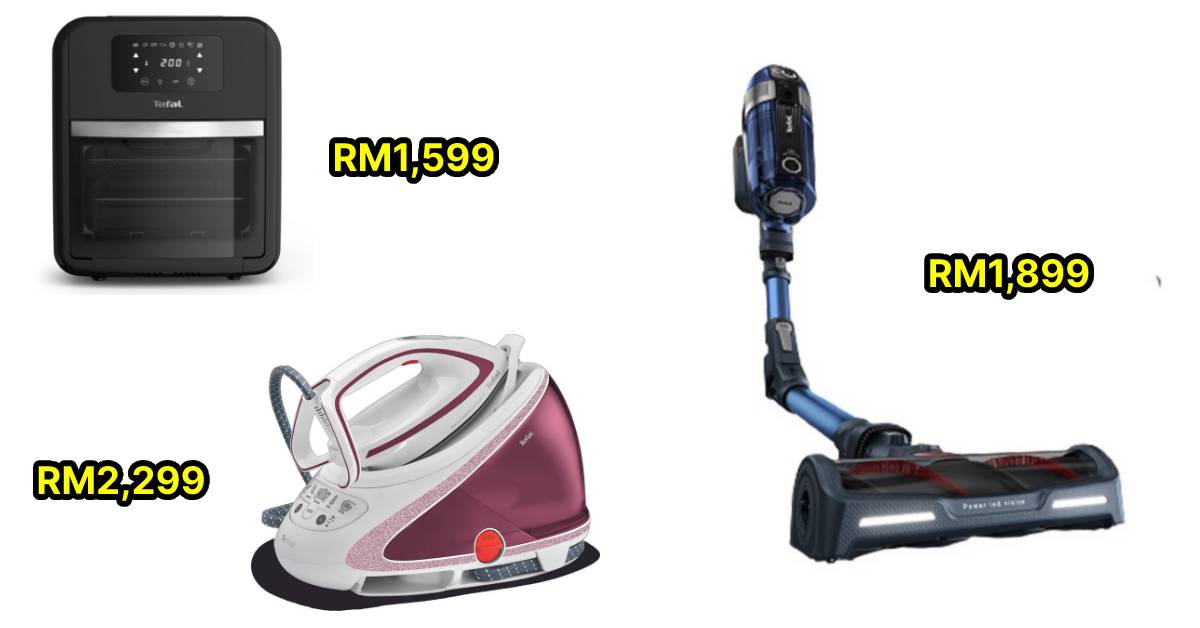 Grand prize: 
x1 Tefal Steam Station Pro Express Care + Ironing Board worth RM2,299
x1 Tefal Ingenio Resources 5 Piece Set worth RM889
First runner-up:
x2  Tefal X-Force Flex 11.60 AQUA Vacuum worth RM1,899.
Second runner-up:
x3 Tefal 9-in-1 Multifunction Easy Fry Oven & Grill/Air Fryer (11L) worth RM1,599
Consolation prize:
x5 Tefal Ingenio Expertise 3-PC Set (Set: SCP18,WP26, Handle) worth RM659
With new users enjoying ShopeeFood every day, it's time you joined the club too! To access ShopeeFood, all you need to do is boot-up your Shopee app and tap on ShopeeFood to start dining and saving. 
Don't have the Shopee app yet? Download it here on the Apple App Store, or here on the Google Play Store! For more information on ShopeeFood Day, check out the link by clicking here. For more information on ShopeeFood Day, check out the link by clicking here. Promotions go live officially on the 12th of this month, so keep your eyes peeled!
Tap here to give us a 'Like' on Facebook and stay up-to-date on the latest news!