Throughout the span of the past two years of a global pandemic, the vaccine mandate has been among one of the most hotly contested issues in recent memory. With claims of the current range of vaccines being rushed to market without proper testing to conspiracies that speak of bioterrorism or mind control, the anti-vaccination rhetoric has never been as prominent as it is today.
Antivaxxers willing to pay RM2,500 to get MySejahtera vaccination status changed
And despite the Ministry of Health's efforts to protect public health, a plethora of different methods now exist to help antivaxxers skirt the law and masquerade under fake vaccination certificates, for a price. In a recent Tweet by netizen @FatinRazaqq_, she reveals that some individuals are willing to help alter the vaccination certificates used in the MySejahtera contact-tracing app for anti-vaccination proponents, if they are willing to fork over the handsome sum of RM2,500 for their services!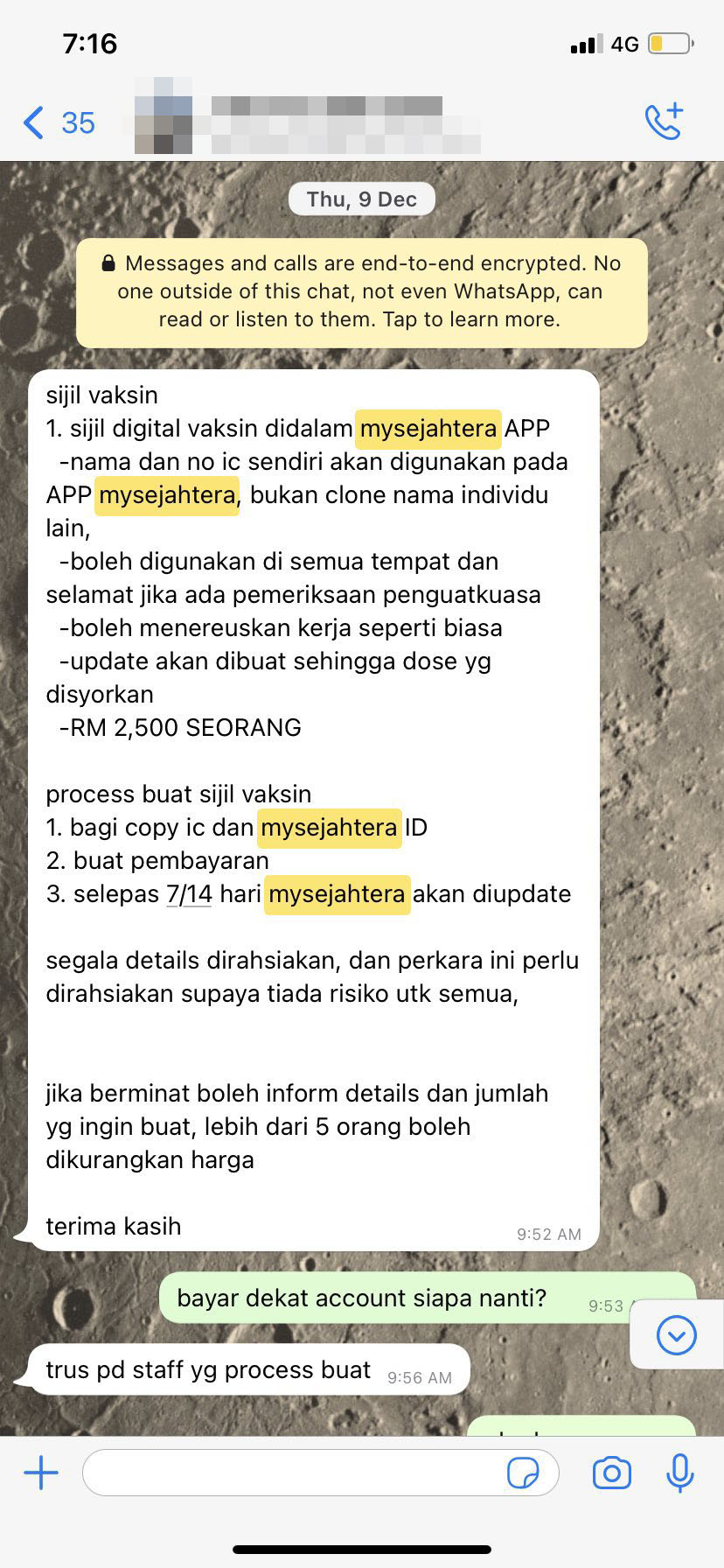 In a screenshot obtained from a correspondence with one of these unscrupulous individuals, they claimed to be able to help alter the vaccination certificates in an antivaxxer's MySejahtera app to falsely indicate that the unvaccinated individual had been fully vaccinated. According to the 'service provider', the individual is required to submit their full name and IC number for the purposes of tampering with the vaccination certificate in the app.
Once completed, the valid vaccination certificate will be produced and will enabled the unvaccinated individual to bypass all checks by the authorities. In fact, they even assured customers that the vaccine certificate will be periodically updated over time to reflect any new booster dose recommendations from the government. The process will take anywhere between seven to 14 days to complete after the initial payment.
Claims that insiders are willing to help make the changes
Naturally. the 'service provider' reminds customers to remain discreet and keep this matter a secret, so not to pose any risks for those involved in the operation. They even offered a discount for those who are able to bring in more than 5 prospecting customers.
But what makes this all the more sinister is that the individual offering these services claims that internal staff from MySejahtera will be the ones tasked to alter the vaccination certificate details.
In a reply to her initial post, another netizen who goes by the username @AhmadFarisHakim claims that a friend of his who had masqueraded as an antivaxxer, was offered similar services from another individual. However, they only needed to pay RM150 for a two-dose vaccination certificate, and RM300 for a three-dose vaccination certificate.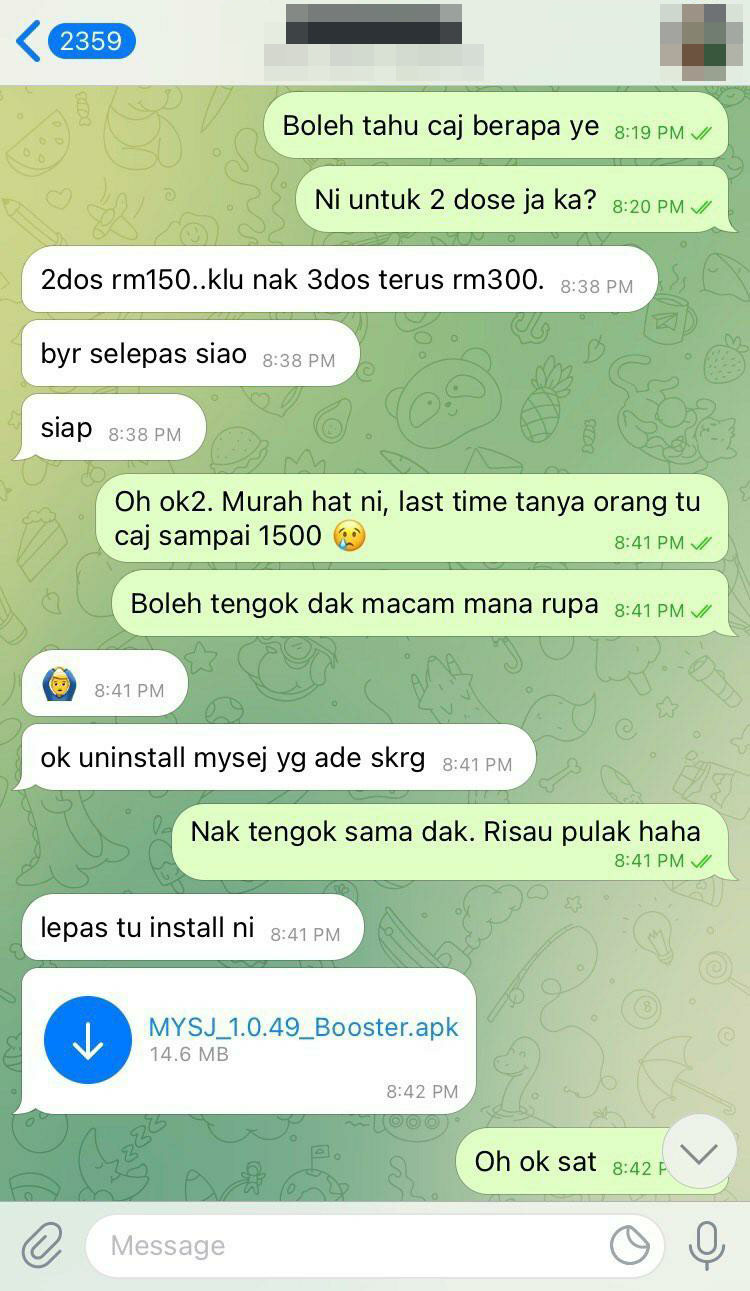 As one can imagine, many netizens have admonished these tactics, pointing out how antivaxxers are willing to pay this much money to have their digital certificates falsified when the vaccines are being offered for free.
"Look at how expensive it can be just to get your vaccination status changed. This is all a part of the Illuminati agenda. I have a trick that can help change your vaccination status for free on MySejahtera. All you need to do is head to a Mass Vaccination Centre (PPV) and make an appointment, or walk-in to get your first dose. I hope this helps, fellow anti-vaxxers."

"What a waste of money. I am reminded of the time when my mom told me a story about my great-aunt regarding vaccines. My great-aunt said what's the point of paying for something that is being offered for free? It's not easy for the government to hand out free things."
"Ordinary people like me are willing to get the vaccine for free, instead of paying this much to get a fake digital vaccination certificate."

"I can't believe there are dumbwits who are willing to pay RM2,500 than to get vaxxed."

For more news like this, follow us on Facebook!
Also read: Khairy: Malaysia has recorded 245 Omicron cases, 12 which are locally transmitted