If you happen to own a car or have driven one in Malaysia, then you will no doubt be familiar with the increasingly ubiquitous RFID stickers that were introduced to local drivers almost four years ago, back in 2018. 
Appearing as a thin, transparent strip containing integrated circuitry and an antenna, all one needs to do is to have them applied on the windshield or headlamp of their vehicles to begin enjoying hassle-free driving at all RFID-enabled toll plazas across the country without ever having to stop and reach for your Touch 'n Go card, or worry about reloading at the nearest convenience store. 
With the ultimate goal of bringing Malaysian highways closer to a gantry-less multi-lane free-flow (MLFF) toll future, these unassuming stickers are capable of completing toll-fare transactions at up to 35km/h. What's more, you can even go cashless when you refuel your vehicle at selected Shell stations that enable payments directly through your RFID sticker! 
Bearing that in mind, there are a couple of tips that you may want to consider when getting a brand-new RFID sticker applied to your vehicle, so that you can truly reap all the benefits that come with it. 
1. Install your RFID sticker at least 5cm away from any metal surfaces
If you're planning on installing your RFID sticker on your own, then you should definitely make sure that your RFID sticker isn't applied close to any metal surfaces on your car. Ideally, the sticker should be 5cm away from any metallised elements, which includes body panels, body pillars, or metallic trim, as they can create interference between the RFID scanner at toll booths and your sticker. 
2. Check to see if your car's window tint contains any metallic elements 
Given Malaysia's equatorial weather, many vehicle owners may choose to apply window tint film to help reduce the amount of heat and UV rays that they are exposed to when they drive. Given that fact, be sure to also check if your car's window tint film contains any metallic elements, as it can prevent your RFID sticker from functioning properly. 
If your car does use a metallised window tint film, your best bet would be to apply your RFID sticker on your car's headlamp! 
3. Be careful when washing your car after it has an RFID sticker on
Here's something to keep in mind for those of you who frequently give your car a scrub-down: you cannot wash your car for at least 24 hours after your RFID sticker has been installed. And when you do wash your car after those initial 24 hours, be sure not to use any corrosive chemicals around the area of the RFID sticker! 
You should also make a point to tell car wash employees to be mindful and take extra care when washing around the RFID sticker area, to avoid any liquids damaging the filament. 
4. Don't try to remove your RFID sticker, unless you're selling your car!
Upon application, be sure that you know exactly where you want your RFID sticker to be placed! This is due to the fact that once you have already attached the sticker to any surface of your car, you will not be able to peel it off. Should you attempt to do so and reapply the sticker, the RFID components will no longer work. This is all part of a built-in security measure. 
But wait, we have just one more tip saved up just for you if you're planning to get your very own RFID sticker! If you purchase your RFID sticker between September 10th, 2022 to November 18th, 2022, you may even stand a chance to win FREE TOLL for an entire year!
All you have to do to be in the running to win is purchase your RFID sticker from any of the following platforms during the contest period: 
Touch 'n Go app

(if you purchase now, you'll even receive RM8 cashback!)

Touch 'n Go Hubs at Bangsar South & NU Sentral

The official RFID portal

(if you purchase now, you'll even get an RM8 reload PIN!)

Selected Petronas & Shell stations 
Once purchased, install the RFID sticker onto your car and activate it by linking it to your Touch 'n Go eWallet. Then use your RFID tag for a minimum of 5 times during the contest period, and you'll automatically be enrolled in the contest! 
Eight (8) winners will be announced every two (2) weeks during the contest period, amounting to 40 winners in total who will be able to enjoy 365 days of free toll! But move quickly, as the first round of winners have already successfully secured their one year's worth of FREE TOLL! We'd like to take this opportunity to congratulate those of you who managed to bag the top prize!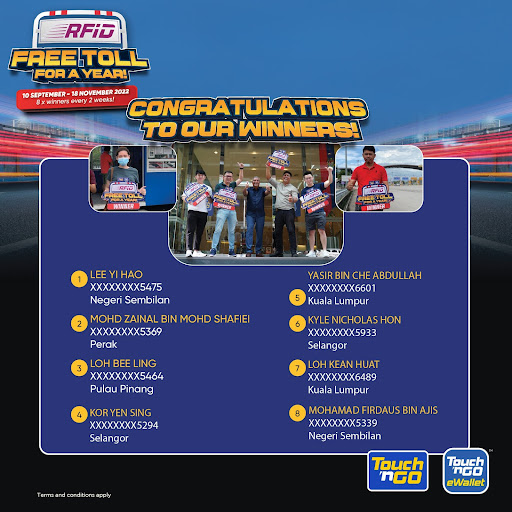 With unlimited toll for one whole year, these lucky winners will not only be able to enjoy massive savings on their daily commutes throughout the Klang Valley, but also get to enjoy their next vacations across the country without having to worry about topping up ahead of every trip. 
Contest ends November 18th, 2022, so you'll have 28 days left to secure your one year's worth of FREE TOLL!
To learn more about the contest, visit the official campaign website here, or follow Touch 'n Go over social media on Facebook, Instagram, Twitter, YouTube, and LinkedIn for latest updates and promotions! 
You can also download the Touch 'n Go eWallet App on the Apple App Store, Google Play Store, or HUAWEI App Gallery. 
Tap here to give us a 'Like' on Facebook and stay up-to-date on the latest news!