The undying loyalty of dogs is simply a wonder for us to behold. Stories of how dogs protect humans from danger or remain by their sides until their demise will never bore us. So, here is another heartwarming story of how a pack of stray dogs repaid a man by "guarding" his motorcycle.
Six dogs 'guard' motorcycle by shift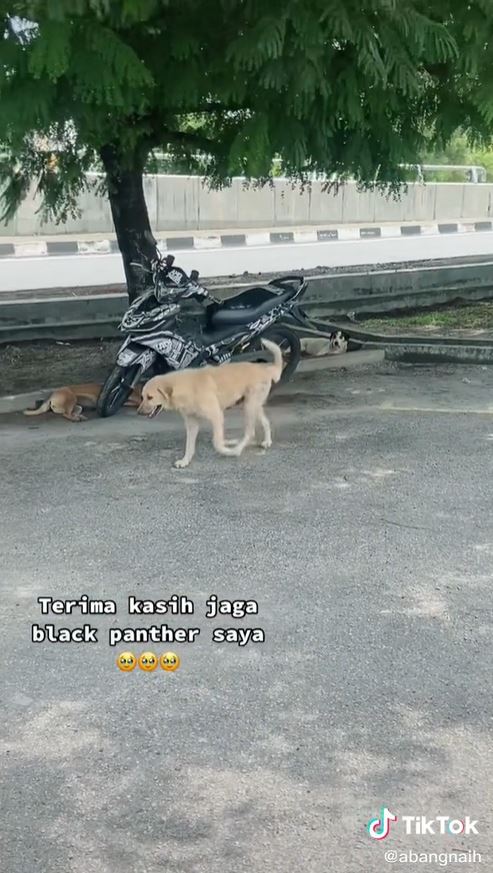 TikTok user @abangnaih posted an adorable video of 4 dogs guarding his motorcycle, which was parked under a tree. The video eventually went viral with over 206.7k views and 25.3k likes.
It all started when Abang Naih noticed these dogs kept appearing near his workplace at Kepala Batas. One day, he decided to share one piece of fried chicken with them, which then began a special bond.
At first, he admitted that he was hesitant about approaching them because they may attack any intruders, but he realised that they were quite docile.
"I was actually scared of approaching stray dogs because they can be vicious at some time. But, I have always liked sharing food with people and animals so I decided to share a fried chicken with them and I guess that's how they knew me," Naih said.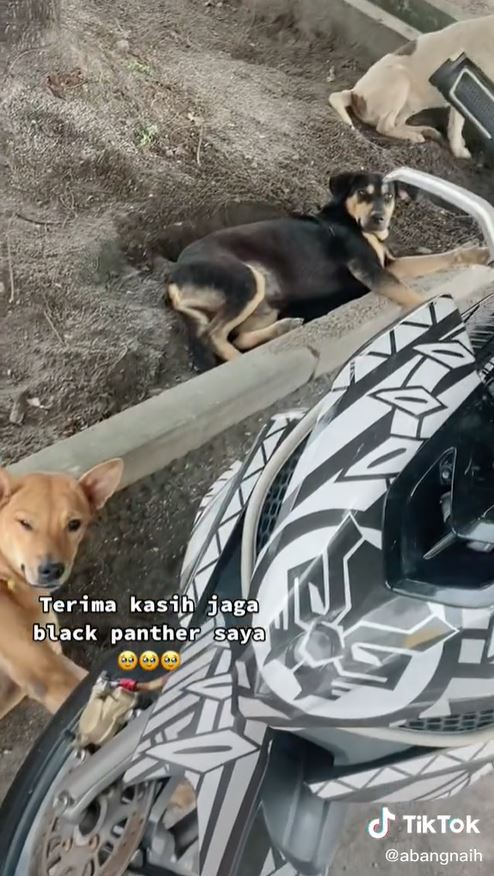 From then on whenever and wherever he parked his motorbike, these dogs would stay close to the vehicle as if they were protecting it. In the video, Naih can be seen approaching each dog to thank them one by one for taking care of his "Black Panther".
"I saw them lying around the motorcycle as if they are defending it. I thought it was cute, and these 'bodyguards' seem cool so I decided to take a video of them but I didn't expect that it would attract so many views," he said.
Although the video only showed four dogs, there were in fact six dogs and they would take turns 'defending' the motorcycle. 
"Not all stray dogs are vicious"
According to an interview with Sin Chew Daily, Naih said that many Malaysians believe that the Malays wanted nothing to do with dogs, but that was not entirely true as it appeared that many were just scared to approach a stray dog. 
"Not all stray dogs are vicious. In fact, those who chase probably have owners of their own, because they wished to protect their owners," he said. 
After causing a buzz on the Internet, netizens could not help but adore this heartwarming sight. Some even commented that Naih should give these 'personal bodyguards' some 'salary'. 
And with that, he uploaded a video showing proof that he bought some ayam mamak as 'payment' and fed it to these adorable 'bodyguards'.
How sweet are these stray dogs! Hopefully, they are able to find their forever homes and become true protectors of their owners.  
Tap here to give us a 'Like' on Facebook and stay up-to-date on the latest news!
Also read: Kind 48yo S'wak man facing blindness appeals public for help to rehome 18 stray dogs he rescued over the years