Motherhood is often considered to be a sacred journey that woman undergoes in bringing a child into the world. However, it has now been found that despite the innocence and purity of a pregnant mother experiencing her first taste of motherhood, there are those who seek to sully it with perversion by turning it into a fetish.
FB group fetishizing pregnant women
i got a dm today sending me acouple of links to a facebook group and post.

these people were fetishizing PREGNANT mothers and there's some signs even showing that some might even be taking 'candid' …unconsented pictures.

this is unbelievable and repulsive.
im shocked. pic.twitter.com/lZhF0AUmJ0

— ain #MakeSchoolASaferPlace (@ant33ater) October 31, 2021
According to student activist Ain Husniza, it has been reported that a Facebook group exists within the social media community for the sole purposes of sharing and discussing pregnant Malaysian women as a sexual fetish. The group, named 'Koleksi Mak Buyung Malaysia', which translates to 'A Collection of Pregnant Women', currently boasts over 6,404 total members as of writing.
Despite being a private group, insiders from within have managed to share screenshots with Ain that have been included with her Tweet. Many appear to show various images of pregnant Malaysian women who are going about their day out in public in shopping centres, oblivious to the fact that they were being photographed.
Many of the women appear to be Muslim wearing hijabs. Group members involved in the disseminating of the images use fake usernames and profile pictures to avoid being identified.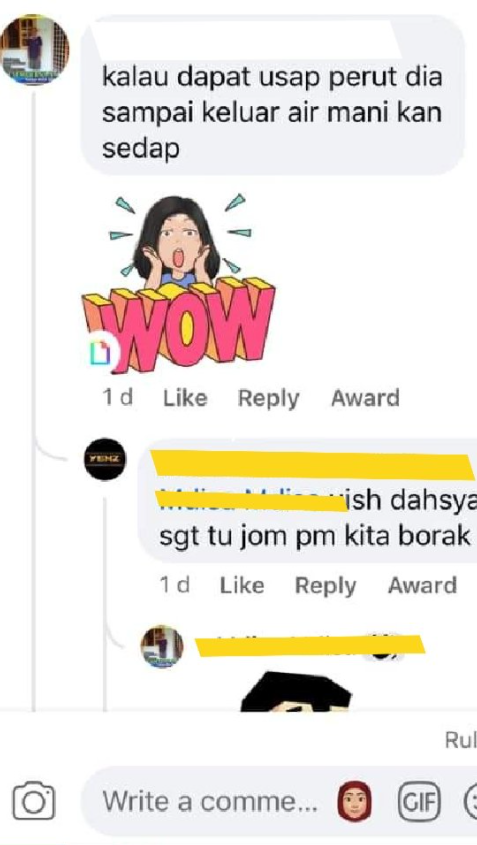 Illicit photos aside, lewd and sexual comments were also made about the women 'featured' in the group, fetishizing the appearance of their pregnancies and mentioning how they would like to commit sexual acts to the sight of these women. Others requested for more 'candid' photos of the women, referring to ones taken without their knowledge.
What's more, some men have gone on blame these women for their choice in attire, saying that it should come to no surprise if their photos end up in the group as a result of what they wear.
The group has since been deactivated by Facebook
After repeated calls for the group to be reported en masse, it appears that Facebook has finally taken steps to remove the group. In speaking with VICE World News, a spokeswoman said that "We know that women experience a disproportionate level of abuse and harassment online, and we take seriously our responsibility to help keep them safe."
Be cautious with people that have a bag/phone pointing towards you. Especially when the item is lowered down to their thighs, that's a huge red flag. Found this post on an old tumblr blog pic.twitter.com/KQuimeFZAi

— casual sf9 fan 🍒 (@doodlegummy) October 31, 2021
Many have also advised women in general to be aware of their surroundings at all times, especially with regards to handheld devices being conspicuously pointed in their direction, or bags that could contain hidden cameras.
For more stories like this, follow us on Facebook. 
Also read: M'sian man yells at security for not watching over his child after leaving her at guard post