The saying goes, that blood is thicker than water; family loyalties are stronger than those towards others. However, life sometimes gets the better of us, and family becomes enemy. Such was the case for this 65-year-old Malaysian man who crossed the Malaysia-Singapore border to stab his daughter 17 times over a dispute on the family house.
M'sian father travels to SG to stab daughter 17 times, intending to kill her
On 2 November, 65-year-old widower Choo Ah San whose wife succumbed to an illness in 1992 pleaded guilty to one count of attempted murder, with another charge of possessing an offensive weapon in public in sentencing. CNA reported that Choo was fleeing the scene after stabbing his daughter, 42 years old Singapore permanent resident Choo Suet Lian, when he realised that she had not died and returned to stab her on her chest, shoulder, abdomen, back and arm, with intentions to kill her. The incident occurred near a bus stop along Marsling Road, Singapore.
The Singapore High Court hears that Shoo has two sons and three daughters. The victim of this malicious attack was his eldest daughter, who is a Singapore permanent resident residing with her husband in Marsling, Singapore. Shoo has a distant relationship with his children, which was further elevated by a dispute over a house in Johor Bahru.
Dispute started over a house
The current dispute dates back to more than twenty years ago. Initially, the house in question was a rented place that Shoo lived in with three of his children. In 2000, the house was bought under the name of Shoo Suet Lian, as her father was an undischarged bankrupt and her elder brother, Chee Seng was below the age of 21. Chee Seng has been contributing to the buying and mortgage servicing of the house. However, AsiaOne reported that Shoo claimed he has been paying for the house.
Fast forward to 2016, Chee Seng replaced the locks at the house in Johor Bahru, as he claimed that his father showed disruptive behaviour, such as removing the ancestral tablets from the house. At this point, Shoo had moved out of the house to work in Melaka, returning home only occasionally.
In 2016, things took a horrible turn when Shoo broke into the house and vandalised its walls and mirrors with red ink, claiming that the victim was an unfilial daughter. He also expressed intentions to kill his children.
Three months later, Shoo's children decided to sell the house to avoid further trouble from their father.
Thoughts of killing his own children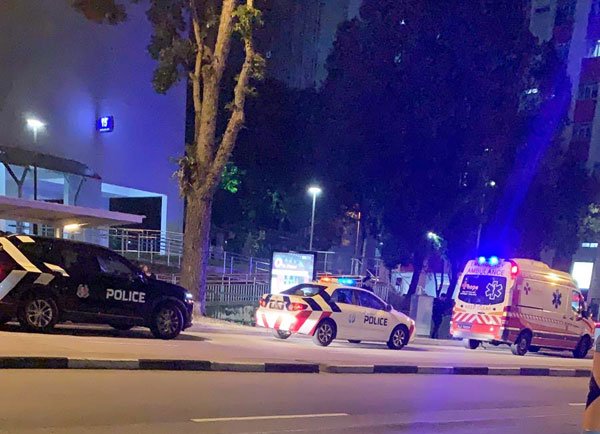 Source: China Press 
Upon seeing this, Shoo became enraged, and believed that his eldest daughter Suet Lian was the mastermind behind plans of making him homeless. He also held grudges on her for not supporting him with living expenses.
Shoo begin harbouring plans of killing his daughter from as early as June 2019. At the wee hours of 16 January 2020, Shoo rode into Singapore with his motorcycle. Traveling along Marsling Road, he had hoped to spot his daughter while she was on her way to work.
According to CNA, at approximately 5.00am, he charged towards his daughter when he saw her walking near the bus stop. Removing his helmet visor, the 65-year-old stabbed her repeatedly while uttering "You all harm me very miserably (sic)" in Cantonese.
Thankfully, Suet Lian managed to block her father's first attempt to stab her at the neck. As the accused was fleeing, a passerby heard Suet Lian's cries for help and came to assist her.
However, when Shoo realised that his daughter was still alive, he returned and made another attempt to stab her, asking her why she was still not dead. Five days after the attack, the accused was arrested at a coffee shop. The victim suffered multiple major injuries including a collapsed lung and has been recovering up to June 2021. On Friday, 5th November 2021 the accused was sentenced to 15 years of jail.
For more news like this, follow us on Facebook.
Read Also: This caregiver used her Deepavali to save a senior citizen from Kedah floodwaters