Sometime yesterday (26th April 2022) evening, many residents living within or around the vicinity of Sentul were left shocked after an explosion rattled neighbouring buildings in the area, before plumes of mushroom clouds were spotted marring the sky. Video footage of the incident depicted a small block of low-rise buildings nestled along Jalan Perhentian engulfed in bright-orange flames, with the sound of smaller explosions punctuating the chaos.
Fireworks disposal at Sentul causes explosion
And while many have speculated as to the true cause of what had happened yesterday, it has since been confirmed by Sentul OCPD Assistant Commissioner Beh Eng Lai that the explosion was caused by a a disposal operation involving confiscated illegal fireworks that had taken place at the Sentul police evidence storage facility. As reported by The Star, the fireworks were previously seized during a raid on two premises in Kepong on 24th March 2022.
Consisting of 1,059 boxes and 35 sacks of fireworks and firecrackers amounting to a whopping RM4.17 million, 5 men were also arrested in connection with the operation. It is believed that the fireworks were smuggled in from China ahead of the Hari Raya Aidilfitri festive season.
"One of the suspects, a 51-year-old man was charged at the Kuala Lumpur Magistrate's Court on March 29," he said.
Three workers sustained light injuries
Members of media had been invited to witness the disposal operation that took place yesterday, when the destroyed pile of fireworks had suddenly ignited during the cleanup process according to one of the workers present.
"It happened so quickly, one moment we were clearing the pile and the next moment I saw a huge ball of flame.

"I dived to the ground to avoid the flames and crept through a fence to get to safety. I honestly did not think I was going to survive," he told The Star.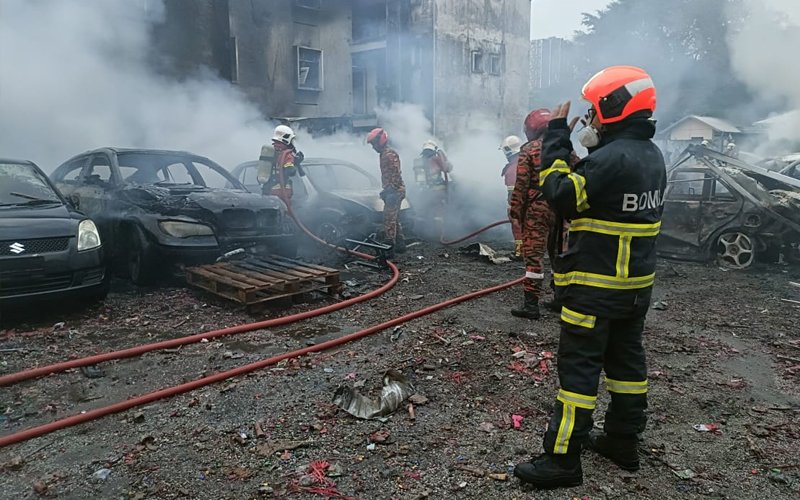 Assistant Commissioner Beh said that checks show the fire starting sometime at 6.15pm, leaving three workers between the ages of 25 to 30 with minor injuries. Free Malaysia Today reports that around 50 vehicles parked in the the compound were burnt as a result of the fire. No foul play is suspected. Malay Mail further reports that the fire had damaged 30% of the building's structure, and razed 80% of the open compound outside it. The fire was extinguished by 7.04pm.
Tap here to give us a 'Like' on Facebook and stay up-to-date on the latest news!