Where sporting talents are concerned, we Malaysians are never in short supply. From squash to badminton to track-and-field, our country has stood among the best across the globe in the sporting arena. Despite that, a number of recent incidents have highlighted a growing concern over social media for the reality that our national athletes are facing. Among them include the recent story of how former national Paralympic swimming athlete, Ms Koh Lee Peng, was seen selling handmade tissue paper covers on the street along Jalan Bukit Bintang.
Bukit Mertajam MP Steve Sim helped Koh to set up her own Shopee seller page!
After her plight was shared across social media, Bukit Mertajam Member of Parliament, Steven Sim caught wind of her circumstances and decided to offer her a hand by helping Koh take her business digital! In a Facebook post that was shared by Steven, he explained how he and Koh had crossed paths previously when his department had attempted to offer her a means of employment.
However, she remained insistent on starting a business of her own and had wanted to earn a living for herself through honest means, an aspiration that Steven had respected.
"Lee Peng, a national hero, wants to start her own business. So let us not shame or condemn her for her decision." he wrote.
And to make good on his word, Steven decided to purchase the entirety of her stock off her hands. This included an assortment of handmade tissue covers, handmade tissue bags, delicate handcrafted earrings and even pendants! All of which were made by handicapped craftsmen. Seeing the potential in taking her business digital, Steven even went so far as to help Koh set up a Shopee seller account of her own, so that she may retail her goods online!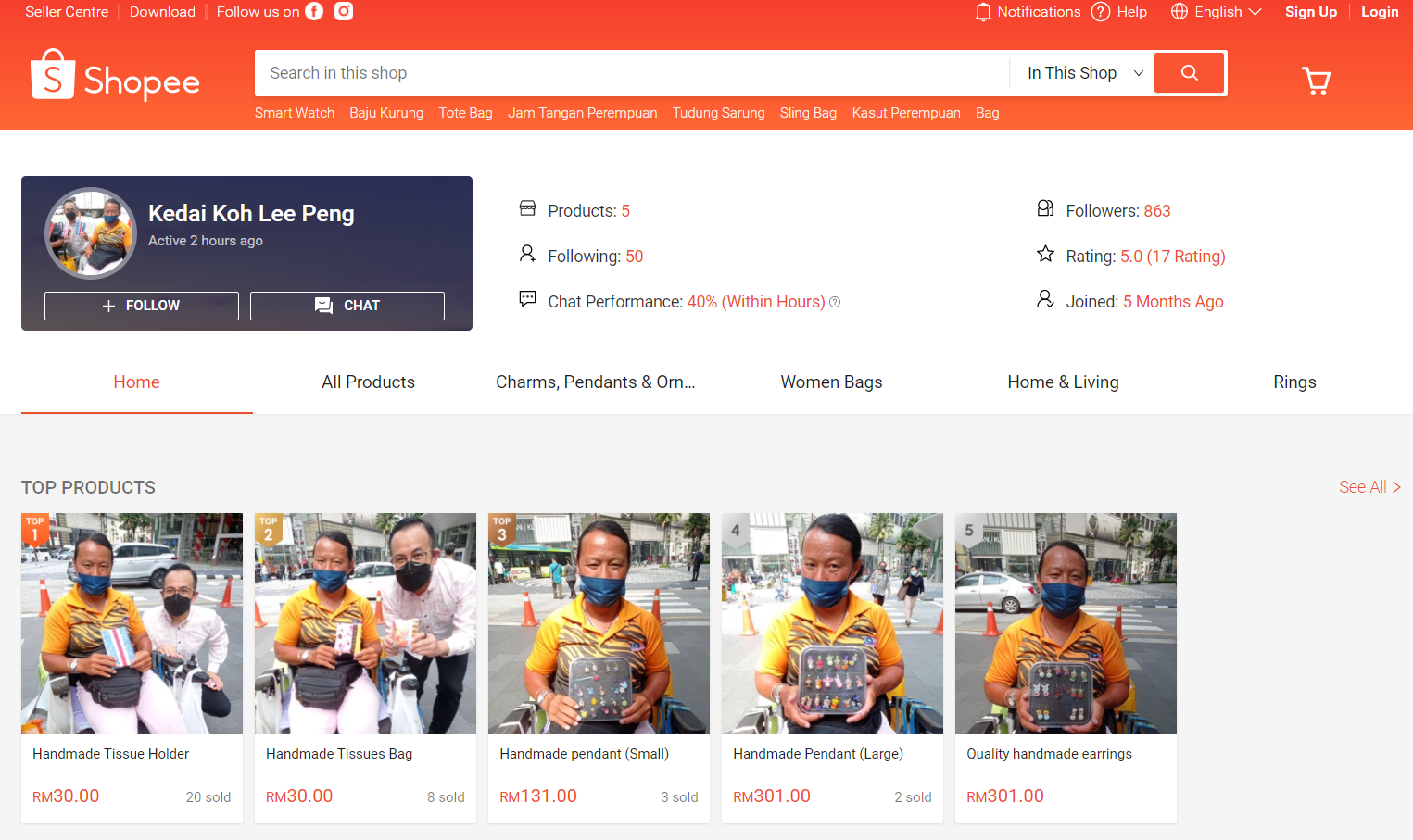 If you're looking to show Koh some support, you may find her Shopee page here by clicking on this link.
She started her own business to live independently without relying on anyone else for help
For those not in the know, Koh Lee Peng has previously won numerous accolades in the name of the country, chief among them includes seven gold medals and three silvers between the years of 2001 to 2005 during the ASEAN Para Games. This is in addition to her being recognised as Penang's Best Paralympic Sportswoman in 2015 by the Penang State Sports Council, followed by the Penang Paralympian of The Year Award in 2016.
She has since clarified that it is by personal choice that she started to sell handmade crafts on her own, as she had wanted to live independently without relying upon the assistance of others.
"Some (para-athletes) have accepted offers to become coaches, but I don't want to because my time has passed. I have not been cast aside to fend for myself or have no home of my own, its just that I don't want to disturb my siblings because they already have their own families.

I am used to working in factories and so on, I no longer want to work with other people, what more if People With Disabilities (PwD) themselves do not understand the plight of another PwD. I really want to start my own business, and I am not ashamed of this honest way of earning a living," she told BERNAMA.
Apparently, she had been temporarily selling her wares in Kuala Lumpur for three weeks while accompanying a friend of hers to attend a course at a water filter company here. She has since returned to Penang last Friday (21st January 2022) after the course had ended. Both she and her friend operate a registered company to help eight other disabled individuals who are under their care.
For more stories like this, follow us on Facebook!
Also read: Former national Paralympian swimmer who won 7 gold medals for M'sia now sells tissue covers to survive