The Malaysian public transportation system has often been described of as a double-edged sword among local denizens. While offering easy connectivity throughout most major parts of the Klang Valley, repeated service interruptions, delays, poor maintenance and planning have turned this supposed boon of city-living into a nightmare for commuters.
Netizens impressed with Indonesia's Bus Rapid Transit (BRT) system
But what if things were a little more idealistic? Last Sunday, video footage of two public busses driving along completely empty bus lanes while heavy traffic came to a standstill along both sides of a freeway in Jakarta went viral within local social media circles. Dubbed TransJakarta, this Bus Rapid Transit (BRT) system is most notably the first-ever BRT system introduced to the Southeast Asian region, and is currently the world's longest BRT system, measuring 251.2km in length.
The TransJakarta system works by allocating two lanes from existing thoroughfares and roadways using concrete block dividers to create dedicated bus lanes that are restricted from all other forms of traffic. What's more according to the Institute for Transportation and Development Policy, bus tickets only cost 3500 Rp (RM1.05), regardless of the distance you travel, or zone you are traveling to.
Would a similar system work in Malaysia?
Understandably, this has led to Malaysians wondering if a wider implementation of a similar Bus Rapid Transit (BRT) system would work on local shores too. As Facebook page Sedap Tau points out, the reason why local bus networks still suffer from delays is due to the fact that these busses are required to travel along the same congested roadways as other cars, which hampers their service intervals.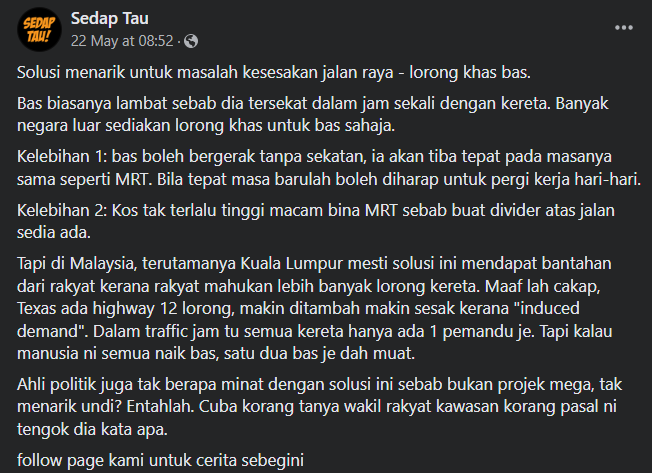 The benefits of implementing a BRT system is twofold, according to the page. On one hand, it will prove to be cheaper than building a new MRT line, as dedicated bus lanes would only require the construction of concrete dividers on existing roadways. On the other, these bus lanes will allow busses to move smoothly without congestion, just like how the LRT and MRT trains can.
Another netizen also points to the fact that a BRT network could also improve what is known as 'last mile connectivity', which is defined as the gap distance between a person's intended destination to public transit hubs.
What are the potential challenges?
However, the page also points to the fact that the implementation of such a system could face a number of challenges in Malaysia, chiefly among them being the Malaysian preference for owning cars and the insistence on wider, larger highways to accommodate traffic. They also claim that BRT initiatives may not hold the same allure for local politicians when compared to larger, more expensive infrastructure projects such as new MRT lines.
This is in addition to other potential issues that may crop up, such as whether Malaysian roadways are even wide enough to accommodate dedicated bus lanes to begin with.
What's more, a netizen has also reminded the fact that Malaysians simply prefer driving as opposed to taking public transport, and that the removal of highway lanes for a BRT system would likely trigger public outcry.
But what are your thoughts on this? Would a city-wide BRT network be feasible in Malaysia?
Tap here to give us a 'Like' on Facebook and stay up-to-date on the latest news!