With Malaysians now finally back from their holidays and ready to head back into the office, it should come as to no surprise that many public transport hubs are also beginning to see a return to regular foot traffic for city-dwellers on their daily commute. However, things didn't turn out to be quite so smooth for those boarding the Kelana Jaya LRT line today (10th May 2022), after RapidKL announced that trains serving the route were experiencing service disruptions this morning.
Kelana Jaya LRT line experiences service disruptions
According to updates shared through the company's social media pages from as early as 8.00am, the heavily used Kelana Jaya line which begins from Gombak and ends at Putra Heights were experiencing service delays. This was eventually attributed to a failed train at the Taman Jaya Station heading towards Putra Heights, which the company claims was being removed from service.
As one can imagine, this inevitably caused train stations along the Kelana Jaya line to swell with commuters who were forced to wait on delayed trains. At around 11am, RapidKL advised passengers to seek for other modes of transportation, given the fact that their trains will be moving more slowly than usual and will make longer stops at every station along the route.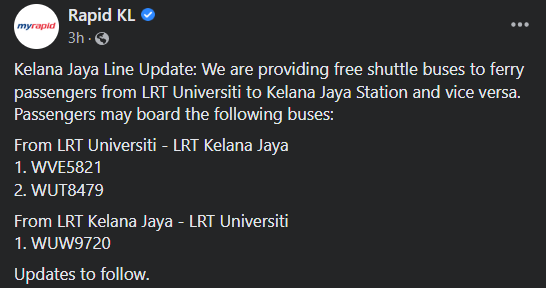 Free shuttle bus services were then provided to help rectify commuter congestions between both the Universiti LRT station and Kelana Jaya LRT station.
Failed train blamed for service interruptions
In a formal statement issued by the company, the failed train that was found at the Taman Jaya LRT station had suffered from a problem with its brakes, causing the track to become obstructed. This left only one track operational between the Taman Jaya and Taman Bahagia stations, leading to the delays experienced by commuters today.
"We would like to apologize to all users who have experienced delays and difficulties reaching their destinations today, especially to work this morning. An investigation will be conducted to identify the cause of the train's issues. This is to ensure that similar incidents can be avoided in the future," said Mr Amir Hamdan, CEO of Rapid Rail.
As of 2pm today, the company said that the speed and frequency of the rail service along the Kelana Jaya route will resume as normal.
Netizens show train platforms packed with commuters
However, this morning's fiasco has already left a bitter taste in the mouths of many commuters, with many taking to social media to express their dissatisfaction over the service disruptions that led to instances of overcrowding at train station platforms.
Got stuck at Taman Bahagia. Timetime ni lah LRT nak rosak lah apalahh. Tak berapa nak bahagia lah pagipagi ni 🙃 pic.twitter.com/aAIH7DA4Hg

— فينا✨ (@afinahanif_) May 10, 2022
we were stranded at LRT taman paramount for 40 minutes. it was crazy! @AskRapidKL pls be more convenient next time. we ask ur staff n he diam je, sibuk talking to his walkie talkie when no one is talking to him on the other line pic.twitter.com/hpEcXaAVR7

— farr (@fvrrahin) May 10, 2022
gg ada train tergendala at taman jaya. i'm here at taman paramount. haha kalau lambat masuk kerja ni pic.twitter.com/HlvF4oDdF0

— asma. (@diaphanoused) May 10, 2022
It is worth noting that this isn't the first time that a failed train has led to service disruptions for Rapid Rail, as a similar incident involving another failed coach occurred just yesterday (9th May 2022) along the Ampang/Sri Petaling line.
Tap here to give us a 'Like' on Facebook and stay up-to-date on the latest news!