If there is one thing that unites every Malaysian regardless of age, gender, race, or creed, is the pride we all share for the panoply of our local cuisines. And that comes as to no surprise, given the fact that our country boasts some of the most spectacular food scenes in the world, owing to the melting pot of different cultures and heritages that have intermingled with one another.
Food site ranks M'sia 46 out of 50 for best world cuisines
And while our homeland has been awarded a significant number of accolades in recognition of our long-standing reputation as a food haven, one recent ranking has apparently begged to differ. As opposed to making it anywhere close to the top 5 or top 10, Bulgarian experiential travel and food site FoodAtlas has apparently ranked Malaysia a lowly No.46 on their latest 50 best world cuisines list in the month of June 2022.
WORLD'S CUISINES RANKING Update (June 2022)
Opinions?

Each country's rating is obtained by the users average rating of the 30 best dishes, beverages and food products in that country. Countries that are not on the list do not have enough items rated. pic.twitter.com/iRunTiy1Oo

— TasteAtlas (@TasteAtlas) June 4, 2022
Explaining that the list and scoring system was obtained through the average rating of 30 best dishes, beverages, and food products of each country by their own readers, Malaysia walked away with a score of 4.19 out of a possible 5. In the context of this list, this would mean that only Egypt, Bolivia, Uruguay, and Slovenia rank lower than Malaysia does.
On the other end of the spectrum, Italy was ranked as the country with the best cuisine, followed by Greece, Spain, Romania, and France. As for our Southeast Asian neighbours, Indonesia ranked No.14, the Philippines ranked No.19, and Thailand ranked No.21. Our closest culinary rival, Singapore, on the other hand did not make the cut on the list at all.
It is worth noting that the same website has previously earned the ire of Malaysians after ranking our famed nasi lemak as just an 'okay' dish, with a score of 3.9 out of a possible 5.0.
Netizens question the ranking system
Needless to say, this latest ranking hasn't exactly been well received by locals with Bandar Kuching MP Kelvin Yii Lee Wuen describing the list as 'preposterous', and wondered if the editors of the list have suffered 'anosmia & ageusia', which refers to a loss of smell and taste respectively.
This is preposterous!
Whoever graded this probably has a long-bout of anosmia & ageusia! https://t.co/V0Xip397qb

— Kelvin yii (@Kelvinyii88) June 5, 2022
Other netizens have echoed similar sentiments regarding the ranking, and wondered how it is that Malaysia wound up near the bottom of the list, while Indonesia fared much better despite sharing some culinary similarities.
"Malaysia ranks 46? You must not have been to Malaysia."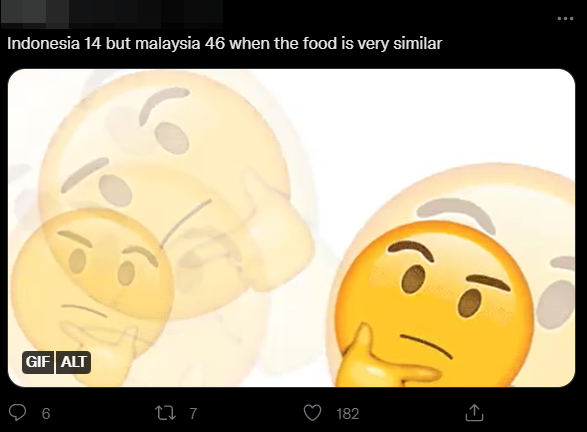 Others have questioned how it is that the United States managed to eke out other countries to rank in the top 20, when it has not traditionally been known for its food.
What are your thoughts on this?
For more stories like this, follow us on Facebook by tapping here!
Also read: KL ranks as one of the Best Food Cities to Travel to by Eater magazine, is the only representative from Asia to make the cut!