PotboyMart, Malaysia's first O2O (Offline-to-Online) Concept Store goes on another mission to spread a ray of hope and kindness in the middle of an endemic and the rising cost of living in Malaysia with two campaigns during the holy month of Ramadan; 'Jam Riang-Ria Ramadan' and 'Kongsi Rezeki'.
Potboy Mart kicks off Ramadan with two brand-new campaigns
PotboyMart kicked off their 2022 Ramadan campaigns with their first campaign that started on 12th March and will end on 8th May called 'Jam Riang-Ria Ramadan' where all PotboyMart outlets are having 20% storewide discount at two time slots; the first slot from 12 p.m. until 2 p.m. and the second slot which is from 5 p.m. to 9 p.m.
Meanwhile, the highlight of their Ramadan campaign is their second campaign, which is a CSR campaign called 'Kongsi Rezeki' that starts on 1st April. The main goals of the campaign are to help unprivileged households to get free groceries as well as to encourage the public to give out the free grocery items to help other people in their own community. Anyone can come inside any PotboyMart outlets and take the groceries they need for free from the rack available in all outlets.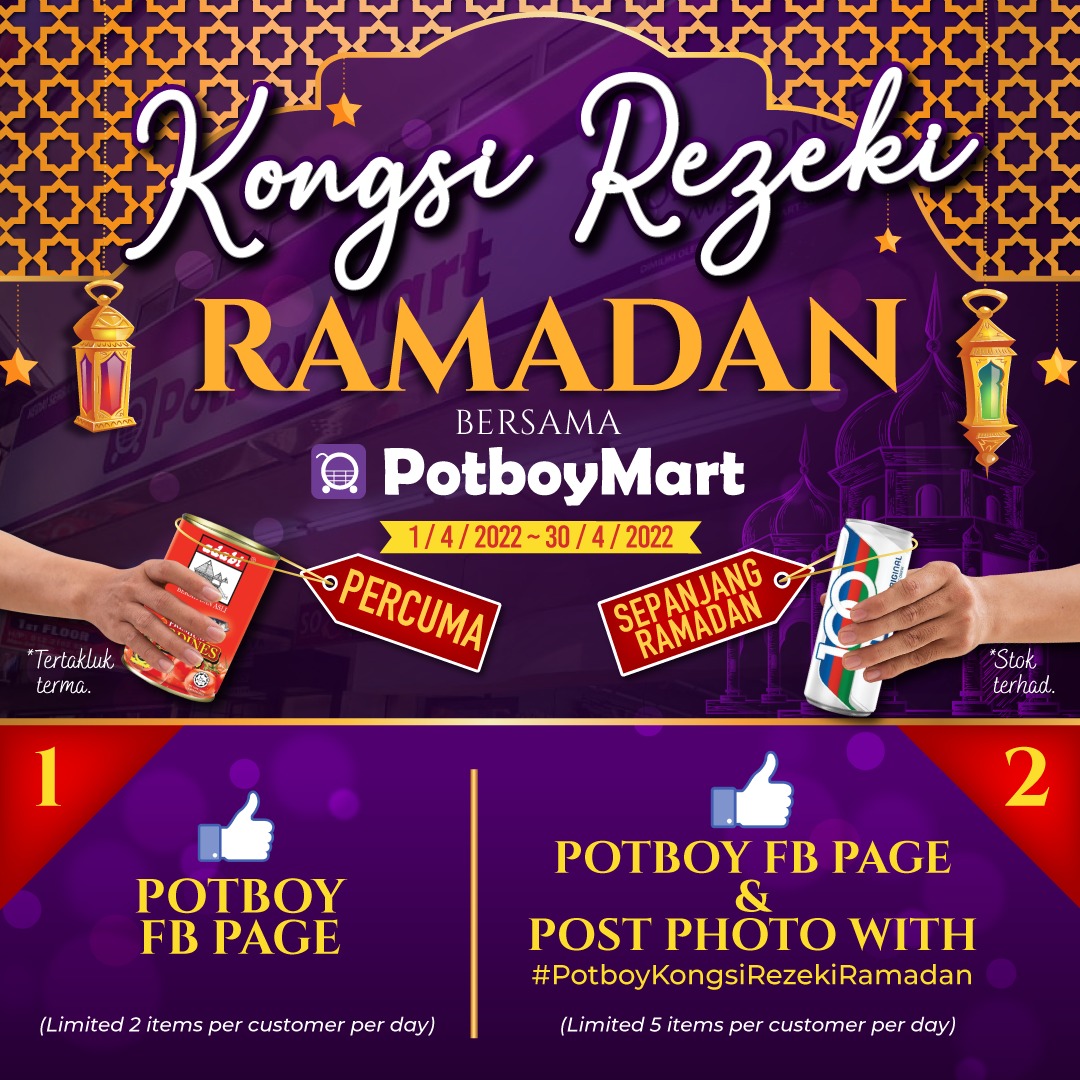 To redeem the free items, they will need to like Potboy's Facebook page or take a photo and share it to Potboy's Facebook page first. Aside from taking the groceries, the public can also put grocery items that they want to give out on the rack.  
Convenience wherever you are in Klang Valley, with 65 outlets
People around Klang Valley can easily find the PotboyMart nearest to them now, as PotboyMart has reached its 65th outlet all over Klang Valley. These programs are specially made in mind as a symbolism to the spiritual month of Ramadan, where Muslims are encouraged to do charity and giving to one another.
Aside from these two campaigns, PotboyMart has already been known inside the community for their charitable campaigns such as 11.11 Crazy Sale and 11.12 Storewide Sale where they have 50% off for sell all items which ended with a massive success, as well as their monthly Ice Cream Day where they sell ice creams at 50% discount across all PotboyMart outlets every 11th day of the month.
Get more from your grocery shopping with Potboy Mart
Potboy Groceries is a home grown online retailer based in the Klang Valley that was established in 2016. Patboy Groceries that provides customers household needs, such as groceries and household essentials with FREE Delivery, at Value for Money Prices and Without any Minimum Purchase.
For more stories like this, follow us on Facebook by tapping here!
Also read: AEON M'sia announces they have officially raised the minimum wage of employees from RM1,200 to RM1,500