London-based financial publication Financial Times has reported that two subsidiaries belonging to Malaysian state-owned oil and gas company, Petronas, were seized by authorities in Luxembourg on behalf of the now defunct Sulu Sultanate.
Petronas Azerbaijan (Shah Deniz) and Petronas South Caucasus, both of which were registered in Luxembourg and were valued at a total of US$2 billion (RM8.9 billion), were seized by bailiffs on behalf of their client in an escalation to an ongoing dispute between the federal government and the last remaining descendants of the Sultan of Sulu.
Sulu Sultanate seizes Petronas Azerbaijian subsidiaries
In a statement released by Petronas, they have described the seizure of their assets as 'baseless' and is currently 'working vigorously to defend its legal position on this matter', reports Free Malaysia Today.
This comes after a French arbitration court had determined in March of this year that Malaysia had violated an agreement signed between Sultan Jamal Al Alam, Baron de Overbeck and the British North Borneo Company's Alfred Dent, when it stopped paying the Sultan's heirs their annual cession money after the Lahad Datu insurrection that occurred in 2013.
Malaysia stopped paying Sulu Sultanate cessions monies after Lahad Datu Incursion
The amount, which tallies to RM5,300 per annum, was meant to be paid in exchange for 'the lease in perpetuity of the exploitation of natural resources including pearls, bird's nests and wood, from certain territories north of Borneo as well as adjacent islands'. Initially paid for by the British Crown, the responsibility was then passed on to the Malaysian government after gaining independence.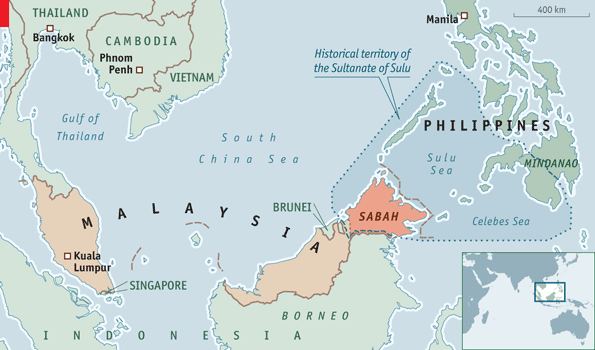 For violating the terms of the agreement, Malaysia was instructed to fork over US$32.2 billion (RM135.08 billion), a figure which the descendants of the Sulu sultanate claim includes the amounts of unpaid cessions monies from 2013, in addition to the value of newly discovered oil and gas deposits in their regions. This was then reduced to US$14.92 billion (RM62.59 billion).
At the time, Malaysia declined to participate in the arbitration process as they claim that the contract between them and the claimants was not a commercial one and hence, was not subject to any arbitration.
Historically, the Sulu Sultanate was a Muslim state who had ruled over a string of islands in the Southwestern region of the Philippines known as the Sulu Archipelago, in addition to parts of Mindanao, Palawan, Sabah, North Kalimantan and East Kalimantan.
In 2013, 235 militants sent by one of the claimants to the Sulu throne, Jamalul Kiram III, sparked what is now known to be the Lahad Datu Incursion that led to the deaths of 6 civilians and 10 Malaysian security force personnel.
For more news like this, follow us on Facebook by tapping here!