Yesterday (August 23rd 2022), arguably one of the most landmark verdicts in Malaysian history was passed by a panel of five judges led by Chief Justice Chief Justice Tengku Maimun Tuan Mat, which upheld disgrace former premier Najib Razak's seven convictions for corruption in relation to the RM42 million found in his accounts from SRC International.
With no further stay of execution granted, Najib was immediately instructed to begin serving his 12-year prison sentence upon the conclusion of his hearing. He was transported out of the Palace of Justice in a black police SUV and was brought to Kajang prison, contrary to initial speculation that he will be held in Sungai Buloh Prison. This will mark the first time in the nation's history that a Prime Minister has been imprisoned.
Support for Najib remains fervent despite his conviction
And in spite of his conviction, support for the ex-statesman has remained unwavering among his advocates, as evidenced by those who gathered outside the Palace of Justice from as early as 7.00am in the morning according to local paper Sinar Harian, chanting impassioned cries of 'Hidup Bossku!' in a show of solidarity with Najib.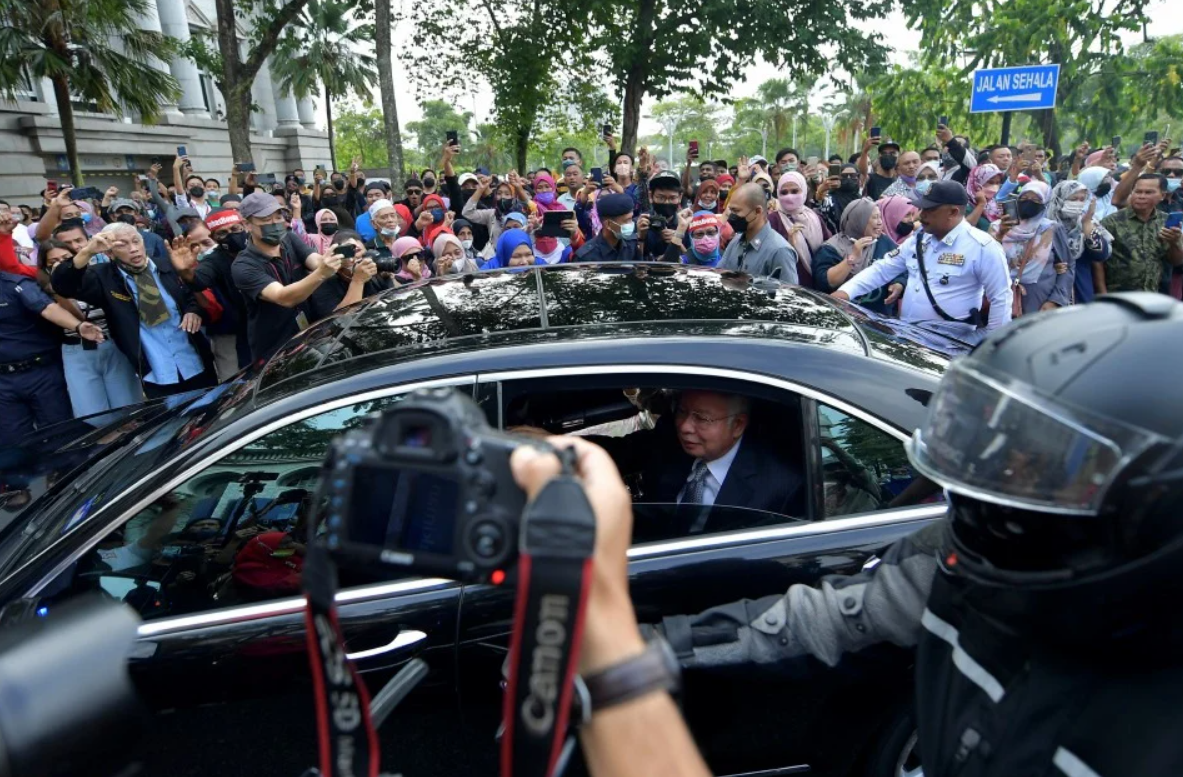 But it doesn't stop there, as it has just been reported by local news outlet The Vibes as well as Malaysiakini that as many as 150 of Najib's supporters were seen standing outside Gate 3 of the Royal Palace today (August 24th 2022) at around 2.00pm in the afternoon, with hopes of being able to send in a memo on his behalf to His Majesty the Yang di-Pertuan Agong Al-Sultan Abdullah Ri'ayatuddin Al-Mustafa Billah Shah, for a Royal Pardon.
JUST IN

Close to 150 supporters of imprisoned former PM @NajibRazak have gathered near Gate 3 of the Istana Negara.

As a result of the gathering, traffic along much of Jalan Sri Hartamas 1 is heavily congested.

FOLLOW @thevibesnews for LIVE UPDATES pic.twitter.com/dBiAylYQGV

— TheVibes.com (@thevibesnews) August 24, 2022
The gathering, which was concentrated close to Hartamas Shopping Centre, has reportedly caused heavy congestion along Jalan Sri Hartamas 1.
LIVE: Penyokong Najib hantar memo pada Agong mohon pengampunan diraja https://t.co/SgDweZQ3CI

— KiniTV (@kinitv) August 24, 2022
BERISH launches petition against Najib's Royal Pardon
As reported by Malay Mail, the only remaining avenue of recourse for Najib now is if he were to be granted a Royal Pardon, as explained by former attorney-general (AG) Tan Sri Abu Talib Othman. The Royal Pardon is a prerogative enshrined under Article 42(1) of the Federal Constitution, granting the Agong the authority to wipe clean any legal offenses that a convict has committed in Kuala Lumpur, Labuan, or in Putrajaya, according to AskLegal.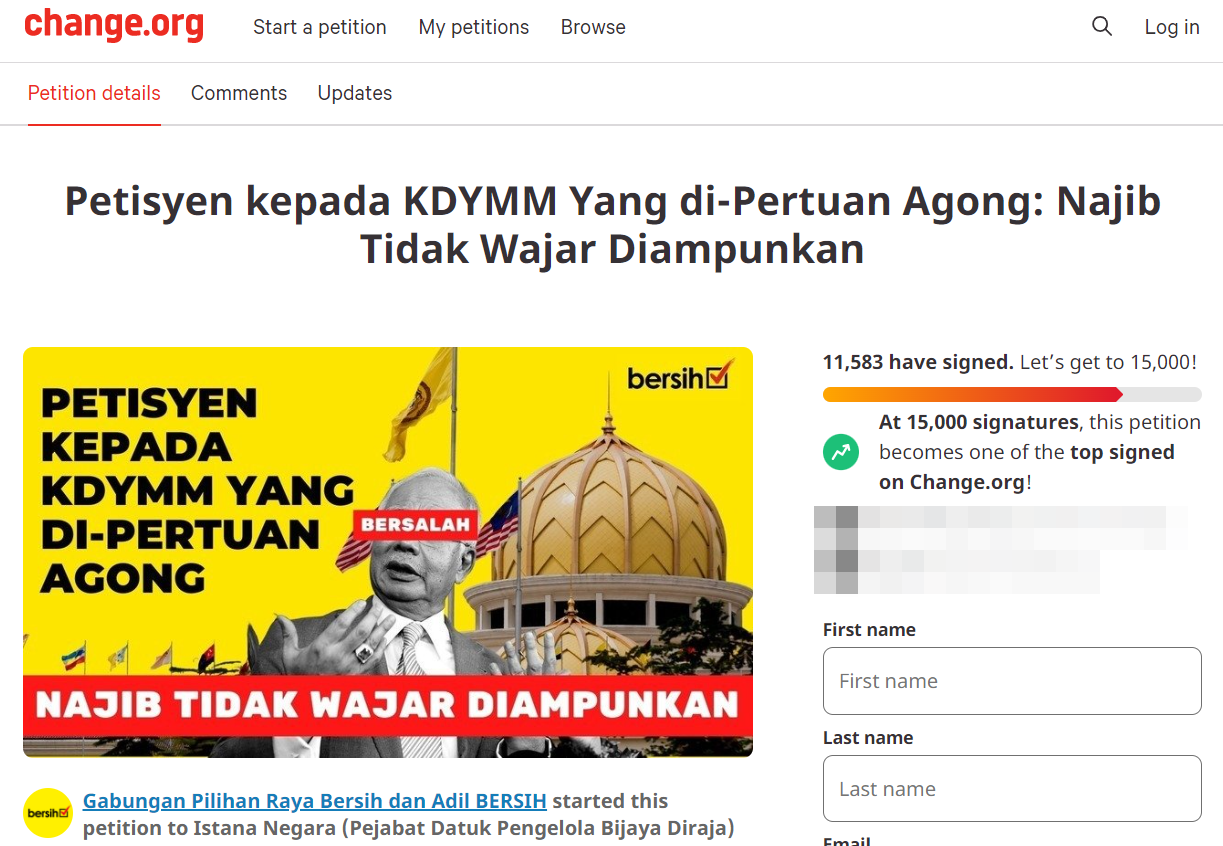 With that being said, electoral watchdog group BERSIH has since launched a petition in hopes of requesting Yang di-Pertuan Agong Al-Sultan Abdullah Ri'ayatuddin Al-Mustafa Billah Shah to deny Najib a Royal Pardon. As of writing, the petition, which is hosted on Change.org, has accumulated 11,583 signatures and counting.
Tap here to give us a 'Like' on Facebook and stay up-to-date on the latest news!
Also read: "My family, my love," Najib pens heartfelt final letter to family before beginning his 12-year prison sentence