Once every five years or so (four years and a little extra in this case), Malaysians will head to the polls and exercise their constitutional rights as citizens to vote for their elected officials.
And in the case of this year's 15th General Elections, caretaker Minister of Women, Family and Community Development, Rina Harun, received a crushing blow after lost her Sepang constituency to Pakatan Harapan candidate Aiman Athirah, who nabbed a whopping 56,264 votes in comparison to Harun's 47,315.
Rina Harun mocked online after losing her seat in GE15
Consequently, social media users have taken to poking fun and mocking Rina in the wake of her defeat, with local comedian Amran Faizal sharing a particularly scathing post which has since gone viral across the local Facebook space. Uploading a still of the former Sepang Member of Parliament (MP) dressed in delivery rider uniform, he quips that her defeat in politics will grant her more time to focus on her new 'career'.
"Congratulations Rina Harun, now you can focus completely on foodpanda." he wrote.
The image was obtained from a foodpanda Hari Raya festive campaign advertisement that was aired last year, which you can view here.
As for the post itself, it has accrued divided opinions online. On the one hand some have joined in to take jibes at Rina, who during her tenure as Minister had been involved in a number of gaffes. Most prominently among them include a public service poster released by her Ministry advising women to 'emulate Doraemon while speaking' to maintain a harmonious household.

Then of course, jokes were also made in alluding to Rina being photographed cleaning 'lizard excrement' in the wake of the devastating floods back in 2021.
"She can now work fulltime cleaning drains and toilet bowls in schools."

"Auntie goodpanda 
or auntie waterjack?
Just asking, don't get too sensitive."
This is on top of sarcastic remarks, congratulating her on having more time to focus on weight-loss and beauty, after Rina noticeably loss a considerable amount of weight during her tenure as Minister.
"Congratulations! You can now focus on personal beauty and weight loss fully."
Some netizens said that her defeat would grant her time to reflect on the real sufferings faced by ordinary Malaysians, as a consequence of political infighting.
"Now she will know the difficulties faced by the people. Working as a foodpanda rider isn't easy, riding from dawn to dusk, rain or shine, just to deliver food on a motorcycle to earn a meager wage as they could not pursue professional work. The current state of the economy is due to political infighting. So many factories have closed and moved to other countries. Open your mind, and look at the reality."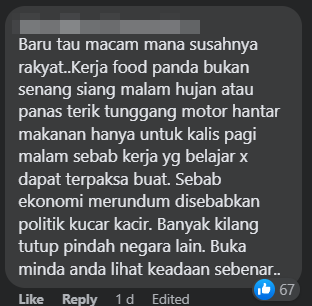 However, others claim that the jokes are being taken too far and are made in poor-taste, saying that
"One of the worst habits that Malay people have is that when someone wins, they cheer but when someone loses, they criticise, ridicule, and insult. Win or lose, that is just the nature of competition. Just like in playing football, there are those who will win and those who will lose. Malays are renowned for their etiquette and culture. But when it involves politics, the fall of a politician leads to all sorts of criticism and insults. The behaviour and conduct of some people are truly awful. Give it some thought."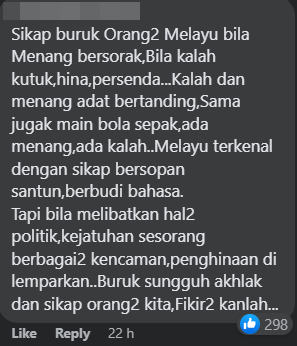 How do you feel about this matter?
Tap here to give us a 'Like' on Facebook and stay up-to-date on the latest news and stories!