Denoting the end of a lunar cycle, full moons have often been intrinsically tied to humans since time immemorial, and have often been used to represent a sense of completion or even emotional catharsis, depending on the beliefs that one subscribes to. But even beyond such profound symbolism, we can all come to the agreement that full moons are a pretty cool phenomenon to marvel at whenever they do occur.
Malaysians can witness the largest supermoon of 2022 today!
Which is why you may want to keep your eyes peeled this evening, as according to the Malaysian Space Agency (MSA), Malaysians will be able to witness the largest ever supermoon event in 2022 this evening (July 13th)! As explained through their official Facebook post on the matter, the moon orbits around the Earth with an average eccentricity value of 0.0549.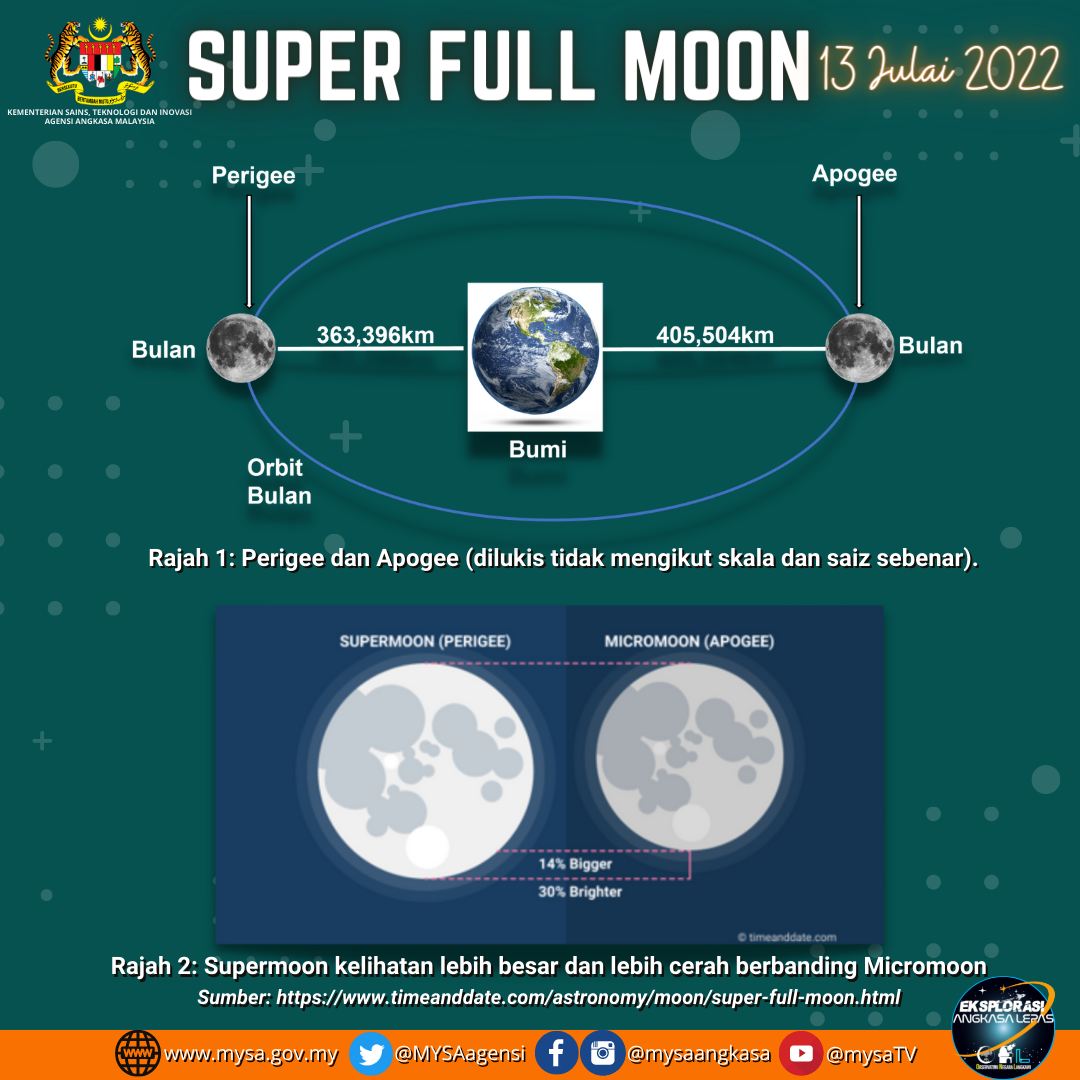 Given that fact, the moon's average distance from Earth (centre-to-centre) varies at all times. Supermoons are a natural phenomena that occur when the distance between the moon and the Earth is at its closest, measuring 357,263km. This is otherwise known as perigee, where the moon will appear 7% larger than the regular full moon.
Micromoons can also occur when the distance between the moon & Earth are furthest
On the flipside, an opposing phenomenon known as apogee, or micromoon, can be observed when the average distance between the moon and Earth reaches its furthest apex at 405,504km. Supermoons are usually 14% brighter and 30% larger than micromoons. According to NASA, this supermoon will also be known as a 'Buck Moon', named after the new antlers of a buck deer.
The last supermoon event to be recorded in Malaysia took place on June 14th, where it was recorded by the recorded by the Langkawi National Observatory Telescope system.
This wouldn't be the last supermoon for the year however, as experts are anticipating that another supermoon event will occur on August 11th, which will also mark the final supermoon of the year.
For more news like this, follow us on Facebook by tapping here!