Given the amount of work and the sheer lengths that some newlywed couples are willing to go for their wedding, it comes to nobody's surprise that more often than not, they can amount to be incredibly expensive affairs. Which is why in many cases, many couples make a point of saving up a small amount aside in order to fund what could very well amount to a once-in-a-lifetime occasion.
Man gets married to a woman, refuses to bring her to meet his family before their wedding
However, that wasn't the case with one local man who allegedly refused to fork out the money needed to host his very own wedding reception on the cusp of the event itself. In a now-viral post shared by local community Twitter page @TwtWedding, the sister of the man, who requested to remain anonymous, shared her family's circumstances out of sheer frustration.
As she explains it, her brother had decided to get married sometime earlier this year but had initially refused to bring his new spouse to meet their family prior to their marriage.
"All we knew was that the woman is a divorcee, and has a child. He has never once brought her home to my mother, or spoke about her at length." she added.
Grew lazy and dismissive ahead of his wedding reception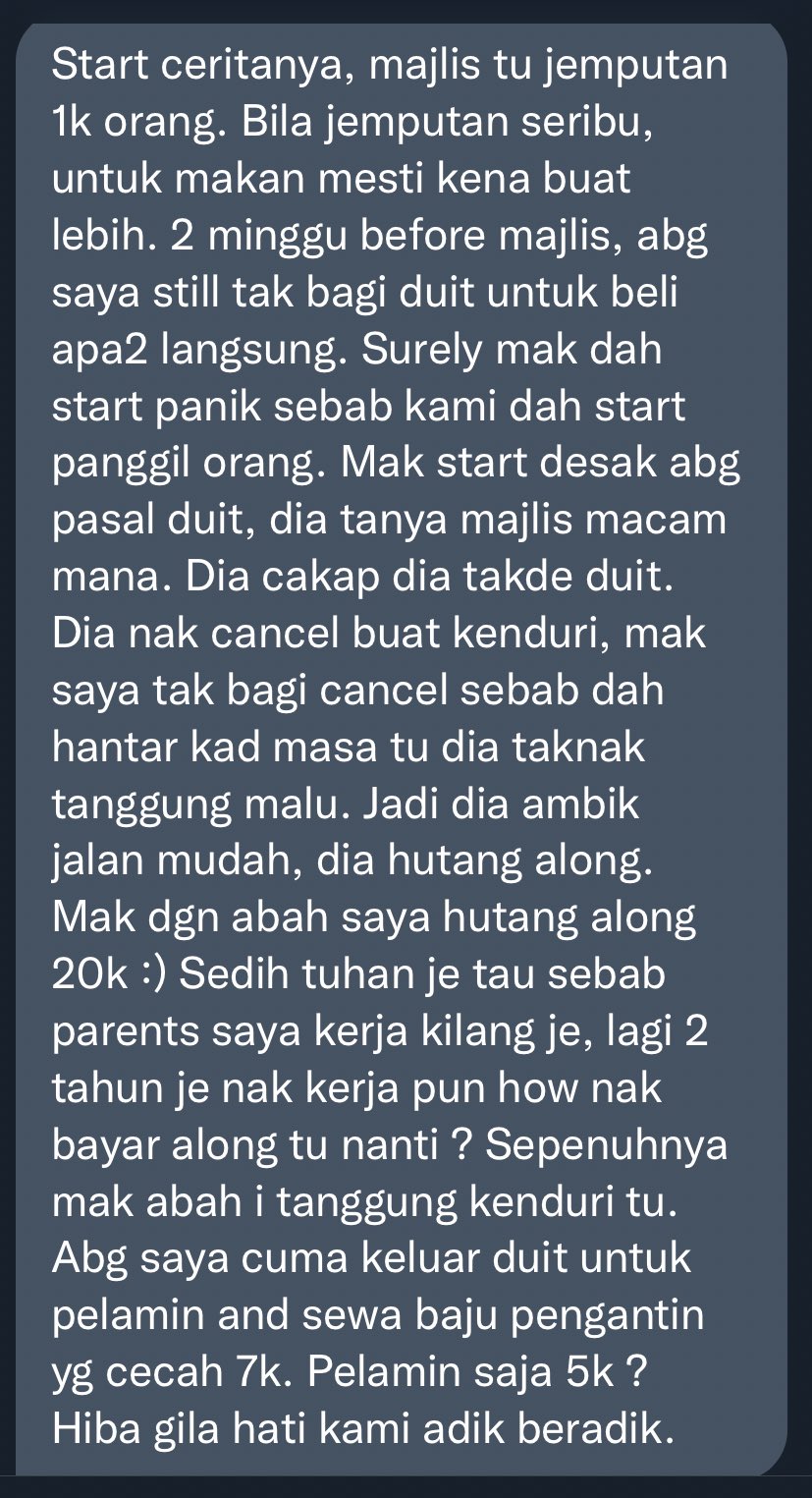 And things only worsened from after their engagement ceremony, as she noticed that her brother, who runs a food stall, started to get lazy. Rarely turning up at his own stall, he even stopped buying supplies for his business. She added that only the bridegroom's side of the family would be attending the reception, as the bride's mother was ashamed to reveal to her siblings that her daughter had previously been divorced.
Planning of the reception soon commenced and around 1,000 guests were invited. Understandably given the sheer amount of people involved, they would have to increase their catering portions, which also means higher costs. Yet two weeks before the reception itself, her brother still refused to give his parents any money to pay for the event. Understandably, they had started panicking as the invitations had been sent out.
Eventually told his parents he had no money; they borrowed from loan sharks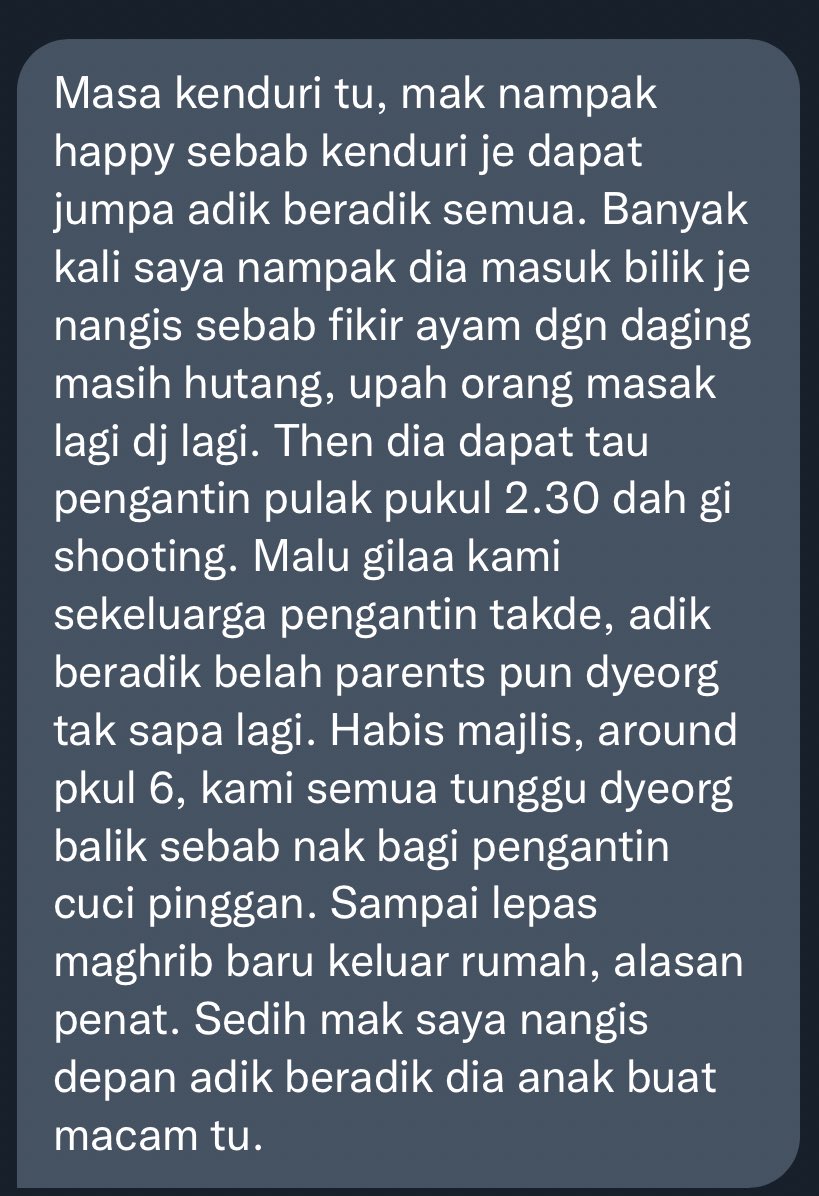 All her brother said was that he had no money, and wanted to cancel the reception. Unwilling to endure the shame after having invited so many people, their mother refused to cancel the event at such a late hour. Left with little choice given the situation at hand, they turned to taking out a RM20,000 loan from loan sharks to fund her brother's wedding.
"Only God knows how sad I felt, as my parents are just factory workers and will be retiring in 2 years. How will they pay off the loan sharks then?" she said.
All his brother had to pay was for the rental of the bridal garments, and the cost of the wedding dais itself, amounting to RM7,000. She adds that they were shocked that the wedding dais alone costed RM5,000.
But as the wedding reception commenced, she observes that her mother appeared happy and excited to see all of her siblings again, but would occasionally retreat to her room to cry, concerned over how they would pay back their owed debts. In spite of the ceremony that his parents had paid for, the newlyweds didn't turn up and had apparently gone out to have their bridal photos taken.
The couple would go off to Sabah for their honeymoon
It wouldn't be until after evening prayers did they return home, but told the family that they were exhausted by that point. Much to their surprise, the newlyweds proceeded to charter a trip to Sabah for their honeymoon after the wedding.
"We were shocked, as they told us they had no money for a wedding reception and yet they could afford a honeymoon in Sabah."
Lamenting the fact that she was the only child left in their family who still lived with their parents, the woman said that the responsibility for taking care of them fell on her shoulders. The entirety of her salary would go to taking care of the home, leaving her without any savings. And as for her parents, their own wages would go to paying back the loan sharks.
Netizen responses have been divided over the matter, with some sympathising with their plight., and criticised the woman's brother for his behaviour.
"How stupid of her brother and sister-in-law. Better they don't live."
"His behaviour is awful. Pity his parents."
"Why would her brothers be willing to put their sister through that?"
However, others pointed out that they should not have bitten off more than they can chew, and called off the wedding when they realised that they could no longer afford it.
"Your parents are B40 and yet they want to host a large wedding reception, to the point where they need to borrow from loan sharks?"

"Your parents are at fault for going into debt just for a reception. You can just cancel. The cost of cancelling and the cost of paying off loan sharks, which is cheaper?Cancel you just blast whatsapp etc. Apologise for cancelling the reception over whatever reason. But if you go into debt with loan sharks, who knows when you'll pay it off with interest."
"That is why you should 'measure your clothes on your own body. If you know you don't have the money, why invite 1,000 guests? And then you want to borrow from loan sharks? Even if you are pressed for money, never borrow from loan sharks. If you really want to have a reception and don't have the money at hand, then just borrow from the bank instead."

What are your thoughts on this?
Tap here to give us a 'Like' on Facebook and stay up-to-date on the latest news!