At this point, consumer disputes at restaurants are fast becoming a genre of news in their own right. What had initially kicked off a furor surrounding the extortionate price of an 11-year-old siakap barramundi fish had led to more reports of other allegedly unscrupulous business practices reported by consumers. Hot on the heels of the siakap story came the RM100 sotong from a renowned Penang nasi kandar restaurant, and then the alleged piece of RM4 roti canai. 
Netizen alleges PD restaurant served them 6 prawns but charged them for 8
Well, it would seem that there will soon be yet another case of consumer dispute added to this year's already lengthy list, after a Malaysian netizen claimed that a restaurant in the popular tourist destination of Port Dickson had charged her for the price of eight prawns, but was only served six for her meal.
In a short video clip uploaded by @yanaismail, also known as Yuna, over TikTok, she alleges that while dining at a seafood restaurant in Port Dickson, the restaurant wound up only serving six out of the eight prawns that she had purchased from their fresh seafood section. Showing the contents of her meal, the prawn dish only contained 6 crustaceans served in what appeared to be a salted-egg sauce.
"When we weighed the prawns initially, there were eight pieces. But upon cooking and serving, there were only six pieces left." she wrote in her caption.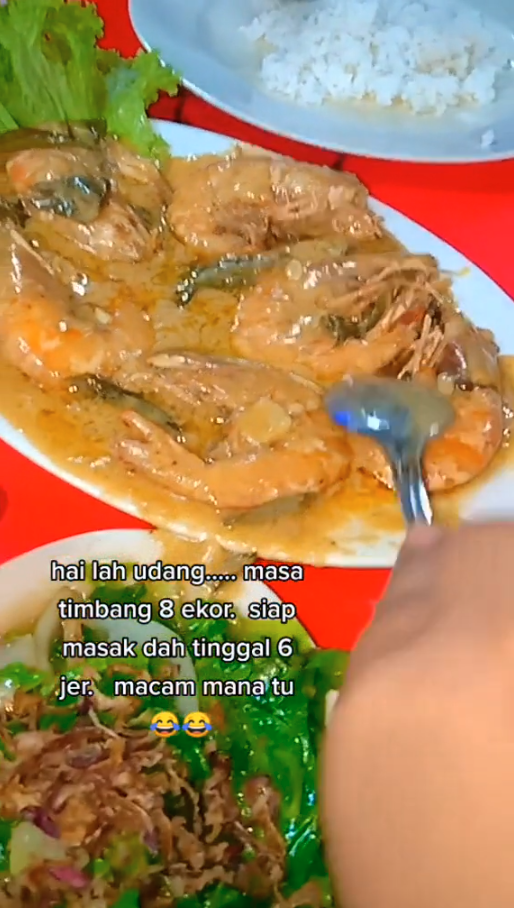 She had also included a clip from when she was picking out the prawns from the fresh seafood section, which apparently showed that there were eight prawns in her basket at the time before they were brought into the kitchen to be cooked and served.
"Thankfully I took down proof as I was getting them [the prawns] weighed," she adds.
Was on vacation with family and decided to visit a local seafood restaurant
In speaking with Malay daily mStar, the 29-year-old netizen said that she had been dining with her family of six, which included both her parents, at the time of the incident as part of a short vacation getaway.
"The restaurant operated on the basis where you had to first weigh your desired seafood first, before instructing the kitchen to prepare it in your desired cooking style,"

"My husband picked out the prawns before having them weighed. The price for eight prawns prepared in salted egg style is RM74. But the price wasn't an issue for us as we had agreed upon it after it was weighed. I didn't even think to count the prawns initially as we had only taken a small amount. Not many from my family enjoyed prawns." she states.
However, upon receiving the dish, Yuna noticed that something was amiss as it appeared to contain less than the amount of prawns they had ordered. Deciding to check back on her Instagram Stories where she had filmed the prawns as they were being weighed, she realised that they had indeed been charged for the weight of eight prawns initially.
"I was confused, so I asked for the waiter about the two missing prawns in our dish and showed them the video taken from my Instagram Stories as proof. It took them less than a minute after going into the kitchen to return with the two missing prawns alongside the rest of our dishes,"
Reminds other consumers to be alert at all times
Yuna said that she is uncertain if the two prawns had been left out intentionally, or had only just been cooked. While the restaurant has since apologised over the incident, she said that the experience had left her feeling uneasy, as they had also ordered other seafood items that were more difficult to check.
"It's easy to see if we have been served less prawns, as we could count them visibly. But for other dishes like sotong that have been sliced before being cooked, or clams that were taken in large amounts, it's hard to tell if we received less than we paid for."
She adds that she had no intention of bad-mouthing the restaurant, but would simply like to remind consumers that they have a right to ensure that they receive the products and services that they had paid for. She also hopes that restaurant proprietors would be extra careful in the future, so that similar incidents will not happen in the future.
For more stories like this, follow us on Facebook!
Also read: Actual owner of viral 'RM100 sotong' receipt clears the air, says she was well-aware of the prices