One of life's more simple and often overlooked joys is being able to savour a hot (or cold, depending on your preference) cup of coffee to perk up your mid-day slump and hopefully give you that extra dose of fuel to power through the rest of your day. With that said, having a coffee habit can prove to be a pretty costly affair unless you're brewing from home, given the fact that many chain cafes charge a small premium for a cup of Joe.
Netizen realises he spends RM706 on coffee alone in a single month 
And one local netizen recently discovered just how much of a premium he was paying every month for coffee when he finally decided to do the math himself. In a post that was recently shared to Twitter by netizen @BaqirNajh, he was left mildly stupefied after he decided to track his coffee expenditures for an entire month.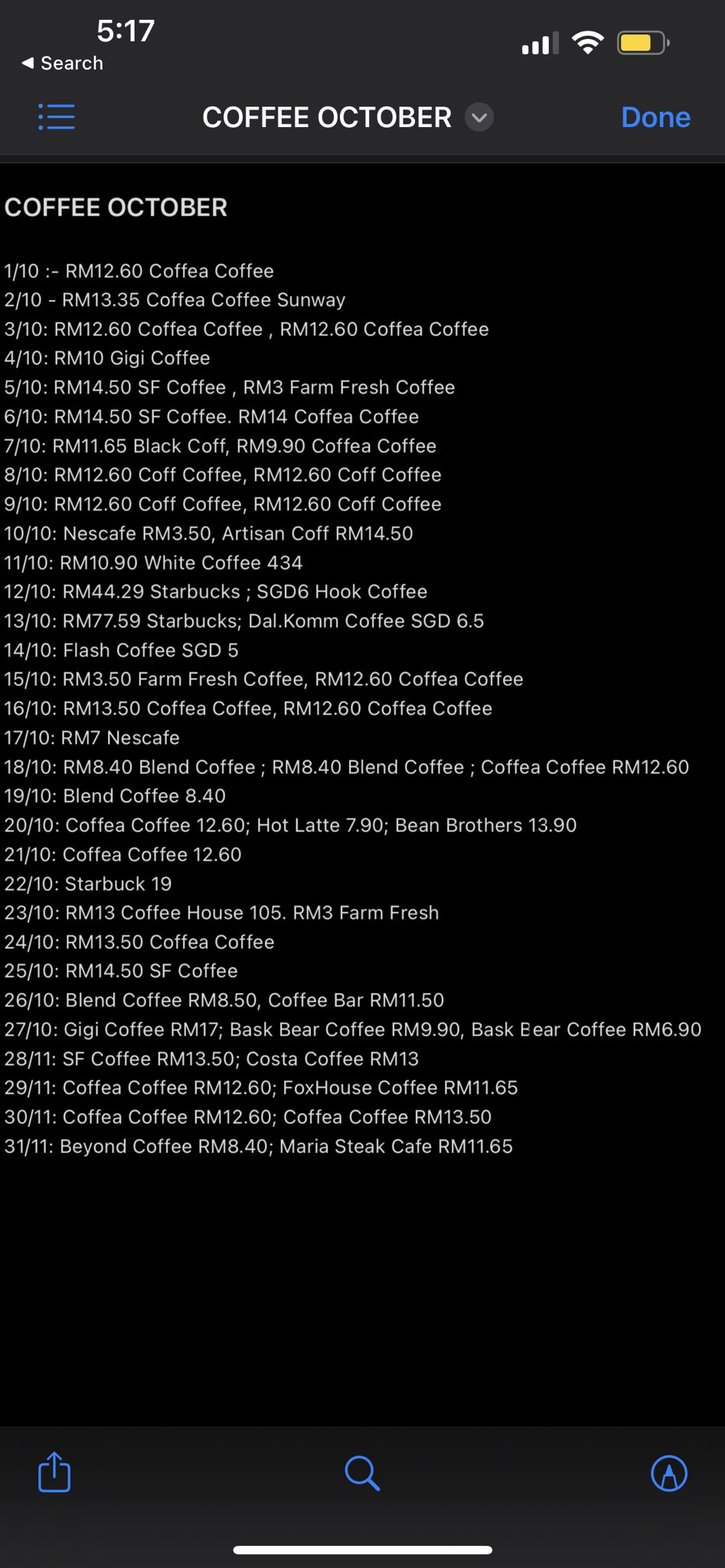 Appearing to be a habitual coffee addict who would buy at least a cup of coffee every day, Baqir eventually realised that he was spending an eye-watering RM706 on caffeine alone for the month of October after he tallied the sum of all the beverages he had bought in 31 days.
That would mean that he was spending an average of RM22.77 on a coffee kick per day!
Coffee enthusiasts emphathise, share money-saving tips
The post has since led to many other netizens sharing their own budget-tracking revelations, emphasising on how important it is that one tracks their expenditures when it comes down to managing personal finance.
"That's a lot right, once we total up. But when we pay, we tend to think it's alright as it's a small amount. 
For 2 years, I used this app to track my expenses. All the categories can be customised. Every month I can see how much I spend. So I still have time to reflect." 
"Last time I tried tracking my spending on coffee for two months. It averaged out to about RM150+, haha."
Other coffee enthusiasts have suggested buying coffee machines at home or other do-it-yourself alternatives to save on cost, without compromising on their caffeine habit.
"I'm a coffee addict. I feel you brotha. For the sake of saving cost, I bought Davidoff coffee and brew black coffee without any sugar. Alhamdulillah, I saved a lot."
"This is why I subscribed to a Nespresso plan. Every month I'm afraid of totalling up how much I spent on coffee."

"Last time I did my own monthly coffee spending too & that is when I decided to buy an Aeropress and make my coffee at home. Home made ice latte is good yo & cost doesn't even come up to RM2 per cup."

Tap here to give us a 'Like' on Facebook and stay up-to-date on the latest news!
Also read: M'sian netizen shows how he manages to stretch his RM10 & eat three meals with it in KL