A section of the southbound North-South Expressway in Perak was left awash with the bright orangey-red remnants of sardines and tomato sauce, after a trailer that had been carrying a shipment of the tinned food product had overturned yesterday (August 3rd 2022). The incident, which took place at 1.00pm in the afternoon, led to a massive traffic congestion that stretched up to 5 kilometres.
Trailer carrying tinned sardines overturns at KM265.9 of the North-South Expressway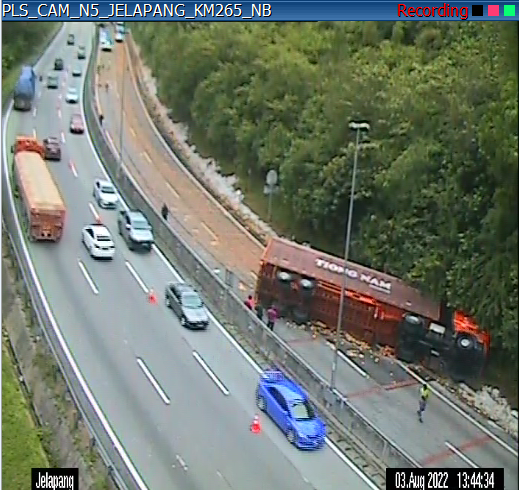 Quoting Kuala Kangsar district police chief Assistant Commissioner Omar Bakhtiar Yaacob, NST reports that the driver of the trailer was believed to have lost control of the vehicle, which led to it tipping on to its side and decanting its contents onto the highway.
"Thousands of sardine cans were scattered along the stretch which was then closed for all vehicles.

"Road users from the north were diverted out to the Kuala Kangsar Toll Plaza for cleaning work to be carried out," he said.
Video footage and photographs taken by those present in the aftermath of the crash showed passers-by navigating over the pulpy remnants of the canned foodstuff, while some appeared to be carrying boxes of the product away from the road.
Netizens have suggested what could be done with the damaged tins of sardines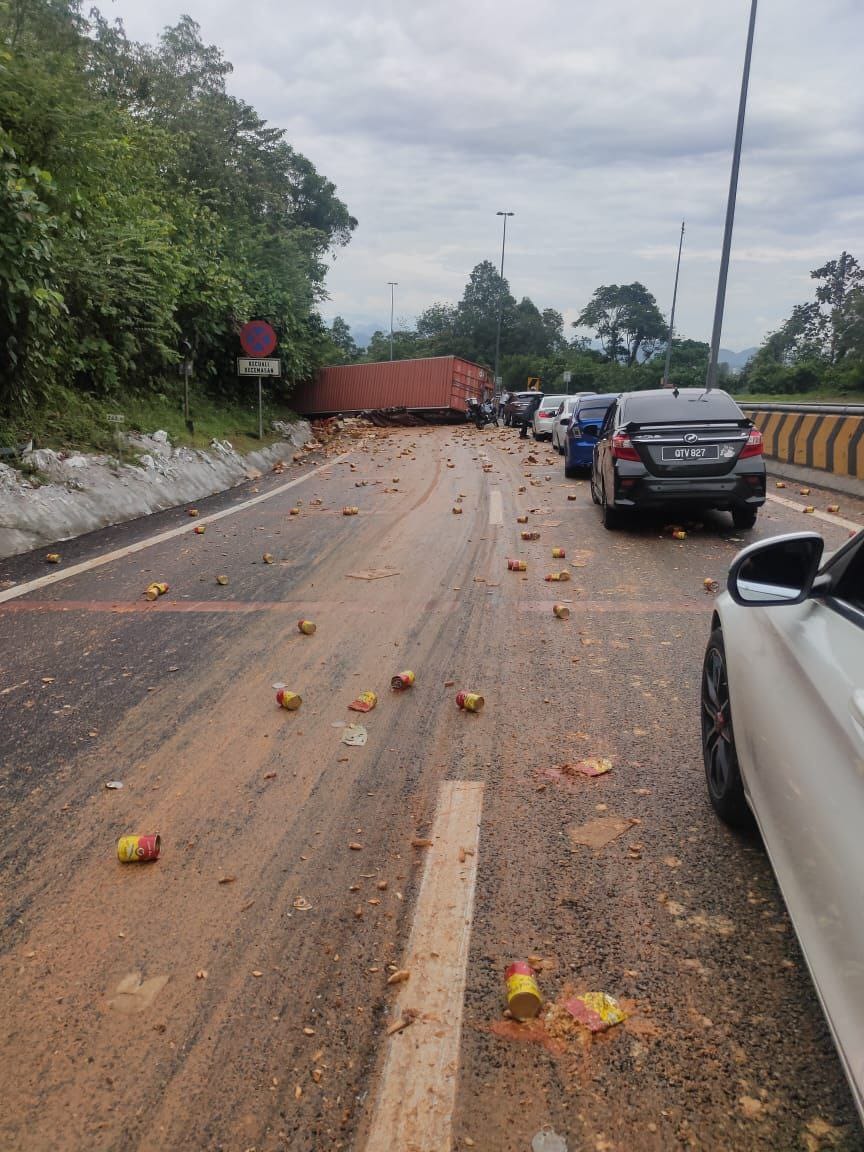 Some eagle-eyed netizens have been able to identify the brand of sardines to be of the Ayam Brand variety, and have suggested that those at the accident could bring some of the canned sardines home, with one pointing out that most companies wouldn't bother collecting the damaged goods as they would be covered by insurance.
"The goods have already been spilled across the road. The owner and transporter will not bother to come collect any of it, as they would rather claim from their insurance. 
So take what you can, instead of letting it go to waste and turn into garbage. Whatever remains, we leave it to Allah SWT. Everything that has happened is fated by Allah SWT." 

"Just collect it. The prices of sardines are now almost RM10 per tin. If you collect them, then the roadways can be clear again."

Others have joked that the highway would now be stained with the stench of sardines.
"The entire stretch of highway is going to smell like sardines. May the affairs of the lorry driver be eased."
"Allah SWT… That entire highway is going to smell like sardines now."

One netizen even suggested that road users collect the sardines so they can be donated to stray cats.
In speaking with Wau Post, the wife of the lorry driver involved in the accident, Arni Natasha, has confirmed that he is recovering well and has not sustained any serious injuries owing to the incident.
For more stories like this, follow us on Facebook by tapping here!