Malaysian students are no strangers to heavy school bags filled with thick textbooks and homework. However, this norm from the past has become a concern as carrying heavy backpacks for a long term can cause adolescent musculoskeletal pain. To address this issue for his students, this principal has come out with a solution to put those days of lugging weighty bags behind.
Space-saving smart desks to the rescue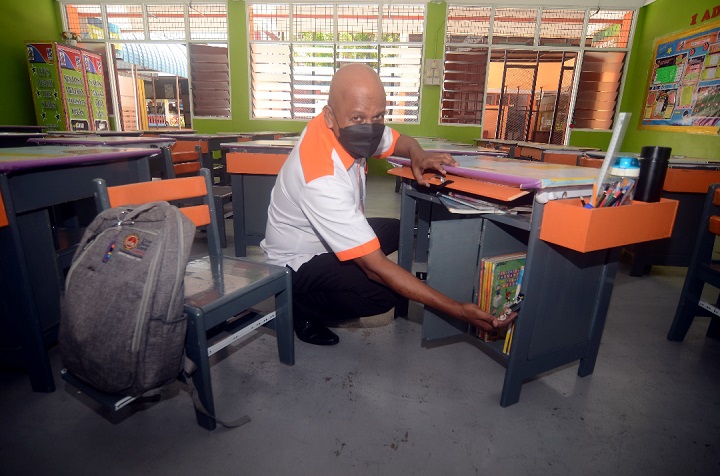 Sekolah Kebangsaan Seri Permai at Jalan Tengah, Penang will be the first school to equip smart tables that are said to address the heavy bag issue starting next week. According to Utusan, the school's principal, Mohammad Sabarullah was the one who came up with this innovative solution. The support and donations of the Parents and Teachers Association (PIBG) have also made this project a reality.
To lighten the weight of school bags, the table is designed with two drawers that can be locked. Students from the morning and afternoon sessions can store their books in each drawer so they do not have to carry them again the next day. The smart desks also have three compartments on their side to organize water bottles and stationery.   
Moreover, there is a ledge students can pull out from underneath the chair to place their school bags.
First testing phase with 214 Standard 6 students
214 Standard 6 students from the school will be the first group to experiment with these smart tables. Mohammad Sabarullah furthermore told Utusan that the Smart and Easy Table (SnET) 2.0 not only resolves the issue of heavy backpacks but also provides students with a more conducive environment to study.
"The innovation of the SnET 2.0 may increase the students' confidence and excitement for school as the weight of their bags has decreased from an approximate weight of 7 to 10 kilogram (kg) to only 2.5kg," he said.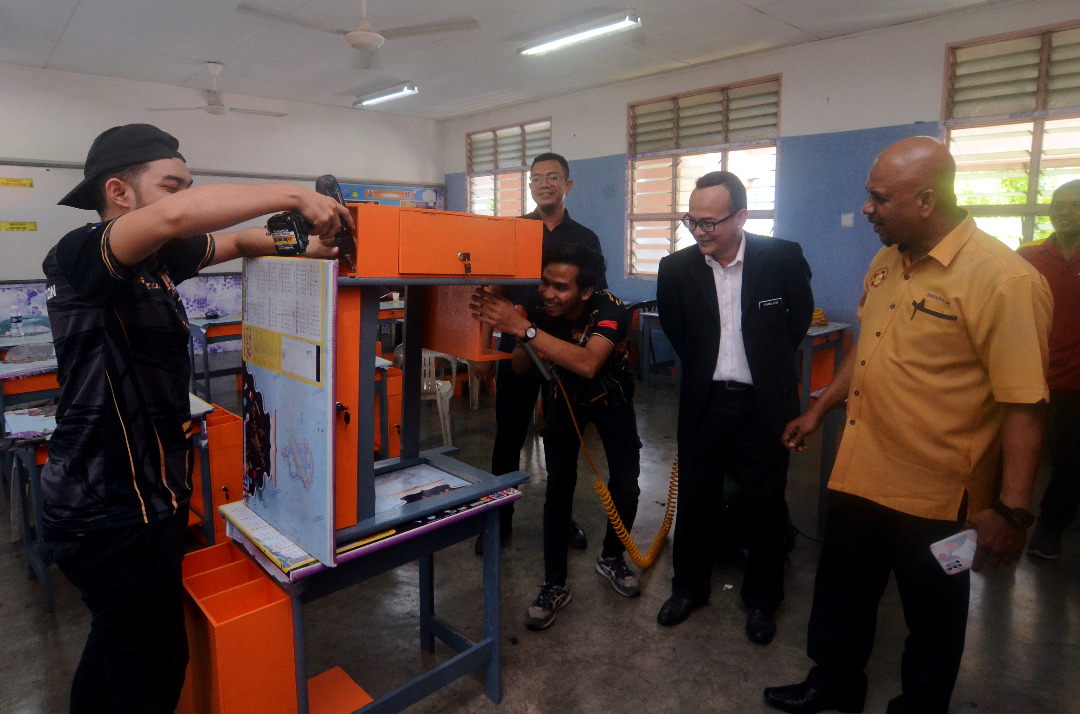 The Smart and Easy Table (SnET) 2.0 was also a product of a collaboration with the Institut Kemahiran Mara (IKM) Sungai Petani, Sekolah Menengah Kebangsaan Raja Tun Uda (SMKRTU) and Jabatan Pendidikan Negeri (JPN). 
Meanwhile, the Director of IKM Sungai Petani, Timelow Jauk said that this project is good exposure for the 30 students involved.
"We're proud to see the product crafted by students in their fourth semester of Diploma in Furniture Production. They have worked hard to complete the woodwork in a week," said Jauk.
No more hauling hefty school bags for these students. Hopefully, there will be more of these in the future. 
Tap here to give us a 'Like' on Facebook and stay up-to-date on the latest news!
Also read: M'sian teacher raises alarm over primary students carrying schoolbags as heavy as 8 kilos to class