As Prime Minister Ismail Sabri announces the dissolution of Parliament, this will mean that our next General Election won't be too far away. As citizens, we are given the responsibility to vote for our future leaders, ensuring the authority of our hard-fought democracy. Therefore, every one of us is encouraged to participate in determining our country's future by heading to the polls when the time comes. But how does the process work for first-time voters?
All Malaysians above 18 are now automatically registered as voters for the election
With the recent implementation of the Undi18 Bill, all Malaysians aged 18 and above will be automatically registered as eligible voters for every election in the country. This would mean that of 14 January 2022, Malaysians who are 18 years old and above do not need to register themselves at any Election Commission offices or mobile booths.
Those who are turning or turned 18 this year will be able to see their names in the electoral roll after approximately one month to six weeks as the Election Commission will be updating the roll on a monthly basis.
Here's how you can review your voter status ahead of the next General Election
To get started, you will first need to verify your status as an eligible voter by checking your personal details via the Election Commission's official portal https://mysprsemak.spr.gov.my/.
Once you enter the homepage, you will find these three options:
Semakan Daftar Pemilih (Review of the Electoral Roll)
Semakan Calon Pilihan Raya (Review of Election Candidates)
Semakan Keputusan Pilihan Raya (Review of Election Results)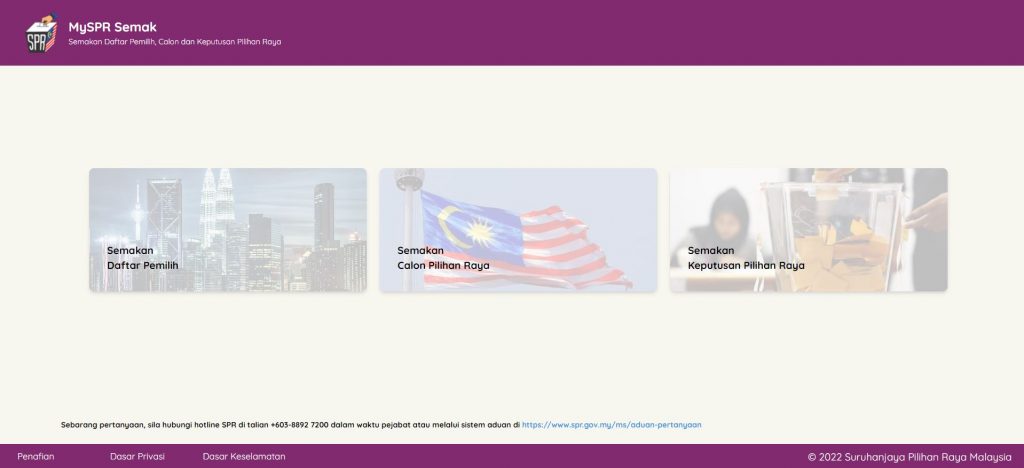 Click into 'Semakan Daftar Pemilih (Review of the Electoral Roll)' and fill in your IC number to verify your personal details.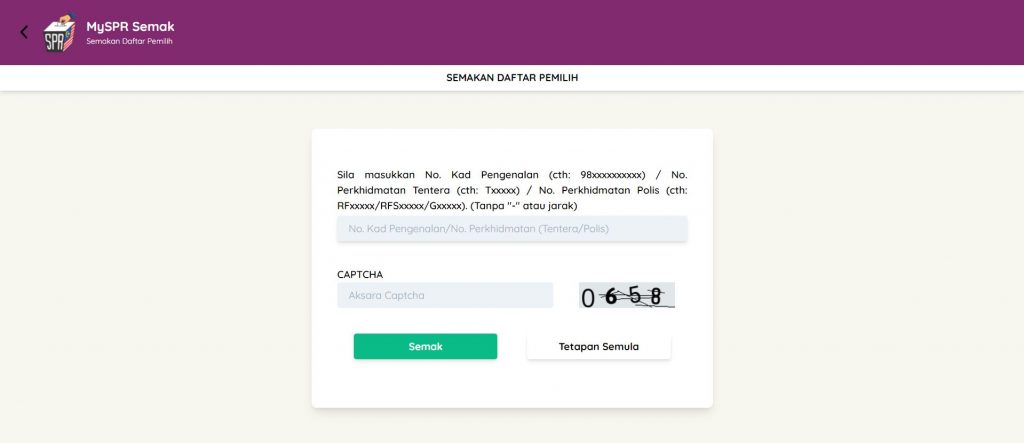 If your name happened to be missing from the electoral roll, or you wish to change your constituency or address, you will need to fill out Form C which is available online and in every EC state office. To update your current address, please first ensure that your details are updated with the National Registration Department. Then submit your form along with your IC for verification at the nearest EC office.
If there are no mistakes with any personal information, the voter will only have to show up at the allocated venue during polling day.
First time voting? Here's a guide to help you out
1. Pay attention to the announcement of the election date
Due to the recent dissolution of Parliament, the country now awaits the news of its upcoming 15th General Election. Although Prime Minister Ismail Sabri mentioned that the election may be held at a later date, it is better to be safe than sorry to keep yourself updated using the MySPR Semak app or website. The General Election is expected to take place 60 days from the dissolution of Parliament.
Once the Election Commission announces the official date of GE15, it will be updated in the app for all users to view.
2. Understand the differences between Parliment and DUN
After logging into MySPR Semak, you may notice that you are assigned to vote for one federal constituency and one state constituency (except for Sabah, Sarawak, Melaka, and Johor).
For Parliament, you are voting for a Member of Parliament (MP) to represent your federal constituency in the Dewan Rakyat. As for DUN, you will be selecting an Ahli Dewan Undangan Negeri (ADUN) to represent your state constituency in the State Assembly (Dewan Undangan Negeri) where they debate and establish state policies.
3. Know the candidates
As soon as the polling day is set, political parties will also declare their representatives who will be competing for a spot in the Dewan Rakyat and the State Assembly. Voters may refer to 'Semakan Calon Pilihan Raya' to know who is in the running, and they can start deciding to whom should they cast their ballots.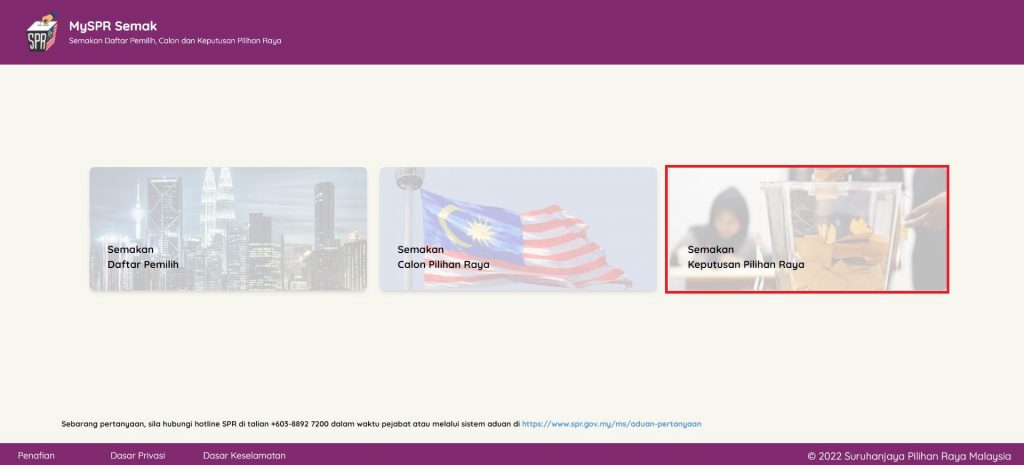 Please make sure to take into account each party's manifesto, and examine the achievements of every party before reaching a verdict. Remember, voting for the right government is key for the stability of the country!
Although voting is not mandatory for everyone, Malaysians are encouraged to take part in these elections as these elections are what determine the fate of our country. With elections, citizens have the power to make their concerns known and steer the direction of the nation. Don't forget that every vote counts!
Tap here to give us a 'Like' on Facebook and stay up-to-date on the latest news!
Also read: BREAKING: PM Ismail Sabri announces that Parliament has been dissolved, paving way for GE15