A Malaysian mother has recently caught the attention of local netizens after sharing a recent encounter that she had experienced while visiting a local clinic with her daughter, who suffers from cerebral palsy.
Among some of the most common motor disabilities to affect children, cerebral palsy refers to a group of disorders that affects an individual's mobility and posture, as well as muscle tone. This is typically attributed to the onset of damage sustained by the developing brain of a child before birth, as explained by Mayo Clinic.
Woman brings her special needs daughter to local clinic
According to schoolteacher Norzalinda Hamzah, she had brought her daughter to the clinic sometime at around 11.00am in the morning after having completed her morning classes. Upon arriving, she was surprised to see that the clinic was rather packed, as there were many mothers who were also present to visit a pediatrician who was there that day. 
By then, Norzalinda said that she was already sweating and exhausted as she had to assemble her daughter's stroller before pushing her from their car to the clinic under the gleaming sun, which was located quite a considerable distance away by foot. This was owing to the fact that they were not entitled to make use of disabled-friendly parking spaces.
A young couple walks up to her & tells her to move her child away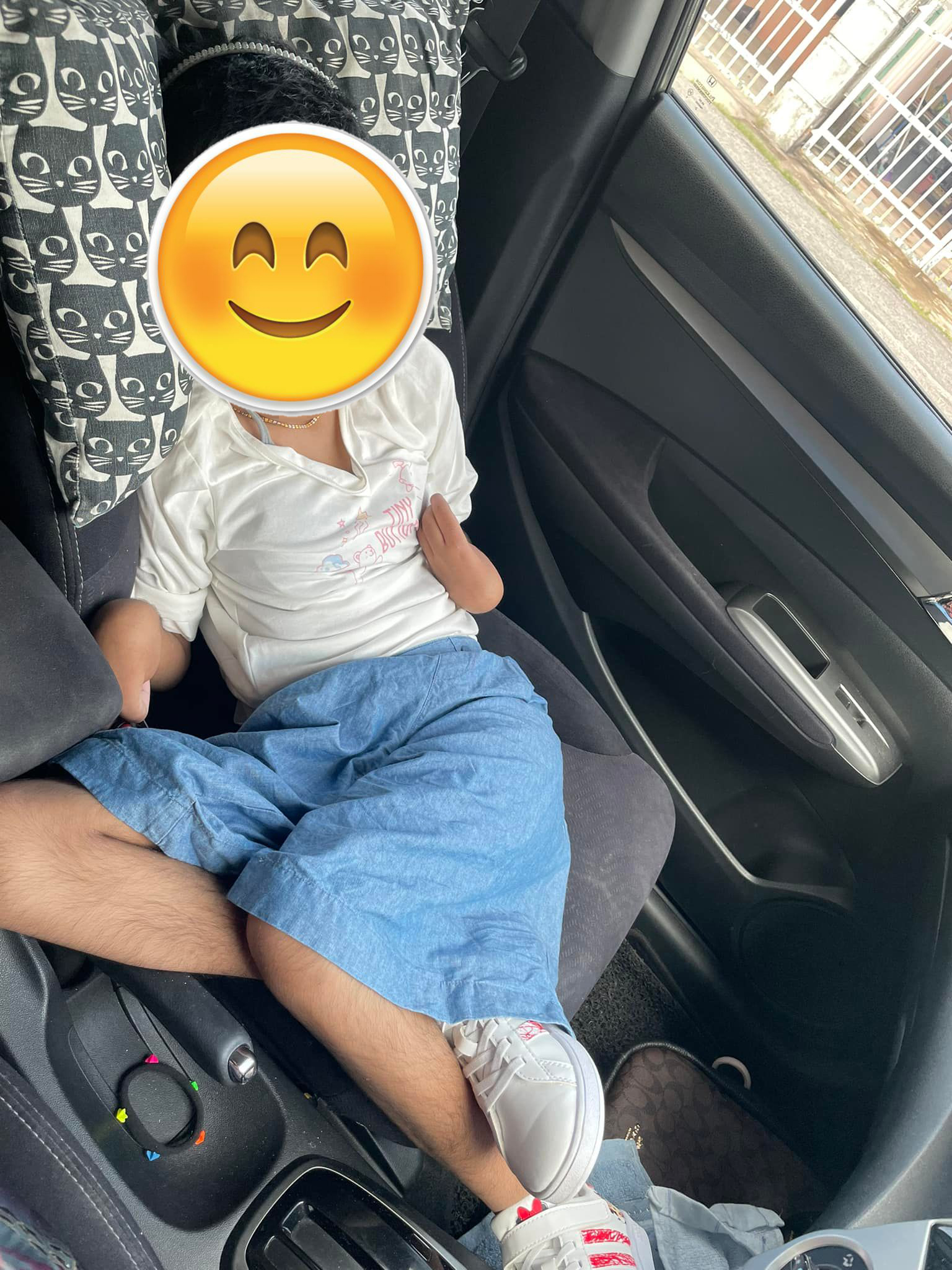 As she was catching her breath, she was suddenly approached by a young married couple. The husband proceeded to then ask Norzalinda if she could move her daughter away from the area. Surprised at the request, she promptly checked on her daughter, fearing that she may have soiled herself and caused a mess. And yet, that was not the case.
Puzzled, she asked him why.
"There are pregnant mothers here. You bring your child here with her condition, do you realise she could infect all our children here?" he replied.
Shocked by the fact that people still carry the misconception that cerebral palsy is a communicable disease, Norzalinda proceeded to tell him off.
"Don't worry. You won't get a child like mine, because you're not as amazing as I am.

Only amazing parents can handle a child like this. You in the meantime, are weak." she said.
Her post has since garnered widespread praise among Malaysians, many who commended her for defending her daughter against brickbats.
"Alisha is beautiful. It's not easy to take care of members of heaven. The ordeals are just as big as the rewards"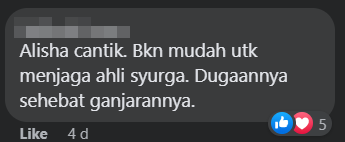 "Great job madam,
you gave a solid answer that firmly states, "only those who are strong enough would be able to receive a child that will definitely be accepted in paradise"
I adore your bravery!
Even when talking to rude individuals, we have to know how to craft our words and teach with wisdom."
"People with this kind of mentality can really upset you. But i salute you for giving them a piece of your mind. You can't change fate. May you and Alisya will always be able to go over all of your endeavours with ease."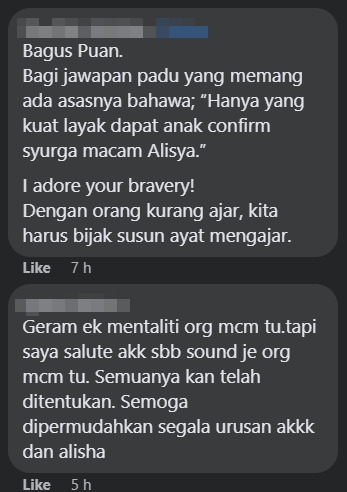 Daughter suffers from spastic quadriplegia cerebral palsy
In speaking with local paper Malay Mail, Norzalinda explained that she wasn't entitled to make use of certain disabled-friendly facilities such as parking spaces, as she was able-bodied and was only considered as the driver of the disabled-individual.
"It's not just me, but others are facing the same thing because the OKU parking has been specified for OKU drivers only but not for those who drove these patients there.

"For my case, I had to park my car all the way in the field area. I still needed to assemble my daughter's stroller (which is not like a normal stroller), and I had to push her under the hot sun all the way to the hospital. What if it was raining that day?" she said.
She adds that her response to the situation may have been prompted by exhaustion, and clarified that she is not an amazing mother as she had claimed, but rather an ordinary mum. Norzalinda explained that her daughter, who is 13-years-old this year, had been diagnosed with spastic quadriplegia cerebral palsy which affects her whole body.
Tap here to give us a 'Like' on Facebook and stay up-to-date on the latest news!