Given the challenges that they can potentially face in carrying out otherwise routine daily activities, many public spaces are now equipped with an array of disabled-friendly amenities to help provide some degree of assistance to those who could use it. Chief among them include handrails, lower elevator-button placements, as well as wheelchair ramps that grant accessibility to places with stairs or steps.
M'sian netizen finds steep wheelchair ramp
However, a local netizen has just recently raised concerns over these facilities, particularly a wheelchair ramp which he had stumbled upon while out and about. In a now viral TikTok video, user @exfortea shares his exasperation and sheer disbelief after finding what appears to be a ramp intended for disabled individuals who are dependent on the use of a wheelchair for mobility.
Instead of a gradual incline that would provide ease of access while reducing potential instances of injury for those using wheelchairs, the ramp was constructed at such an incredibly steep angle, it could potentially even put able-bodied individuals at danger.
"If an OKU (disabled) person tries to use this ramp, they would die."

"Look at the incline!"  the young man said.
His camera then proceeds to pan at another vantage in order to better illustrate the ramp's impractical, if not potentially dangerous design flaw.
According to the specifications outlined in the Malaysian code of practice for universal design and accessibility in the built environment, wheelchair ramps should ideally have a gradient of between 1:12, with handrails on both sides.
Netizens are amused
Predictably, his video has since earned many hilarious comments from netizens over the use of such a steep wheelchair ramp.
"People pushing wheelchairs ✕ Wheelchairs pushing people ✓ "
"The person who constructed this must use to skate."

"The person who pushes the wheelchair would also be dead."

"You'll go right to meet your maker."
"Let the person go down first, their wheelchair can come after. Take turns!"

However, some have pointed out that the ramp could have simply been made for trolleys and carts.
"That could be made for trollies to help move stock." 
"Sometimes people move their items using trollies. I mean, stock items in boxes."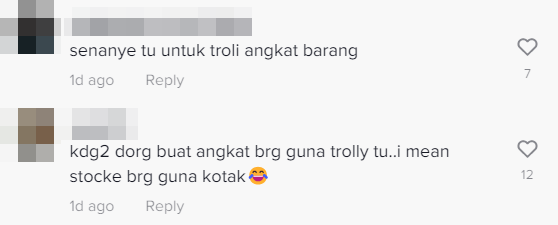 For more stories like this, follow us on Facebook by tapping here! 
Also read: M'sian ex-Paralympian now sells fire extinguishers to earn a living, receives help from Uncle Kentang to buy motorbike