From child-rearing duties to keeping the house spick-and-span, as well as cooking up meals when needed, domestic helpers play a major role in many Malaysian families. And in recognition of that, one Malaysian family recently took to recounting the heartwarming experiences that they have shared with their live-in maid, who has been with them for over three years.
Live-in maid a part of their family, says M'sian netizen
As shared by local netizen Grace Kiar, she describes her live-in maid as an indispensable part of their household, and that while she may technically be an employee, they have always treated her as part of their family unit. In fact, she claims that her maid understands the needs of her children sometimes even better than she does, and knows where everything is located in their home as and when they need anything.
Initially when she was first hired, Grace said that her son would often bully their maid. Taking him aside, she taught him to realise that he should respect her all the same, as she is merely trying to do her job and earn a living for her family.
"Kakak also has parents, a husband, and children too." she points out.
Over time, the bond between her children and their live-in maid grew closer, and they now regard her as a member of their family all the same.
Recalls previous encounters where maids were treated poorly
However of course, she notes that there have been instances when maids are not always treated well by their employers. Citing an example, she said that one time she had encountered a family who was eating together at a restaurant. However, instead of having their maid join them, she was told to sit outside and wait under a tree for the family to finish their meal.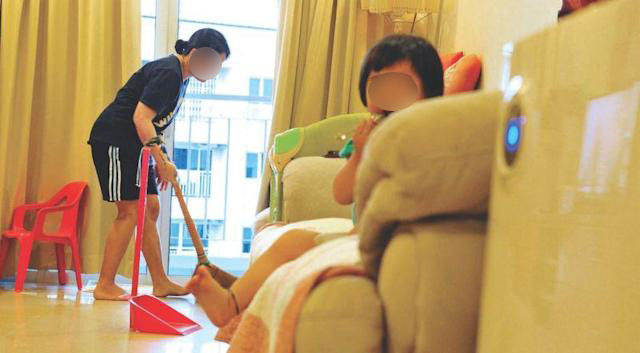 On another instance, they noticed how a man was seated with his daughter and maid at a nasi lemak stall. The man proceeded to order a plate of food for their maid and invited her to join them in their meal, but the maid fearfully pushed the plate of food away. When the man's wife returned to the table, she proceeded to berate him for buying the maid food, and told him point blank that they have already brought bread for the maid to eat.
"I don't know what grevienances that these employers had against their maids in a past life to want to treat them so poorly. We've had maids that have stolen from us, bullied our children, and one that even escaped mid-way when we were travelling up Genting.

And similarly, we have also had maids that were not suitable with our needs, or have costed us a lot of money, or slandered us to other maid candidates in work chats.

But in spite of all that, we continue to treat each and every one of our maids with sincerity." she said.
Grace also adds that not all employers are bad, just as not all maids are bad. And they admit that sometimes try as they might, things just don't work out between both parties, and that's fine.
She ended her post by advising families not to let their treatment of new maids be swayed by bad experiences, and reminds everyone that you will be rewarded for putting kindness out into the world.
For the latest news and community stories, follow us on Facebook by tapping here! 
Also read: "I cried everyday," 2 Indonesian maids escape from M'sian 'Datuk' after being beaten, kicked, and hit with a broomstick