Although many describe pregnancy as a beautiful and miraculous chapter in a couple's union, going through it can take a heavy toll on the woman's body. Research indicates that every woman would experience inevitable postpartum changes, and some of them can be long-lasting. Therefore, other than taking care of their newborns, obstetricians and gynaecologists would advise new mothers to get a lot of rest for their bodies to recover.
New fathers on the other hand, are also recommended to assist their spouses in whatever way possible during this time to ease a woman's transition into recovery. However, one husband revealed on Twitter that he was having a problem adapting to his wife's physical changes, and wished that she could lose some weight.
M'sian husband wishes his wife would lose the weight she gained after her pregnancy
On 1 November, an anonymous user wrote to @ConfessTweetMY to vent his frustrations regarding his wife's weight gain. He said that his wife was pregnant and gave birth to their baby two years ago, but her body could not revert to the way she used to look prior to having their child.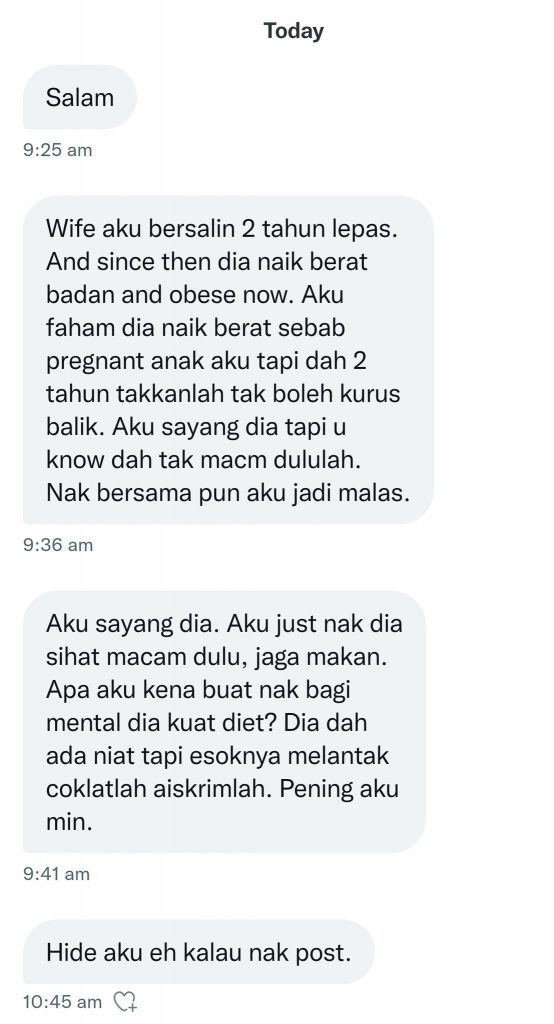 "Since her pregnancy, she gained weight and she is now obese. I understand her weight gain was due to pregnancy, but it has been 2 years, there's no reason why she couldn't slim down."
While he stresses that he still loves her, he admits that their relationship just doesn't feel the same as before anymore. He goes on to add that he felt 'lazy' when his wife asked to be intimate together. In an attempt to address the situation, he asked for some motivational tips that may help push his wife to go on a diet.
"I want her to be healthy like before, and control what she eats. What can I do to fortify her will to lose weight? She intended to do so, but she normally ends up eating chocolate ice cream the next day," he wrote.
Suami stress isteri naik berat badan lepas bersalin. pic.twitter.com/zDBUy6GXm9

— Emosi (@ConfessTweetMY) November 1, 2022
Netizens asked him to be supportive and considerate towards his wife's condition
The Twitter thread gained over 2.5k likes and 249 comments at the time of writing, with many netizens criticizing the husband for not being supportive towards his wife after enduring such a considerable physical toll during her pregnancy. Some asked him to be considerate of his wife as she has just provided him with a child and pregnancy can indeed change a person's body.
"She is the queen of your heart and the most beautiful woman when she is thin and pretty. But she is not nice to look at when she gained weight because of pregnancy. She has just given birth to your child. Please be grateful."

One wrote that it is not easy trying to lose weight, so the husband has to be by her side through it all.

Others also suggested that he can support his wife by going on a diet together.

Ultimately, couples should always remember that marriage is a life chapter that is written together and that a successful union is built upon mutual support, consideration, respect, and love for one another.
Tap here to give us a 'Like' on Facebook and stay up-to-date on the latest news!
Also read: M'sian woman receives RM18K monthly from husband's RM30k salary, says it still isn't enough money