As the old adage would go, it is always wise to live within your means and never bite off more than you can chew where financial commitments are concerned. And that piece of advice has never proven to be more true than it is now, what with the general cost of living going up exponentially in the wake of global inflation and supply chain disruptions.
This even applies with the prices of cars too, which have witnessed an increase in Malaysia after the SST exemption introduced on June 5th in 2020 had recently ended.
M'sian asks for money-saving tips after buying new Perodua Alza on RM1,500 salary
However, that doesn't appear to have deterred one car buyer, who recently took to sharing the news on community Facebook page Semakan Online to share their excitement after being able to secure one unit of Perodua's highly anticipated Alza MPV. The car, which has seen around 30,000 bookings before it was even launched to the public, now reportedly has a waiting period of up to 10-months.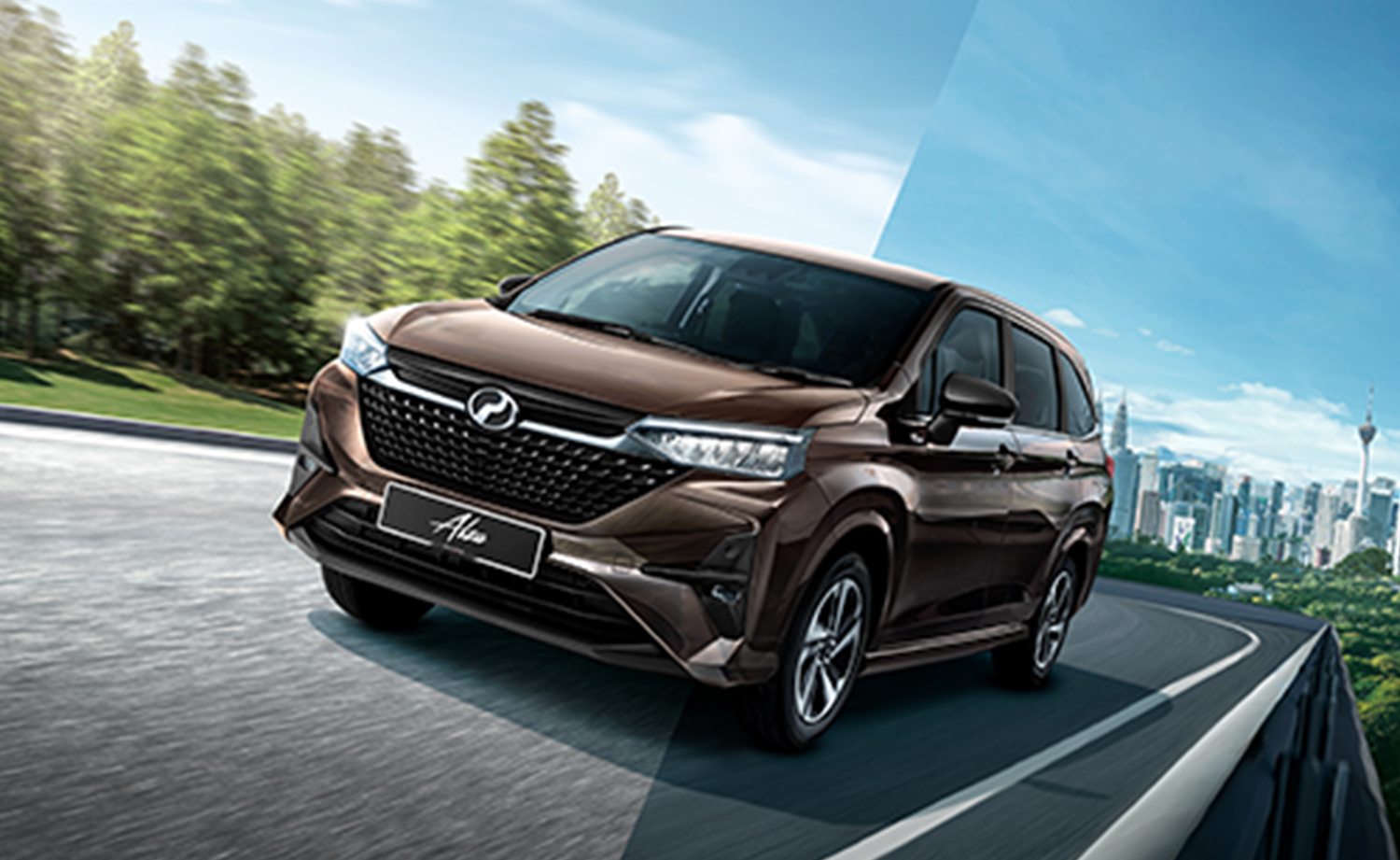 Explaining their situation, the alleged buyer claims that their loan application has just been approved by the bank, and they will now be looking at a monthly loan repayment amount of RM900 for their brand-new Perodua Alza.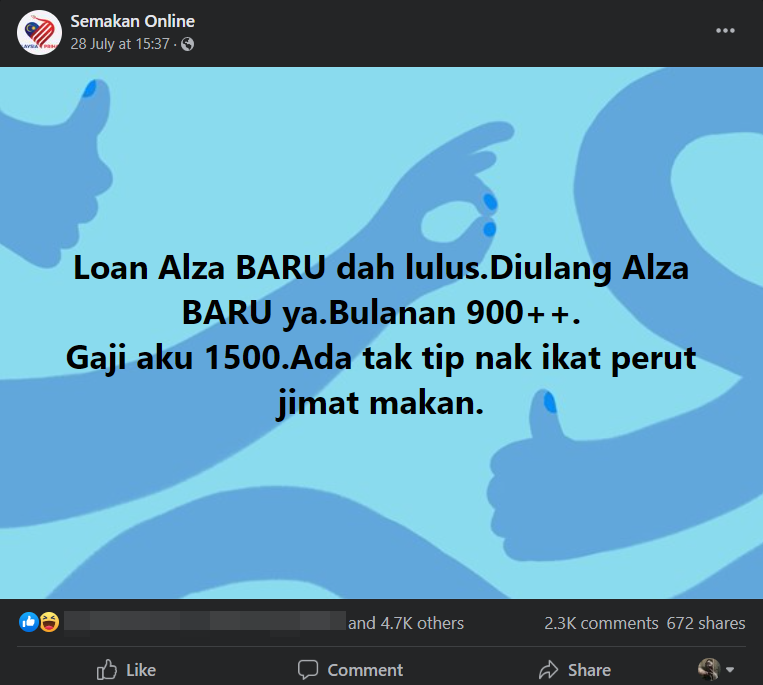 The buyer then takes to asking netizens if they had any money-saving tips to share, as they were only bringing in RM1,500 in salary.
"The loan for my Alza has been approved. I repeat, the NEW Alza yeah. Monthly repayment RM900++.

My salary is RM1,500. Does anyone have any tips on tightening your belts and saving how much you spend?"
Based upon simple mathematics, the buyer's loan repayment amount takes up a whopping 60% of their salary every month, which leaves them with a measly 40% for the rest of their expenses.
The brand-new Perodua Alza starts from RM62,500 for the base model, RM68,000 for the mid-tier model, and RM75,500 for the range-topping model, on-the-road without insurance or SST factored in according to PaulTan.
Netizen reactions have been split
Many netizens have offered sarcastic responses to the question, pointing out the buyer shouldn't have committed to the car if they lacked the financial means to afford it.
"There, the kind of people who will do anything just to look cool. You might as well not take the loan if you have to tighten your belt for 9 years just to afford the car."

"There's no need to tighten your belt. Just drink latex. Once it hardens in your stomach, you'll be so full you'd be dead."

"Lick your new car, then you'd feel full."

"If you feel hungry, then just stare at your new car. Insyaallah, you'll feel full by the grace of Allah SWT."

"Just throw your stomach away. It's probably easier not eating. What's the point in tightening your belt?"
Some however, offered the buyer genuine pieces of advice on how they could supplement their income to afford the new car.
"You don't have to tighten your belt. Just do other forms of part time work. As long as you are hardworking and know how to plan your time. Just like my friend, he has no fixed income but he is hardworking. So he does manual labour and started a small business. He can afford to drive a Toyota Hilux with a RM1,000++ monthly repayment. As long as your income is halal, InsyaAllah you will be blessed."
"Bro, you could try doing Grab e-hailing services. InsyaAllah, what you earn from Grab can help pay off your car's monthly installments. I drove Grab too. But don't rent your car out to Grab, because we don't know how other people drive. It's better that we drive our own cars. Don't touch your salary. Alhamdullilah, you can give it a try."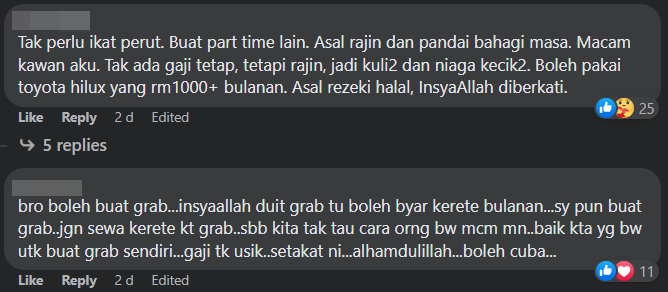 Others have cast doubts on the story, and wondered what bank would so readily approve a loan application when the loan repayment amount is more than half of the buyer's salary.
"1,500 salary but they can get their loan approved? Wowwwwwwww."


Of course, as with any story over the Internet, this is also best taken with a grain of salt. But what advice would you have for this buyer?
Tap here to give us a 'Like' on Facebook and stay up-to-date on the latest news!
Also read: "Don't attend weddings if you can't give RM300 angpow," Netizen 'advises' wedding guests, gets roasted online