Given the generally damp economic climate that many of us Malaysians find ourselves in, it comes to no surprise that many of us are now increasingly turning to budget chains to help tuck and save a few Ringgits where we can. And chief among these brands include the ever popular store in red, Eco Shop, best-known for their commitment to provide as much variety as possible, at as low as possible prices.
Eco Shop to introduce 20 sen price increase by 1st June 2022
It would now appear that even big budget chain stores such as Eco Shop aren't impervious to the effects of a post-COVID economy, as
Sinar Harian
reports the brand will be looking to introduce another price hike by 1st June 2022. A photo of a banner sighted outside what was said to have been an outlet in Subang Jaya states that Eco Shop's prices will go up by 20 cents from RM2.20 to RM2.40.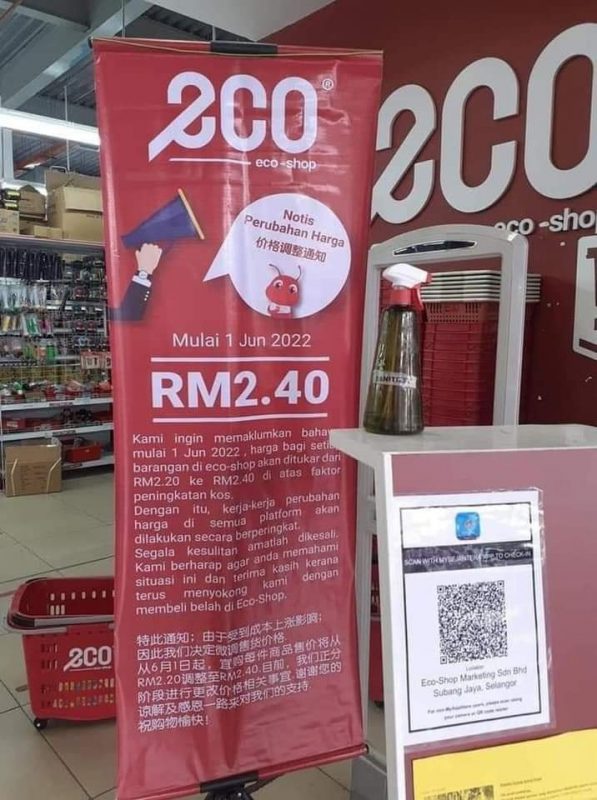 The raising of retails prices is said to be attributed to the rise in costs sustained by the company, with Eco Shop explaining that they will be rolling out the price increases in stages. The banner makes no mention of whether prices in Langkawi or East Malaysian states will suffer a similar fate.
Prices will go up to RM2.40 in West Malaysia, RM2.60 in East Malaysia
Wau Post has since reached out to the brand and have received confirmation that the price hike will indeed take place on 1st June 2022, and that prices in East Malaysia as well as Langkawi will go up to RM2.60.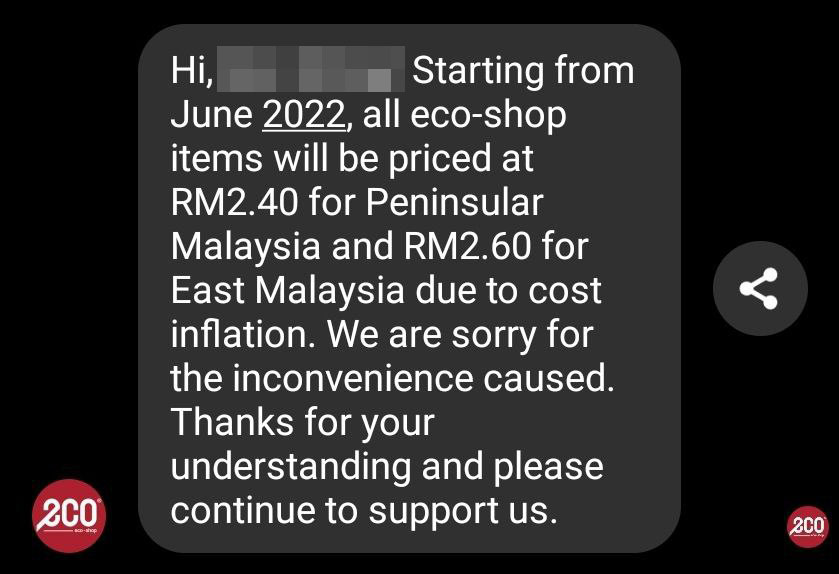 It is worth noting that the brand had already
previously announced
a 10 cent price hike on its goods on 1st December 2021, which brought prices for its outlets in West Malaysia from RM2.10 to RM2.20, and prices in Langkawi, Sabah and Sarawak from RM2.30 to RM2.40. According to
The Edge Markets
, Eco Shop is the largest and most established player in the RM2 budget store market, with over 150 stores as of November 2020.