Over the past number of weeks, many Malaysians have been bracing themselves for the impending rise in the cost of their grocery bills after it was recently announced that a number of subsidies on key food items would be removed, or changed. Among them include the new ceiling price for chicken meat and eggs, which has formally gone into effect on yesterday on 1st July 2022.
As of now, the new ceiling price of chickens is set at RM9.40 per kilogram, while the new ceiling price on Grade A eggs are capped at RM0.45 per piece, Grade B eggs are capped at RM0.43 per piece, and Grade C eggs will be capped at RM0.41 per piece.
Eggs are expensive? Then eat less eggs. 
In which case, what are the solutions presently available to Malaysians to combat rising food prices? Among some that have been posited by members of local government include the Perak MB's suggestion that locals consider growing their own vegetables and rearing livestock, so that they may be less dependent on imported produce.
And just recently, Melaka Domestic Trade and Consumer Affairs Ministry (KPDNHEP) director Norena Jaafar has even gone so far as to recommend that the public reduce their consumption of eggs, if they find their prices have become too exorbitant to bear.
"If we know that the prices of eggs are becoming more expensive, then we should reduce our consumption of eggs.

If we consume roughly 20 pieces a week, then make a point to reduce it to 15 or 10 pieces, then it wouldn't be a problem. " she told members of the media.
She adds that this is a problem that is faced not only by Malaysia, but across the world due to inflation.
Malaysians were not impressed with her advice
Understandably, her advice has since been universally panned by Malaysians, many of whom pointed out that asking consumers to reduce their consumption of any expensive food items isn't a solution to the issue of inflation in the country.
"If we make kuih using just a single egg, do you expect us to just make the skin?"

"In one ear and out the other. The prices of foodstuff in general has increased. If we reduce our consumption of eggs, then please provide an alternative source of protein. Pity those who are earning small salaries, but have many mouths to feed."
"What brilliant ministers we have. They're great at solving problems."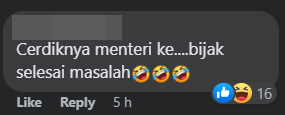 "There, she has answered all our queries concerning the rising prices of goods and how those who can't afford it will cope. This is how you can solve inflation easily. If the prices of eggs are expensive, eat less eggs. If the prices of cooking oil are expensive, use less cooking oil. If flour is expensive, use less flour. So how long are we supposed to keep this up?"
For more stories like this, follow us on Facebook by tapping here! 
Also read: Chicken meat shortage may lead to more expensive chicken rice, say M'sian vendors