A local netizen has issued a stark warning to other female social media users, after she claims to have fallen victim to a vindictive act that was carried out by a local business owner against her as 'revenge' over a dispute. Taking to her Instagram account to recount her ordeal, Mythily Gunasegaran explained that she had contacted a local business selling wedding garlands to purchase a set ahead of her sister's engagement.
M'sian woman winds up in dispute with business owner when ordering wedding garlands
Contacting them over WhatsApp on September 1st, Mythily subsequently made the payment for the garlands on September 3rd. Despite politely asking if the payment had been acknowledged by the business owner, she claims that she was only sent 'one word replies', until she decided to phone them up again to remind them of her invoice on October 29th and to ask for a receipt.
The business owner proceeded to tell her that they were not interested in talking, as they were busy with other orders and told her to call back the following Monday, adding that there was still plenty of time for them to fulfill her sister's order before the deadline. Angered by the dismissive response that she received, Mythily admits that she had raised her voice at the business owner, which led to a dispute over the phone.
"We had few argument over the phone and he proceed to cancel my order and refunded me the next day." she said.
Found out that her number was shared to an obscene Telegram group without her knowledge
Only, things didn't just stop there as Mythily would suddenly begin receiving messages from unknown numbers. As it turns out, Mythily's number had been shared to an obscene Telegram group allegedly by the business owner in an act of 'revenge' over their argument, and had even asked if their members had any nude photographs of her.
As a consequence, Mythily said she received WhatsApp messages from unknown numbers up into the early hours of the morning, in addition to phone calls from strangers. She would later go on to file a police report over the entire ordeal, and says she will be leaving the matter to the authorities.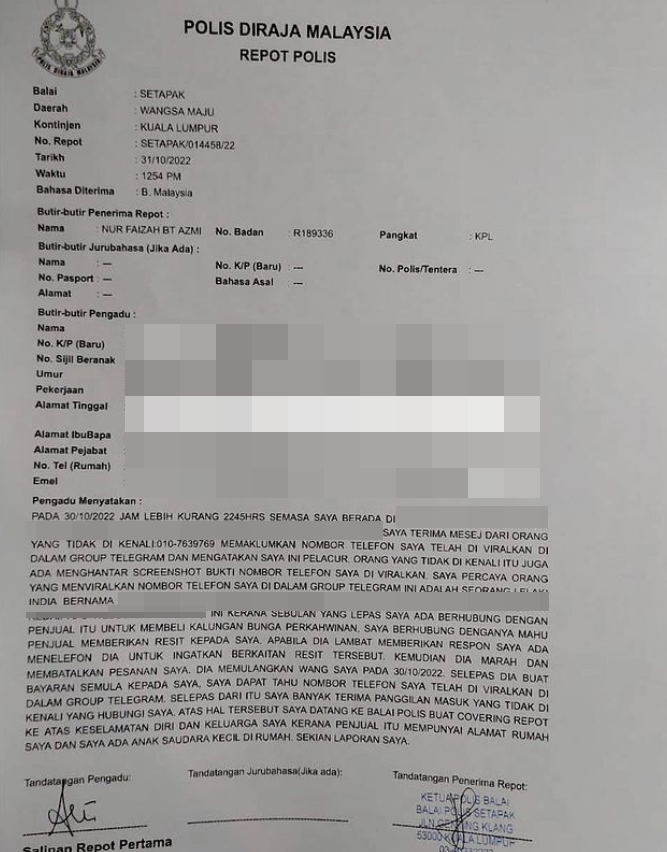 Speaking on account of her experience, she has urged other victims of such incidents to come forward and shed light it.
"I believe as women of this generation, we should not be afraid to come forward and seek for help when needed." she said.
She also encourages victims to confide in people whom they can trust over the matter, if they ever find themselves in a similar situation. To date, the business owner has yet to issue an apology to her over the alleged doxxing.
Tap here to give us a 'Like' on Facebook and stay up-to-date on the latest news!
Also read: M'sian model exposes scammers posing as modeling agency to lure women into sending nudes on social media